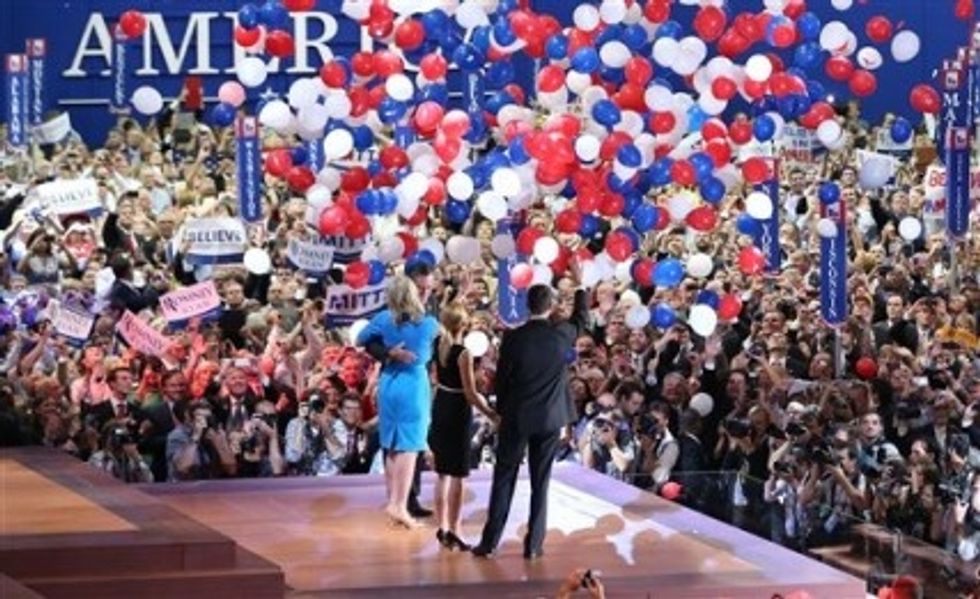 My, that was quite the spectacle in Tampa.
All those Republicans acting as if they'd just punched a time clock and showered at the plant before rushing to the stage at their national convention.
Having come from the working class, I just love it when my people are trendy.
South Carolina Gov. Nikki Haley boasted that she is "the proud daughter of Indian immigrants" who "started a business out of the living room" of their home, "and 30-plus years later, it was a multimillion-dollar company." There's your typical immigrant story
Mia Love, mayor of Saratoga Springs, Utah, talked about how her parents immigrated to the U.S. "with $10 in their pocket." Nevada Gov. Brian Sandoval is the child of "working-class Hispanic Americans who has lived the American dream."
Rep. Tim Scott was a "poor kid … in a single-parent household."
New Jersey Gov. Chris Christie's dad grew up in poverty, served in the Army and then worked at the Breyers ice cream plant while using the GI bill — big government! — to put himself through college.
He described watching his daughters march in a Labor Day parade and then went on to brag about how he took on the public-sector unions and dared to "speak the truth to the teachers union."
"Teachers," he said, "don't need to become rich and famous." Quite the news flash for all those rich and famous teachers I've never met.
I almost felt sorry for Rick Santorum. Poor guy. His parents worked in the medical profession — and lived on the grounds — at the Veterans Administration hospital in Butler, Pa. Again: big government! So off-message for this year's convention. Fortunately — for Rick Santorum, anyway — his grandfather "mined coal till he was 72 years old." Whew.
The Republican Party itself offers quite a different narrative from the one the parade of speakers touting their blue-collar roots offer. No amnesty for immigrants. No woman's right to control her own body. No affordable health care for millions of Americans. No collective bargaining for workers. Lest they appear to be the party of "no," they are totally yes-yes-yes when it comes to more tax breaks for the wealthy.
So, here's the thing about all those Republicans bragging about their working-class roots: Either they're exaggerating about their meager beginnings or, worse, they're betraying the people they come from.
If you want to destroy unions, you are not a champion of the working class.
If you won't stand up to China, you aren't fighting for American workers.
If you support cuts to education that make it impossible for poor and middle-class kids to go to college, you're defiling the America that changed your life.
If you want to force women to have babies they cannot afford to raise, you are condemning another generation of children to a life of poverty.

If you don't think every American has the same right as you to affordable health care, I don't know the God you claim is on your side.
I write a lot about working-class Americans for two reasons: Janey and Chuck Schultz.
My mother, Janey, was a nurses aide and hospice home care worker. My father, Chuck, worked in maintenance at the Cleveland Electric Illuminating Co. for 36 years. I was the first in my family to go to college, which means I never had to carry a lunch pail to work or punch a time clock.
My parents wanted their children to have a better life, and the older I get the more I understand their sacrifices. When my mother was my age, she had only seven more years to live. You don't do what they did for a living and count on seeing your 80th birthday. In their case, they didn't make it to 70. Mom was only 62 when she died.
A couple of years ago, I visited my father's abandoned plant. One of his former bosses gave me a 12-pound wrench Dad used every day on the job. It sits on my coffee table, an anchor that keeps the table from sliding under my feet at the end of a long day. My version of a long day, I should say, which bears no resemblance to my parents' fatigue by the time they collapsed in front of the TV.
I miss my parents every day, but there are times when I'm glad they don't have to bear the disrespect of today's version of the Republican Party.
Which brings me to House Majority Leader Eric Cantor. On Labor Day, which was founded to honor the contributions of American workers, this was his tweet:
"Today, we celebrate those who have taken a risk, worked hard, built a business and earned their own success."
Give him this: He doesn't even pretend to care about the men and women who made his country great.
Picture by AP Photo/Jae C. Hong.