Wounded Vets Take Their Place On Paralympian Team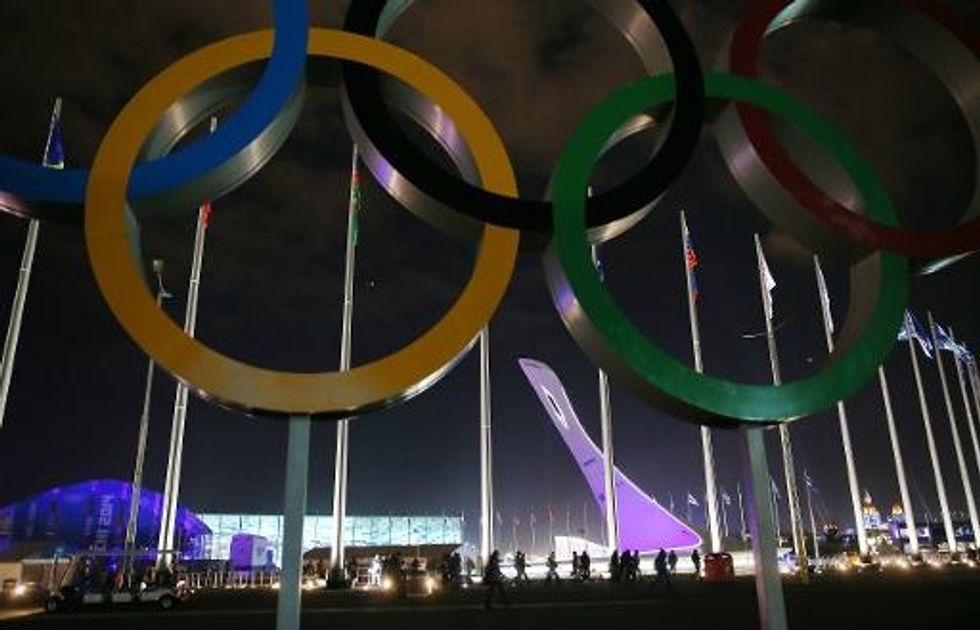 By William Douglas, McClatchy Washington Bureau
SOCHI, Russia — As members of the U.S. Army, Rico Roman and Jen Lee are part of America's first line of defense. As members of the U.S. Paralympics Sled Hockey team, Roman and Lee are the last line of defense.
Roman is a rugged defenseman-turned-forward who took to sled hockey because it reminded him of the hard-hitting football he played while growing up in Portland, Ore. Lee decided to strap on goalie gear because it brought back memories of playing in the net as a kid in San Francisco.
Neither man envisioned he would become a world-class athlete competing in the 2014 Paralympics in Sochi, Russia, March 7-16. But neither man envisioned losing a limb, a devastating event that can alter the trajectory of one's life.
But don't plan any pity parties for Roman and Lee. They're turning tragedy into triumph by playing a sport they never dreamed of playing that's taking them to places they never thought they'd go.
"I didn't watch hockey, I don't come from a hockey state," said Roman, 33. "Never did I know there was a Paralympic team. I never, never, never, never thought I'd be traveling and playing for the U.S.A. team."
Roman and Lee are in the Charlotte, N.C., area with the rest of the U.S. sled hockey team. They're at the Extreme Ice Center in Indian Trail, N.C., through Saturday training in preparation to defend their 2010 Gold Medal in Sochi.
The U.S. sled hockey team's road to Sochi will be highlighted Monday in "Ice Warriors: USA Sled Hockey," a one-hour documentary.
About 1,600 athletes and team members from 47 countries will participate in the Paralympic games. They'll compete in five events: alpine skiing, cross country skiing, biathlon, sled curling and sled hockey played at the same venues used for the 2014 Winter Olympics.
Hockey hurts. The vulcanized rubber puck that travels at speeds in excess of 100 miles per hour, sharp blades, and hard sticks, almost always seems to find sections of unprotected flesh to strike.
But hockey also heals, body and soul. And for Roman, Lee and other members of the U.S. sled hockey team, the game provided the right medicine at the right time.
"I think a lot of people thought, hey, our goal would be to try to walk again, or even run," Lee said. "Getting involved in this sport, to get out there, move around, play for the national team and represent your country and play all over internationally, it's really cool."
Roman, an Army staff sergeant, is the first war-wounded veteran to join the U.S. national sled hockey team. On Feb. 22, 2007, he was on his third tour in Iraq, finishing work at a security checkpoint at Sadar al Yusuf. He decided that his Humvee would lead a vehicular caravan back to base.
His vehicle hit an Improvised Explosive Device (IED) and the blast severely damaged both of Roman's legs. The pain in his left leg grew so unbearable that he opted to have it amputated just above the knee a year later.

While recovering at the Brooke Medical Center at Fort Sam Hood in San Antonio, Tex., Roman was approached by members of Operation Comfort, a nonprofit group that provides rehabilitative and therapeutic programs for wounded veterans.
Roman took up hand cycling, using specialized bikes for disabled users, and wheelchair basketball. When Operation Comfort staffers suggested sled hockey, Roman shook his head.
But once they convinced him to visit the ice rink, they couldn't get him out. He joined the San Antonio Rampage, a sled hockey team comprised of military veterans. He joined the U.S. national sled hockey team in the 2011-12 season.
"I was hooked," he said. "Now I go to Brook Army Medical Center and I try to recruit guys to come out and try it. And they tell me the same thing I said 'I don't play hockey, I don't watch hockey.' I go, 'I said the exact same thing you told me right now and now I'm on the Paralympic team heading to Russia.'"
Forwards Paul Schaus and Josh Sweeney are the other war-wounded veterans on the U.S. team. They're both Marines and bilateral leg amputees following IED explosions in Afghanistan in 2009.
Army Staff Sergeant Jen Lee is teammates with Roman on the Rampage and the U.S. squad. He enlisted in the Army after the Sept. 11, 2001, attacks in New York, Washington, D.C., and Pennsylvania.
The 27-year-old ended up at the Brooke Army Medical Center after a motorcycle accident resulted in his left leg being amputated above the knee. But the operation didn't dim his athletic competitiveness.
He embraced the adaptive sports recommended by Operation Comfort as part of his physical therapy regimen. His hockey experience as a kid convinced to give sled hockey a try.
Lee quickly found a home between the pipes. In 2011, a year after he joined the Rampage, Lee was chosen for the U.S. national team. He helped guide the U.S. team to a gold medal at the 2012 International Sledge World Championship and a silver medal at the 2013 world championships.
"I guess you've got to be weird to stop pucks, but I really enjoy it," he said. "I'm the kind of person that if I play an away game I love to hear the crows get upset that I've made a magnificent save or a great save."
The U.S sled hockey program is serious business. The national and Paralympics team is coached by Jeff Sauer, the retired University of Wisconsin and Colorado College coach.
In a 31-year career, Sauer racked up 655 wins, two NCAA Division I hockey championships, 123 NCAA tournament berths, six Western Collegiate Association playoff titles and two WCHA regular-season crowns.
AFP Photo/Loic Venance