Wrong On Jeep And Bailout, Romney Is The Best Witness Against Himself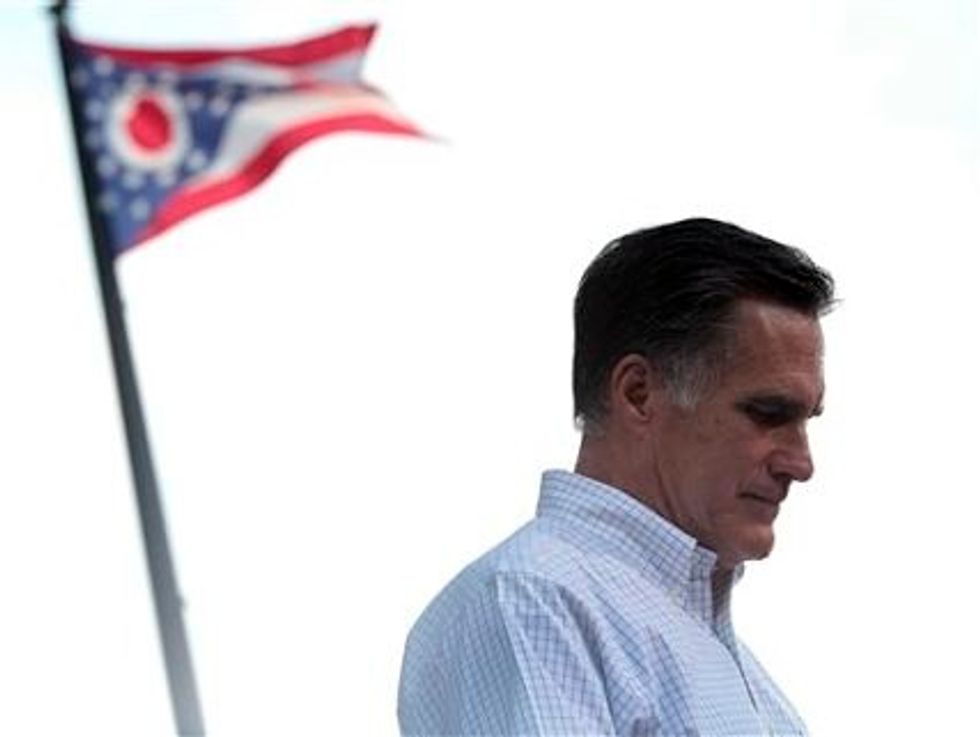 Stumping across the industrial Midwest as early voting begins, Mitt Romney is still misleading voters about the auto industry. At a rally near a GM plant in Defiance, Ohio, on Thursday evening, the Republican nominee stooped to repeating a rumor that had appeared on several right-wing blogs.
"I saw a story today that one of the great manufacturers in this state, Jeep— now owned by the Italians—is thinking of moving all production to China," he told the crowd.
Yet there was simply no basis for Romney's claim, beyond a wildly misinterpreted Bloomberg News article about Chrysler's plans to open factories in China to make Jeeps for sale in the Chinese market. A Chrysler spokesman mocked the rumor and offered a firm assurance: "Let's set the record straight. Jeep has no intention of shifting production of its Jeep models out of North America to China." Indeed, Romney had the facts exactly reversed, because Chrysler is planning to add 1,100 new  jobs in a third shift at its Jeep Cherokee plant in Detroit next week, according to Motor Trend magazine.
The Romney campaign declined comment on the candidate's ridiculous assertion, but nobody should be surprised to hear him talking down the automobile industry's recovery. He hopes to win over working-class voters in crucial Ohio by sowing confusion about the Obama administration's auto rescue — and his own opposition to the Obama plan. That is precisely what he did during the final debate with President Obama, who derided his attempt to "airbrush" his position against the bailout.
But the best evidence against Mitt Romney's prevarications is provided, as it is so often, by Mitt Romney himself.
Arguing over Romney's record on the bailout, both candidates agreed only that viewers should "look it up." The best place to look is No Apology, the book Romney published in 2010, specifically designed to lay out his positions for the current presidential campaign.
In his book, Romney excoriates the bailout in the starkest terms, contending that "the rule of law was ignored in order to reward the auto workers union at General Motors." He cites it in a list of a half -dozen examples during Obama's first 18 months in office of what he describes as "actions that demonstrate" the administration's "distrust in free enterprise." On page 8 of his 325-page treatise, Romney insists that when liberals are in power, "they take action" like the bailout "that is consistent with socialism but call it by a more plausible name."
That is an odd claim, considering that the rescue of the industry was actually structured by Steven Rattner, the Wall Street superstar Obama named as his "auto czar."
At another point in the book, Romney wrote: "I opposed Washington's bailout for the industry in 2008 because it enabled GM and Chrysler to avoid the restructuring and productivity improvements essential for their success. The managed bankruptcy that I proposed ultimately occurred, but only after tens of billions of dollars of taxpayer money had been wasted, and only after sweetheart deals and paybacks for favored interest groups had been engineered with the public's money. The question now is whether or not the administration's heavy hand has protected political and UAW interests in such a way that the industry's burdens persist."
Yet during the debate, Romney tried to leave the impression that he did in fact support the federal help he denounces as waste in his book.
No Apology returns to this issue once more, meshing the Wall Street and auto rescue efforts. "Of course, the financial system itself must not be allowed to collapse," he wrote, "but individual institutions that do not show the capacity to right themselves should be allowed to fail. Non-financial businesses should also be allowed to fail; if they have future prospects, bankruptcy will allow them to remerge as stronger, viable employers." Leaving no doubt that he means the auto industry, his next line adds: "General Motors shares should have immediately been distributed to the public rather than being held by the federal government."
Romney's insistence that federal guarantees should only have been offered to private lenders who might have rescued the industry in 2008 and 2009 — the same suggestion made in his famous New York Times op-ed article — was debunked by no less an authority than GM's vice chair at the time. Bob Lutz, a staunch Republican, recalls that "the banks were even more broke than we were," and had no money to lend his struggling company.
For any voter still seeking to assess Romney's sincerity, there is plenty of salient material in No Apology,  including clear evidence that Romney's notorious "47 percent" comment was not an error but is instead rooted in deep personal beliefs.
"There are people who correctly presume that they will get more money from government if it is run by Democrats," he wrote. "I understand these kinds of Democrats very well. Adam Lerrick of the American Enterprise Institute calculated for The Wall Street Journal that under candidate Obama's tax plan, 49 percent of all Americans will pay no federal income tax. Added to that number are another 11 percent who would pay federal income tax of less that 5 percent of their income. So for 60 percent of Americans, spending restraint and lower taxes championed by Republicans may not mean a great deal to them personally—at least in the short term, even though lower taxes promote economic growth, good jobs and higher incomes in the long term."
And just to be sure readers got the insulting point, Romney added: "Yes, there are a number of people who have become so dependent on government that they think only of how much it will give them."
More recently, while seeking to excuse the "47 percent" remark,  Romney has said his depiction of nearly half the population as "victims" was "completely wrong" — explaining that "with hundreds if not thousands of speeches and question-and-answer sessions, now and then you are going to say something that doesn't come out right."
Finally, in sharp contrast to Romney's utterances of the word "peace" a dozen times in the debate, and his declaration that "our purpose is to make sure the world is peaceful,"  No Apology practically promises that he will embroil the country in future wars. "America must be prepared to fight and win land wars and counterinsurgencies," he wrote, even specifying that "land forces may be required to stabilize a collapsed state—and Pakistan is certainly a possibility in this regard given its nuclear arsenal." He repeatedly talked about Pakistan on Monday evening, but never mentioned the "possibility" of American military intervention there. "Land forces may also be required to again remove a government that is enabling attacks on America, such as was done with the Taliban," he contended.
"Scenarios triggering the need for 'on the ground' are far less inconceivable than they once were," he  concluded, recommending that we add 100,000 soldiers to the Army and Marines, a position he did not reiterate in the debate. "Entering wars will not always be our choice."
Research assistance from Jacob Anderson, Andrea Hilbert, Max Jaeger, and Catherine Thompson
Photo credit: AP/Mary Altaffer