Wyden Reaches Out To Republicans On Inversions Measure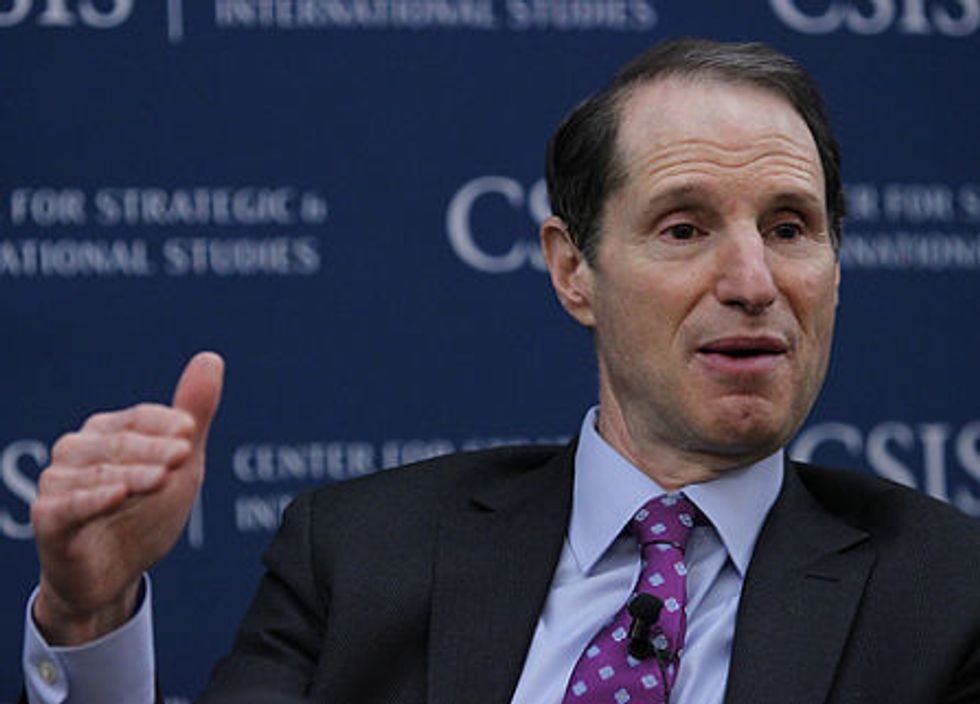 By Kevin G. Hall, McClatchy Washington Bureau
WASHINGTON — The head of the Senate's tax-writing panel issued a statement Tuesday offering Republicans a carrot to join Democrats in blocking the ability of some U.S. corporations to shift headquarters overseas to enjoy huge tax breaks called inversions.
"Following efforts in August, it's clear there is an opportunity for bipartisan agreement on short-term legislation that will make inversions less attractive," Senate Finance Committee Chairman Ron Wyden (D-OR) said.
Republicans have insisted that any effort to thwart inversions, which costs the U.S. treasury billions in lost tax revenues, should be done in the context of a broader revamp of the corporate tax system.
That's a bigger lift, and Wyden is looking for a stopgap measure to block the most egregious examples of corporations moving their headquarters to tax-haven countries.
After meeting with the top Republican on the panel — Sen. Orrin Hatch of Utah — Wyden issued a statement offering to loosely link any effort to halt inversions to the broader, more ambitious desire to overhaul the corporate tax code.
"As we press ahead, we continue to believe that any legislation addressing inversions must bridge to comprehensive tax reform," Wyden said. "This is not some abstract issue about corporate accounting. Without a bipartisan stopgap measure in place, we run the risk of having our business tax base eroded, leaving mainstream American companies and families holding the bill."
Inversions have been around for decades, but have grown in number of the past two years, especially for companies in the health care and pharmaceutical sectors.
These cases often involve a U.S. corporation buying a smaller partner in places as diverse as Ireland, Holland, Canada, or Israel and then moving their headquarters there while otherwise retaining their large presence in the United States, the world's richest and most robust consumer market. What had been headquarters then becomes a U.S. subsidiary of a foreign parent company.
Speaking in Los Angeles in late July, President Barack Obama accused corporations considering or already engaged in inversions — including household names such as Burger King and the Walgreen Co. drugstore chain — of being corporate deserters.
"I don't care if it is legal. It is wrong," said Obama.
A number of Democrat lawmakers are preparing bills aimed at arresting the most troubling inversions, which involve what's called earnings stripping. That's where a company avoids paying U.S. taxes through an accounting move in which they saddle their U.S. subsidiary with debt, paying an excessive amount of interest to a related party. In the case of inversions, the related party is the newly minted headquarters abroad in a country such as Ireland or Bermuda with lower corporate tax rates.
Conservative Democrats, especially those in close Senate races, have been wary of stand-alone measures to address the inversion problem, siding with Republicans who want a broader rethink of corporate taxes.
The Obama administration insists inversions will result in at least $17 billion in lost tax revenue over the next decade.
Companies that have recently sought inversions include drugmakers Mylan Inc. in Pennsylvania and Chicago's AbbVie. Minnesota-based medical device manufacturer Medtronic Inc. would be the largest U.S. company do so, and it touched off a firestorm recently with its $42.9 billion acquisition of the Irish firm Covidien PLC.
The controversy surrounding inversions forced drug giant Pfizer Inc. to back off of its plans earlier this year to purchase the British firm AstraZeneca PLC, and Walgreen Co. last month also stepped back from its inversion plans to purchase a smaller Swiss company.
Photo: Center for Strategic & International Studies via Flickr
Interested in U.S. politics? Sign up for our daily email newsletter!