Wyden: Reform Secret Government Surveillance Now Or Live To Regret It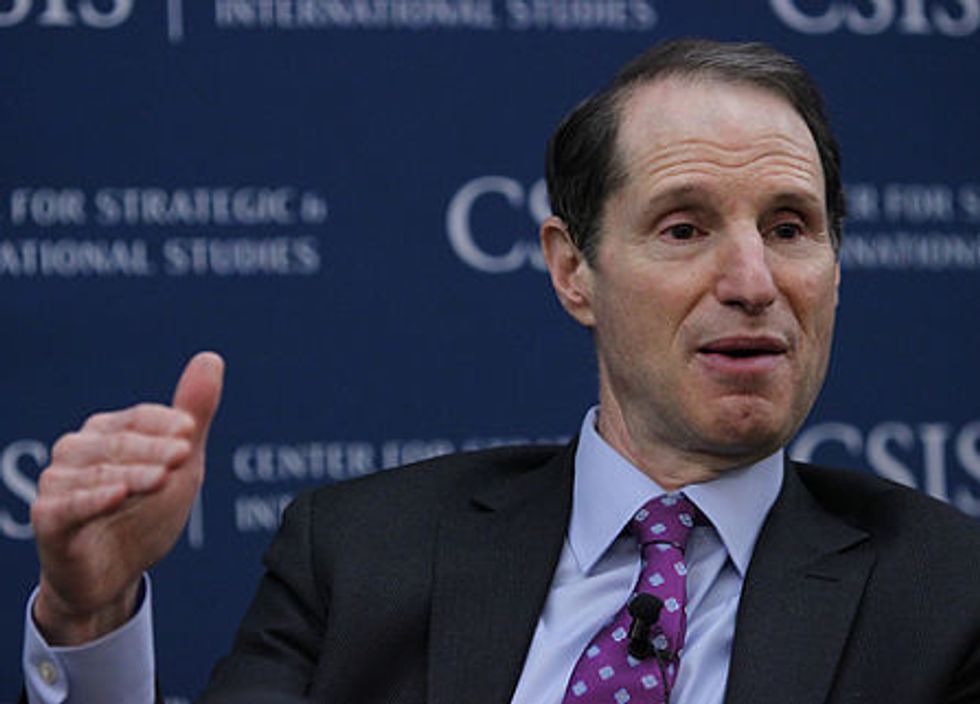 Senator Ron Wyden (D-OR) believes now is the time to begin to rein in the secret government surveillance that began in the wake of the 9/11 attacks.
Speaking at the Center for American Progress Action Fund on Tuesday, the senior senator from Oregon said, "If we do not seize this unique moment in our constitutional history to reform our surveillance laws and practices, we are all going to live to regret it."
The "unique moment" Wyden is referring to follows the leaks of classified documents by former National Security Agency (NSA) contractor Edward Snowden earlier this year, including one that showed a Foreign Intelligence Surveillance Act Court decision authorizing mass collection of cellphone metadata from millions of Americans.
Wyden used his speech to trace how America got to this point, noting that he voted for the original PATRIOT Act in 2001 under the belief that increased governmental powers were temporarily necessary in the wake of the unprecedented terrorist attack on American soil.
He noted that the Bush administration had a "pattern of withholding information from Congress." He joined the Senate Intelligence Committee in 2001 but didn't learn about NSA's warrantless wireless surveillance until he read about it in the newspaper in 2005.
Under pressure, the Bush administration submitted the program to the FISA court. But that court has led to what Wyden calls "secret laws."
"There are effectively two PATRIOT Acts," he said. There's one you can read and the secret rulings that interpret the law, which are not available to the public. I can tell you that those rulings can be astoundingly broad."
The senator stated that Americans recognize intelligence agencies sometimes need to conduct classified activities but the laws that guide them should not be secret. "That's not the way we do it in America," he said. "We do not keep laws secret."
He added historical context by invoking an era when America actually faced an existential threat from a foreign enemy.
"Even at the height of the Cold War, the Congress said we're going to make surveillance laws public."
Wyden stated, "Secret law has no place in America" because "when Americans are in the dark they cannot make informed decisions about who they want to represent them."
He then turned to the FISA court, which he joked that few people had heard of a few months ago but now he gets asked about at the barber shop.
The court was designed to review requests for intelligence wiretaps in the late 1970s. It was actually a governmental reform enacted in the wake of revelations of government spying on such figures as Dr. Martin Luther King Jr. After 9/11, the court got new powers to interpret broad laws in "startling" ways.
"Their rulings are secret," he said, adding that proceedings are extraordinarily one-sided.
President Obama agreed that these rulings needed to be made public, Wyden said. A process of declassifying began in summer 2009. "In the last four years, exactly zero rulings have been released."
The senator said this mass surveillance limits the freedom of all American men, women and children. Your metadata is effectively at the fingertips of government bureaucrats and independent contractors.
"There is nothing in the PATRIOT Act that limits it to phone records," Wyden said. "Government's authority to collect information on law-abiding citizens is basically unlimited at this time." He implied that the government could already collect a list of gun owners based on business records, a constant fear of groups like the National Rifle Association.
He tried to put the government's power in context by pointing out how our privacy can be compromised by something that most Americans don't let out of their sight or immediate reach — their smartphones.
He stressed that a mobile phone is now effectively a surveillance device with a "location-enabled homing beacon." Americans cannot be sure how these devices will be used to monitor them. He knows this because he's asked intelligence officials and they've never given him a straight answer.
Wyden praised those who work in America's intelligence agencies as hardworking and diligent. But they cannot do their job with the confidence of the public unless the public is informed of what they are doing.
"The public was not just kept in the dark about the PATRIOT Act and other secret authorities," he said. "The public was actively misled."
The PATRIOT Act has been compared to a grand jury subpoena, but it has been used to justify ongoing surveillance of millions of Americans. Wyden challenged the attorneys in the audience to show him a subpoena that was so broad.
He rejected the notion that officials should be allowed to mislead Congress because representatives can get the truth in private. The senator specifically called out Director of National Intelligence James Clapper for "one of the most false statements ever made about domestic surveillance" when the director denied that the National Security Agency collects data on millions of Americans.
Wyden detailed the steps he took in order to encourage Clapper to clarify this statement, which the director's office refused to do.
The senator concluded his argument against unchecked secrecy by noting that there has not  been "any indication that the bulk phone records program yielded any unique intelligence."
Wyden pointed out that more than a quarter of the Senate has called for clarification on NSA surveillance so the programs can be given proper oversight by Congress. "We are showing that liberty and security are not mutually exclusive."
There are already "points on the board" for those seeking to protect civil liberties, he said. A bulk email program justified by the government under the PATRIOT Act was shut down in 2011 after Wyden and Senator Mark Udall (D-CO) questioned claims about its success.
However, Wyden and Udall couldn't announce that victory for Americans' privacy — it was classified.
Photo: Center for Strategic & International Studies via Flickr.com