Yankees' Suzuki Reaches 4,000 Career Hits
@AFP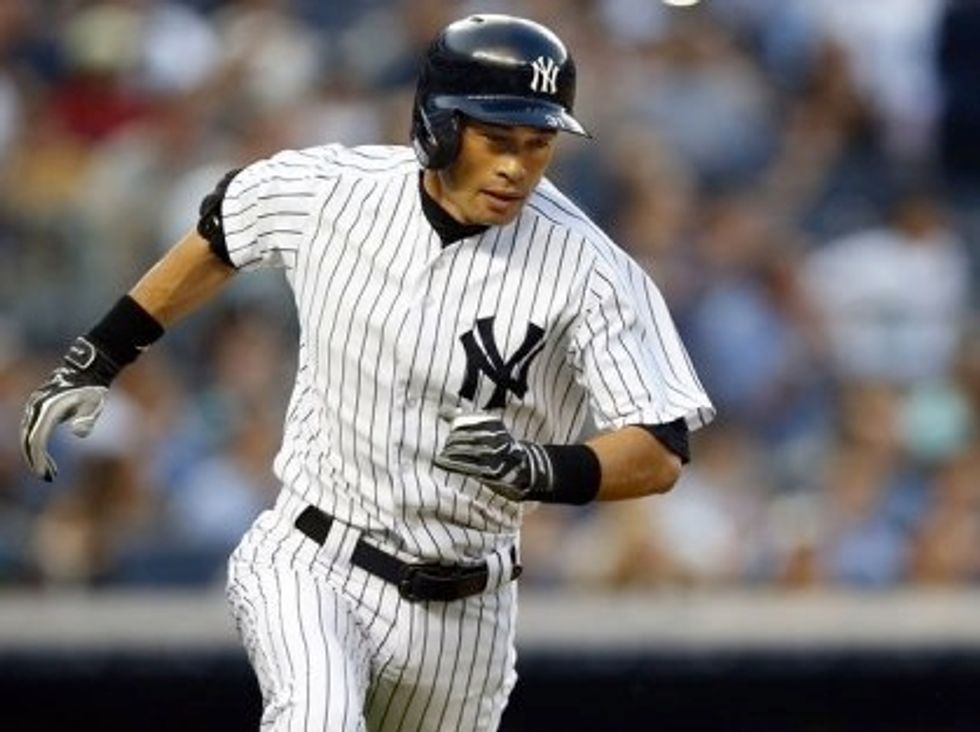 NEW YORK CITY (AFP) – Japan's Ichiro Suzuki wasted no time belting the 4,000th hit of his pro career, achieving the milestone in the first inning of New York's 4-2 win over the Toronto Blue Jays.
Yankees outfielder Suzuki did it Wednesday by slicing one of Toronto pitcher R.A. Dickey's knuckleballs past a diving third baseman Brett Lawrie and into left field in his first at-bat of the Major League Baseball contest.
The 39-year-old Suzuki, who played professionally in both Japan and North America, finished the game one-for-four.
Suzuki's teammate Alfonso Soriano hit a tiebreaking two-run homer with two outs in the eighth inning as the Yankees handed the hapless Blue Jays their 12th consecutive loss in New York.
As soon as Suzuki stopped at first base, the New York players came out of the dugout to celebrate with him. The crowd stood and cheered and Suzuki acknowledged their applause with a modest bow.
"It was supposed to be a number that was special to me, but what happened tonight, I wasn't expecting," said Suzuki.
"When my teammates came out to first base, that was very special. The fans, I wasn't expecting so much joy and happiness from them. That's what made it very special tonight; not just the number, but all the things that came with it were very special."
The 10-time all-star joins some elite company, with Pete Rose (4,256) and Hall of Famer Ty Cobb (4,189) the only two players to reach that elusive mark. Cobb and Rose achieved their marks while playing their entire careers in American baseball.
Suzuki has now compiled 2,722 hits during his 13 seasons in America. He racked up his first 1,278 hits while playing nine years with the Orix Blue Wave in his native Japan from 1992-2000.
He signed with the Seattle Mariners and recorded 242 hits in his US debut en route to winning both the American League Rookie of the Year and Most Valuable Player Awards.
That began a streak of 10 straight seasons in which he collected 200-plus hits. That also included an American baseball record 262 in 2004, breaking the single-season mark held by George Sisler since 1920.
In July 2012, Suzuki was dealt from Seattle to the Yankees.
Among Suzuki's 2,722 hits in America, 2,228 have been singles. He has blasted 110 home runs.
Photo Credit: AFP/Rich Schultz