Yanukovych Insists 'Not Overthrown', Will Fight On
@AFP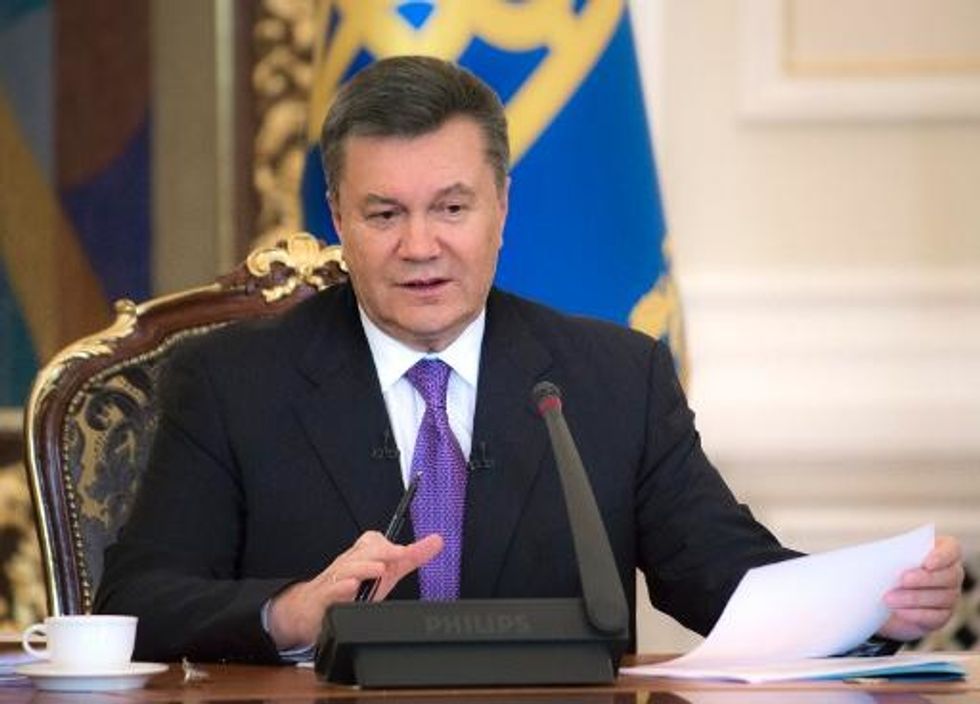 ROSTOV-ON-DON (Russia) (AFP) – Deposed Ukrainian president Viktor Yanukovych insisted Friday in his first public appearance since fleeing to Russia that he had not been overthrown and would continue to fight for the future of Ukraine.
Yanukovych told reporters in the southern Russian city of Rostov-on-Don that he had been "compelled to leave" Ukraine after he received threats to his security.
"I have not been overthrown by anyone, I was compelled to leave Ukraine due to an immediate threat to my life and the life of those close to me," he said, sitting at a desk alongside a senior editor from the ITAR-TASS news agency in front of three Ukrainian flags.
"I intend to continue the fight for the future of Ukraine against those who try to saddle it with fear and terror."
Yanukovych, who fled after being impeached by parliament on Saturday, savaged the anti-Kremlin and pro-EU forces who have now taken power.
"Power in Ukraine has been taken by nationalist, pro-fascist young people who represent the absolute minority of people in Ukraine."
"This is anarchy, terror and chaos," he added.
But Yanukovych, 63, speaking in Russian, said he wanted to apologize for leaving Ukraine in its current state.
"I am ashamed. I want to say I apologize to the Ukrainian people for what happened in Ukraine and that I did not have the strength to keep stability."
He blamed the "irresponsible policies" of the West for the crisis in the country and said he would not take part in "illegal" presidential election planned by Ukraine's new leadership for May 25.
Yanukovych said he spoke by telephone to Russian President Vladimir Putin after arriving in the country but had not yet met with the Kremlin chief.
He said such a face-to-face meeting was planned in the future. Yanukovych said he was surprised that Putin had not yet spoken out on Ukraine since his flight.
Yanukovych said he had arrived in Russia "thanks to a patriotically-minded young officer" without giving further details. He said he would only return to Ukraine once his personal security was assured.
Yanukovych said he could understand the anger of citizens in Ukraine's pro-Russian region of Crimea against the new Ukrainian authorities.
"I consider that what is happening in Crimea is an absolutely natural reaction to the bandit-like takeover that happened in Kiev."
He said he still saw himself as the Ukrainian president and as such believed that Crimea must remain part of Ukraine.
Photo: Muykhylo Markiv via AFP