Milo Yiannopoulos Silenced: Provocateur Resigns From Breitbart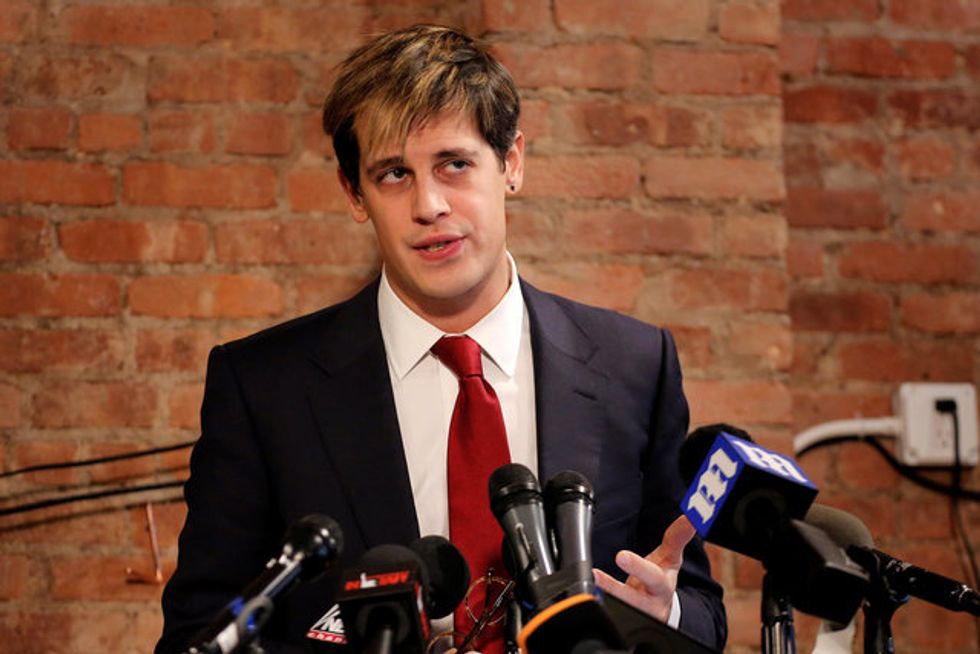 Reprinted with permission from Media Matters for America.
Breitbart editor Milo Yiannopoulos announced Tuesday that he has resigned from the right-wing website following the emergence of a video in which Yiannopoulos apparently justified sexual abuse of a minor by an adult.
"I would be wrong to allow my poor choice of words to detract from my colleagues' important reporting, so today I am resigning from Breitbart, effective immediately. This decision is mine alone," he said in a statement.
Yiannopoulos, who has a long and well-known history of making virulent attacks against women, people of color, Muslims, and the transgender community, and is a key enabler of the "alt-right," was hired by Breitbart when the site was run by Stephen Bannon, now White House chief strategist.
But it took the circulation of the video for him to finally become too toxic for the Conservative Political Action Conference (CPAC), which rescinded its invitation for him to speak; Simon & Schuster, which pulled his book deal; and Breitbart, where employees were reportedly threatening to bolt if he was retained.
As Matt Schlapp, the chairman of the American Conservative Union, which runs CPAC, suggested, Yiannopoulos' past comments were simply "controversies and disagreements among conservatives," while "there is no disagreement among our attendees on the evils of sexual abuse of children."
Yiannopoulos has fans at the very highest levels of the federal government. "Bannon believes in Milo," the site's editor-in-chief, Alexander Marlow, reportedly toldThe Washington Post earlier this month. "He dedicated time and resources – both personally and with his businesses – to expanding Milo's brand." Earlier this month, President Donald Trump attacked the University of California, Berkeley and threatened to withdraw federal funds from the university after it canceled an event featuring the Breitbart editor.
Earlier today, Marlow called the comments in the video "very troubling and upsetting" and "not defensible" and said Yiannopoulos would address "his future with Breitbart" during a press conference this afternoon.
Marlow also laid the groundwork for turning Yiannopoulos into a martyr, saying that there are "millions of examples of the left normalizing behavior similar to what Milo describes" and that Yiannopoulos is the victim of a "coordinated hit" by liberals and anti-Trump conservatives. During his press conference, Yiannopoulos likewise said that "this is a cynical media witch hunt from people who don't care about children. They care about destroying me and my career." He also promised to announce his own media venture and new college speaking tour dates in the coming months.
Given that Breitbartis a sewer with no standards, Yiannopoulos leaving would "suggest that the website, amid a major advertiser boycott, has finally found a limit to the bad press it is willing to tolerate from one of its biggest stars. No matter what, Marlow wants to keep Yiannopoulos' audience from leaving the website. Keeping Yiannopoulos is the best way to do that, but if that's no longer financially viable, turning him into a martyr is the next best strategy."
IMAGE: Milo Yiannopoulos addresses the media during a news conference in New York, U.S., February 21, 2017.  REUTERS/Lucas Jackson