Yielding Time In The Senate On The Presidential Trail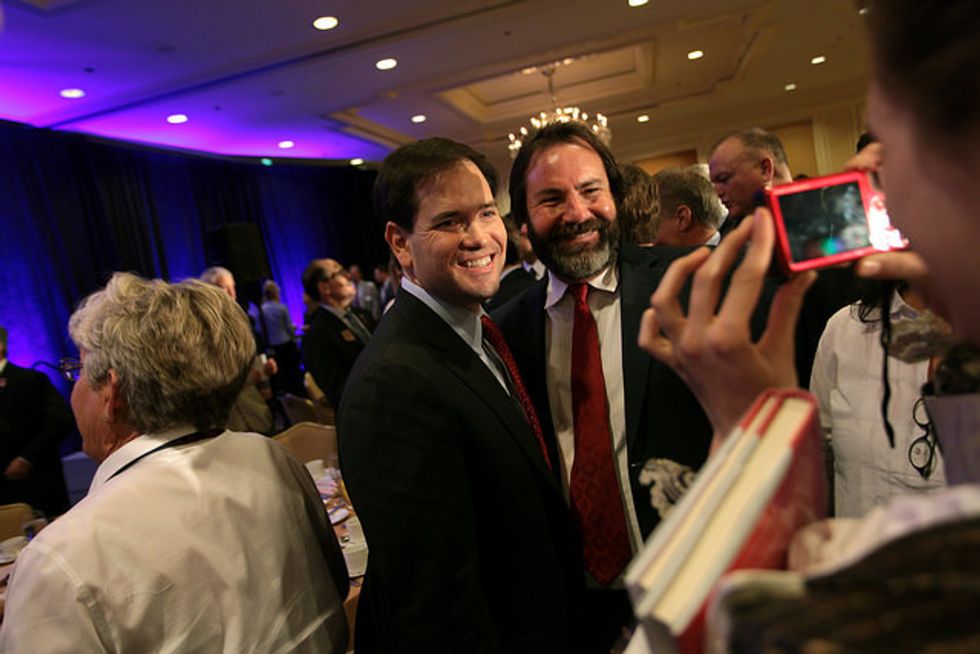 By Kyle Trygstad, CQ-Roll Call (TNS)
WASHINGTON — The senator hurries into the recording studio on the fourth floor of the Hart Senate Office Building, now 30 minutes behind after getting held up at votes.
He sits down in front of the camera, glances at the monitor, and swiftly combs his fingers through his straight, dark brown hair. Expressionless, he awaits direction.
"OK, senator, we're recording, so whenever you're ready," a studio staffer tells him over the intercom. The senator's face lights up with a smile.
"Hello, I'm Marco Rubio, and it's an honor and privilege to serve you and the state of Florida in the United States Senate."
Rubio's recording, played at a reception two days later at MacDill Air Force Base congratulating the state's incoming service academy students, requires three takes — something he says never happens — before the Republican rushes downstairs to an Intelligence Committee briefing more than halfway through a packed work day. It's 2:50 p.m. on June 18.
Time spent on Capitol Hill inevitably declines for those running for president from the Senate, and Rubio has missed the second-most votes of any senator (behind only Ted Cruz). But the workload doesn't change — from mundane, parliamentary tasks, to staying on top of constituent matters to pushing legislation through. (On this particular day, he introduced three bills and penned an op-ed about the Girls Count Act he co-sponsored with Democrat Jeanne Shaheen, which was signed into law.)
Rubio receives a daily memo on his official requirements regardless of whether he's in the nation's capital. But every minute he's here is precious.
Of course, like anything in Congress, schedules don't always go according to plan, so Rubio — like the four other senators vying for the White House next year — must make adjustments on the fly, as he does on this day as Roll Call trails him.
"Discipline in your schedule," Rubio says in an interview. "You really don't have any time to spare, as you've seen today. Any 10-minute hiccup can disrupt the whole schedule. … You fall behind schedule, the whole day falls apart."
Just as his official duties don't end on the trail, Rubio's campaign obligations continue when he's on the Hill. Last Thursday began and concluded with political events.
It kicked off at 8:30 a.m. in a Capitol Hill rowhouse for a breakfast with some 18 members of Congress. According to an attendee, Rubio spent 15 minutes discussing his presidential campaign's message and strategy before fielding advice and questions for the remainder of the hour. Several of the members, according to the source, said they planned to support Rubio.
His final commitment of the day was a 6:30 p.m. fundraiser at the Capitol Hill home of top Republican donor Bob Pence, a source confirmed.
By 11:03 a.m., Rubio has made his way to the Capitol to preside over a mostly empty Senate chamber — a duty carried out by more junior members of the majority, and from which presidential candidates get no reprieve. Soon after taking his seat, the first-term senator places his smartphone in an open desk drawer to the right (allowing him to discreetly check it) and focuses on a red folder containing the speech he would soon deliver to the Faith and Freedom Coalition's conference across town.
With no action on the floor other than Sens. John McCain (R-Ariz.) and Jack Reed (D-R.I.) chatting in the center aisle, Rubio goes line by line with a ballpoint pen, making a few edits.
"Just made some little notes there," Rubio says with a smile a few hours later. " … When you're sitting in the chair and there's nothing going on, that's a good reading time or a good time to do some of that stuff."
McCain bounds down to the well of the Senate and calls out "Marco!" before leaning on the dais for a five-minute powwow. Their conversation isn't audible from the press gallery above, but Rubio says later McCain shared stories of his time campaigning for president in the Granite State, which hosts the nation's first primary.
"Just do a lot of town halls — that's what he always says. That's how he won New Hampshire," Rubio tells Roll Call.
McCain missed more than half the votes in 2007 leading up to the Republican presidential primaries, according to CQ's Vote Watch tracker. Rubio has participated in 77 percent of the votes so far this year. (Cruz has been present for 76 percent of votes, Lindsey Graham for 82 percent and Rand Paul for 99 percent.)
"One of the real challenges is understanding when there are critical votes for which our vote is needed or a big issue we've worked on or just a big national issue we want to be involved in and need to be involved in — and balancing that with the demands of the campaign," Rubio says.
The competing priorities crossed paths in January, when Rubio missed the vote on a bill to approve the Keystone XL pipeline while fundraising in California. It passed anyway, on Jan. 29 with 62 votes, with Rubio the only absent Republican.
Thirty minutes after exiting the Senate chamber, just after noon, Rubio steps on stage in a relatively small, but ornate, ballroom in the Omni Shoreham Hotel in the Woodley Park neighborhood of Washington, D.C. He would speak for more than 20 minutes to a crowd of conservative Christians over the incessant sound of silverware clinking on plates. Rubio teases The New York Times for its coverage of his finances and reminisces about his underdog 2010 Senate campaign, disrupted briefly by a couple of protesters.
In an interview later, Rubio remarks about how much he's learned in his time on Capitol Hill. Six years earlier, almost to the day, then-Sen. Jim DeMint held a news conference with Rubio across the street from the Senate. In bucking the national party by endorsing the Senate candidacy of the former Florida state House speaker, DeMint called him "one of the ones to lead our party out of the wilderness."
"That was a different time," Rubio says when asked why he believes he's now prepared for the presidency. "Like anybody else, there are things I know today that I didn't know six years ago, particularly some of the federal issues that we now confront."
After jumping into a packed SUV outside the hotel, Rubio races back to the Hill for lunch with Republican colleagues and then votes on the National Defense Authorization Act and the defense spending bill. By the time he makes it to Hart for his recording session, the senator already knows he may be late to Intel. The rest of the day's agenda includes a meeting with the foreign minister of Singapore and Singapore's ambassador to the United States, the fundraiser and packing for the weekend, when he would address the Miami-Dade County GOP's annual Lincoln Day Dinner.
That makes it even more frustrating as he stumbles over the words in his first take. He laughs when it happens a second time. When a reporter notes his presence might be the cause, Rubio blames it on his lack of time to read the script first, which he normally does.
Rubio nails it on the third try, and his thoughts immediately divert to his next task.
"Congratulations. May God bless all of you. May God bless our Armed Forces. And may God bless the United States of America," Rubio says, before the studio staffer gives the all clear.
"All right, so, um, what time is it?"
Photo: Gage Skidmore via Flickr