Zinke Corruption File Sent To Justice Dept For Potential Prosecution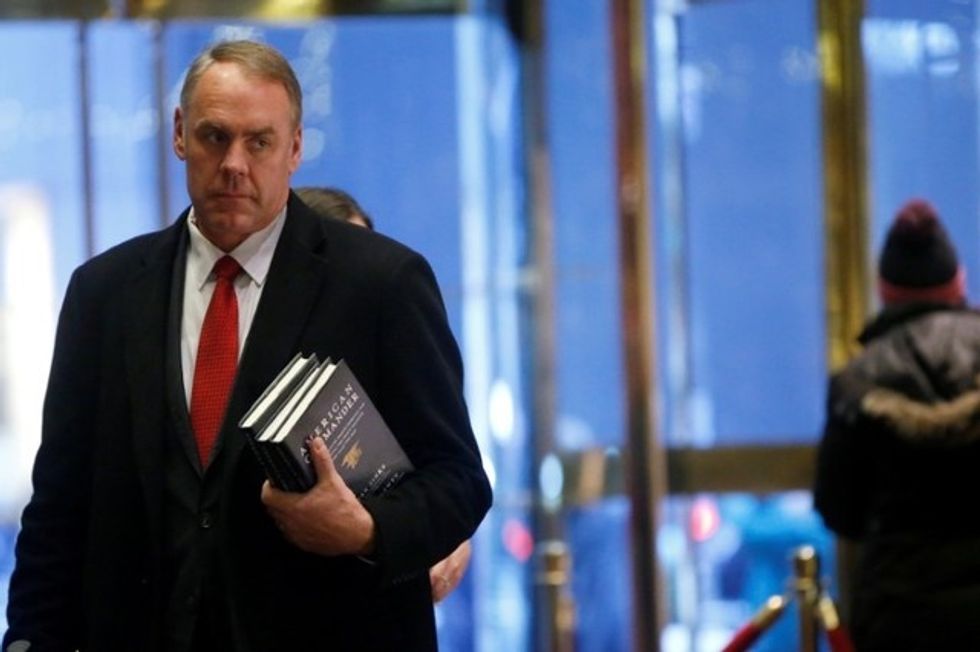 Reprinted with permission from AlterNet.
President Donald Trump's Cabinet has been rife with corruption, which has already led to the ouster of two high-profile appointees.
But while previous investigations have led to increased scrutiny of Trump Cabinet members, the latest reported development in the ongoing scandal of widespread corruption in the administration could have criminal implications. According to the Washington Post, Interior Secretary Ryan Zinke's inspector general has just referred a probe of the department head to the Justice Department.
The piece explained:
A referral to the Justice Department means that prosecutors will explore whether a criminal investigation is warranted. While an agency's inspector general regularly issues reports on the findings of its inquiries, it only refers cases to the Justice Department when it has determined that there could be potential criminal violations.

A senior White House official, speaking on the condition of anonymity due the sensitive nature of the matter, said the White House understands that the investigation is looking into whether the secretary "used his office to help himself."
Some of the criticisms of Zinke's behavior are related to misdeeds other Cabinet members have been accused of. He has been accused of abusing travel funds, and the inspector general recently found that misused funds to pay for a trip his wife took.
Other allegations suggest Zinke used his official powers for personal advantage.
"One of the allegations under investigation regards the secretary's role in a Montana land development deal backed by David J. Lesar, chairman of the oil services firm Halliburton, which Politico first reported in June," the Post explained. "The business and retail park, known as 95 Karrow, is slated to include several businesses and would be near multiple parcels of land owned by Zinke and his wife. The deal involves land owned by a foundation now headed by Zinke's wife, Lola, which the secretary used to run before joining the Trump administration."
The Post reports that Zinke — along with other Cabinet members — may depart the administration after the midterm elections.
Cody Fenwick is a reporter and editor. Follow him on Twitter @codytfenwick.