10 Mitt Romney Scandals That Shouldn't Be Forgotten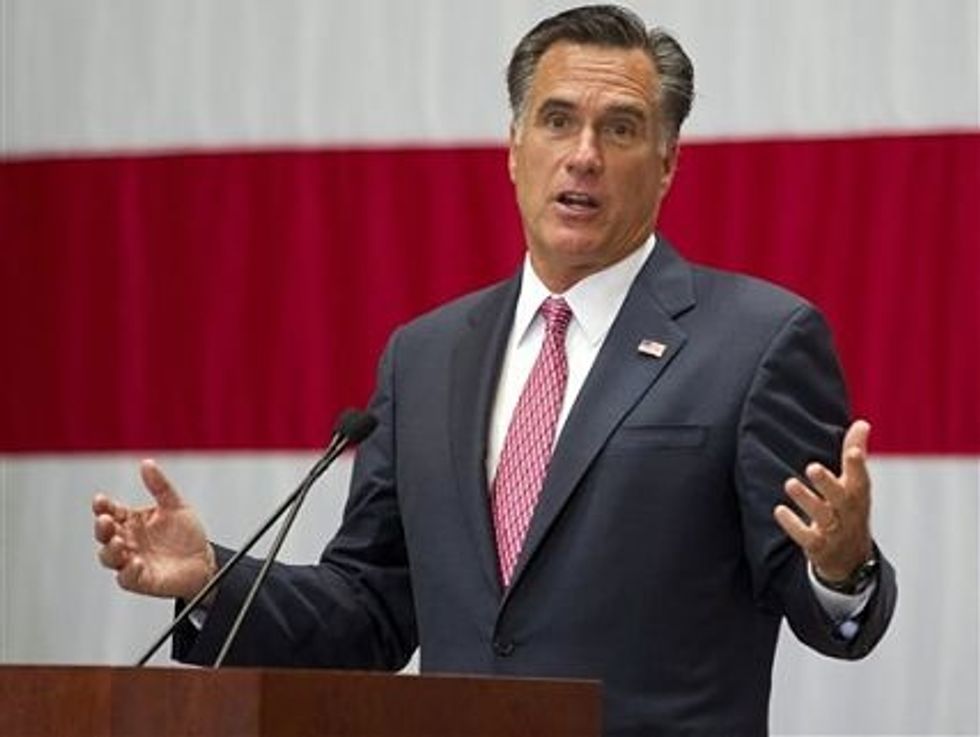 Although Mitt Romney has been running for president of the United States for about six years, voters are still missing much critical information about his past. Perhaps owing to Americans' short attention spans, many of the most controversial stories concerning the Republican nominee have hardly been examined — while the mainstream media obsessed over the gaffe-filled, clown-car elements of the 2012 campaign. The result is an incomplete picture of the man who could be Commander-in-Chief.
What follows are 10 troubling stories from Mitt Romney's past, all of which have been reported by the media — and subsequently forgotten by all but the most ardent political observers.
Posthumous Baptisms
One of the oddest — and some would say most offensive — practices of the Mormon Church is posthumous baptism, in which deceased members of other faiths are baptized as Latter Day Saints so that they can get into heaven.
When Newsweek asked Romney in 2007 if he had preformed baptisms for the dead, Romney responded: "I have in my life, but I haven't recently."
One of the posthumous baptisms that the Romney family performed was on his father-in-law, Edward Davies — despite the fact that Davies was a staunch atheist who considered religion to be "drudgery" and "hogwash."
Profiting From 9/11
Romney's involvement with an insurance startup called Endurance Specialty Holdings has largely been forgotten among the wave of questionable business deals that have come to light during the presidential campaign.
Endurance Specialty Holdings was designed to purchase debt from insurance companies that suffered huge losses in the wake of the terrorist attacks of September 11th, 2001. According to a report by Politicker's Hunter Walker, Romney was invested in the company through Golden Gate Capital — a private equity firm started by one of his former colleagues at Bain Capital — and CCG Investment Fund, LP. By the end of 2003, Endurance Specialty Holdings was reporting a net income of over $263.4 million.
Sensitive to charges that he had profited from the 9/11 tragedy, the Romney campaign insisted that the Republican nominee had no control over his investments, as they were managed by a blind trust — an institution that Romney himself famously described as an "age-old ruse."
Potential Voter Fraud
In 2010, Romney voted for Republican Scott Brown in Massachusetts' special election to fill the Senate seat vacated by the late Ted Kennedy. To prove his Bay State residency, Romney claimed that he was living in his son Tagg's unfinished basement — which seems unlikely for a quarter-billionaire with multiple houses of his own.
If Romney was lying about his residency, it would constitute voter fraud, a crime punishable by up to five years in jail. Commission of that particular felony would be highly ironic, given the extreme lengths to which Romney's own party has gone to root out alleged election fraud.
Some observers, like M.S. Bellow Jr. of The Guardian, have speculated that Romney refuses to release his 2009 tax return because it lists an address other than Tagg Romney's Belmont, Massachusetts home. The vote-fraud story has mostly gone unnoticed by the mainstream media, however.
Profiting From Disposal Of Aborted Fetuses
Another of Romney's questionable Bain deals that has gone underreported is the firm's profitable investment in the medical waste disposal firm Stericycle. Bain Capital sank $75 million into the company in 1999 — an odd investment for a staunchly anti-abortion Republican to make. After all, Stericyle has long been attacked by right-wing groups for disposing of aborted fetuses.
The investment raises serious doubts about Romney's stated timeline of his exit from Bain Capital. Before Mother Jones' David Corn broke the Stericycle story, Romney claimed that he had fully left Bain in February of 1999. The SEC documentation of the Stericycle deal proved that wrong, however, prompting Romney surrogates to explain that he had "retroactively retired" from the company in 2002.
Had the story garnered more attention, it could have irreversibly damaged Romney's credibility regarding his business record.
Trying To Block A Lifesaving Abortion
In 1990, Judith Dushku — a professor at Suffolk University in Boston and the mother of actress Eliza Dushku — published an article recounting the story of a 41-year-old woman who had developed a life-threatening blood clot during her sixth pregnancy. While she was at the hospital to undergo the abortion that she needed to survive, her bishop — one Mitt Romney — showed up unnannounced and tried to stop her from going through with it.
According to Dushku, Romney and the woman had the following conversation:
He said – What do you think you're doing?

She said – Well, we have to abort the baby because I have these blood clots.

And he said something to the effect of – Well, why do you get off easy when other women have their babies?

And she said – What are you talking about? This is a life-threatening situation.

And he said – Well what about the life of the baby?

And she said – I have four other children and I think it would be really irresponsible to continue the pregnancy.
Dushku says that after she went public with the story, Romney — who was once a friend of hers — cut off all contact with her.
If anyone still doubts Romney's true position on abortion, this story makes his real attitude abundantly clear.
Still Hiding Those Tax Returns (And That Over-stuffed IRA?)
The broader story of Romney's financial history has gone largely unquestioned since he released two years of tax returns and a summary of tax rates from the previous 20 years in late September. The media is wrong to let Romney off the hook on this topic, however: voters still don't know what rates Romney paid from 1990-2009 (if he paid any taxes at all,) or how his IRA grew to such massive proportions, among many other unanswered questions.
Potentially Violating Ethics Laws (With Paul Ryan's Brother)
Throughout Romney's tenure as governor of Massachusetts, the state did frequent business with a marketing company called Imagitas. The company, which was run by former Bain employees Tom Beecher and Tobin Ryan — brother to Romney's running mate, Wisconsin Rep. Paul Ryan — had been started based on loans from Bain while Romney was still running the company. When it was sold in 2005, Bain — from which Romney still makes a massive amount of money through dividends, interest, and capital gains — tripled its original stake.
Did Romney violate ethics laws by steering contracts towards a company in which he had a financial stake? Nobody knows. Romney never filed disclosure forms detailing in which individual companies Bain Capital held investments, and he and his campaign have refused to answer questions about his financial connection to Imagitas.
His Son's Connections With A Ponzi Scheme
In 2009 Tagg Romney, Mitt's eldest son, partnered with several North Carolina investors who are facing a lawsuit in connection to the $8 billion Stanford Financial Group Ponzi scheme, the second largest such scam in history behind only Bernie Madoff's. Tagg helped these investors form a new company — called Solamere Advisors, a similar title to Romney's own Solamere Capital — shortly after Allen Stanford was arrested for his crimes.
As Lee Fang reported in The Nation, Tagg Romney then falsely claimed to reporters that Solamere Capital had no involvement with Solamere Advisors — likely because Mitt Romney has invested about $10 million of his own money into his son's business.
Profiting From The Auto Bailout — While Jobs Were Shipped To China
Although Romney infamously declared that the federal government should "Let Detroit Go Bankrupt," the self-described "son of Detroit" profited handsomely off the auto bailout.
As Greg Palast reported in The Nation, Romney and his wife made millions off an auto parts company called Delphi after it was bought for pennies on the dollar by Romney's partner (and one of his primary campaign donors) Paul Singer. Singer and his partners took billions in federal bailout dollars in exchange for continuing to supply auto parts to General Motors and Chrysler. They kept the money, stiffed the company's pensioners, and moved 25 of Delphi's 29 plants to China.
The White Horse Prophecy
In 1843, Joseph Smith supposedly prophesied that "You will see the Constitution of the United States almost destroyed… It will hang like a thread as fine as a silk fiber," until Latter Day Saints ride in on a metaphorical white horse to save the Constitution and take control of the government.
Although Romney has publicly stated that he does not believe in the prophecy, many Mormon political figures have used language evoking it, raising the question of how much of Romney's support within his Mormon base is actually based on an obscure religious doctrine. In Nevada, a closely-fought swing state that is home to many Mormons, ABC News reported last month that LDS church officials had distributed a 30-minute PowerPoint presentation urging church members to register and vote "with one voice" — an appeal that came very close to violating the church's tax-exempt status, which prohibits partisan activity.
Photo credit: AP/Evan Vucci, file