10 Things You Should Know About Julian Assange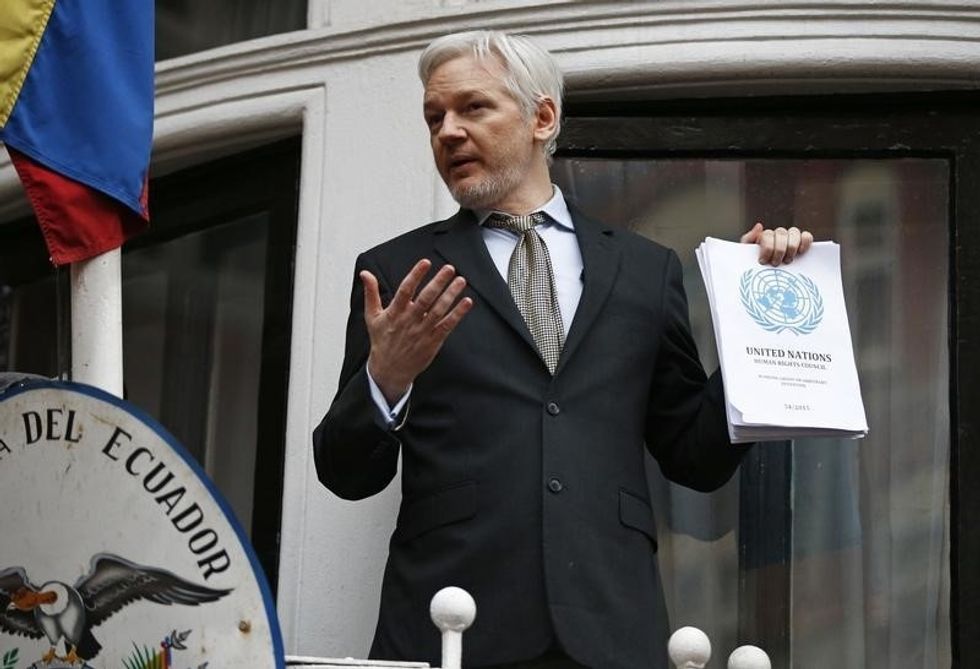 Reprinted with permission from AlterNet.
Julian Assange, founder of Wikileaks, is more loved, and more hated, than ever. And just who is doing the loving and the hating is more complicated than ever.
In his rise from libertarian hacker to global publisher, Assange pioneered a new kind of power, the power to disrupt the secrecy of the national security state. With the help of Chelsea Manning, the silver-haired Australian published the "Collateral Murder" video, which showed the world the reality of the war in Iraq, and the State Department cables, which showed the realities of American diplomacy. So a lot of people admired him.
Last week's disclosure that Assange collaborated with Donald Trump Jr. during the 2016 presidential campaign has generated another blizzard of headlines—and a lot of confusion—about the world-famous transparency advocate.
Here's what you need to know about Assange.
1. He's sitting on a pile of Bitcoin.
The Daily Beast reports that Wikileaks "has received a total of 4,025 BTC through its public wallet address—roughly $29 million by current exchange rates."
2. Assange was Twitter buddies with Donald Trump Jr. during the 2016 presidential campaign.
Wikileaks contacted Trump Jr. for the first time in September 2016 and continued reaching out in Twitter messages until at least July 2017, the Atlantic reported last week.
After receiving a private message from @Wikileaks, an account presumably controlled by Assange, Trump Jr. then emailed other senior officials from the Trump campaign such as Steve Bannon and Kellyanne Conway, as well as President Trump's son-in-law Jared Kushner to notify them Wikileaks had reached out.
On Oct. 12, 2016, the Wikileaks account again messaged Trump Jr.
"Hey Donald, great to see you and your dad talking about our publications." (At a rally on October 10, Donald Trump had proclaimed, "I love Wikileaks!")
Nine days later, the voice of Wikileaks made an offer.
"Hey Don. We have an unusual idea," Wikileaks wrote. "Leak us one or more of your father's tax returns."
The New York Times had already published a fragment of Trump's tax returns on October 1.
"If we publish them it will dramatically improve the perception of our impartiality," Assange's account continued. "That means that the vast amount of stuff that we are publishing on Clinton will have much higher impact, because it won't be perceived as coming from a 'pro-Trump' 'pro-Russia' source."
Trump did not give his tax returns to Assange.
3. Jared Kushner's newspaper loved him.
TheNew York Observer, a weekly newspaper owned by the president's son-in-law, published a long-running series of laudatory articles about Assange in 2015 and 2016, replete with exclusive details.
Duly appreciative, Wikileaks tweeted some of the Observer's coverage, including stories expressing doubt about the farfetched idea that the Russians might have meddled in the 2016 U.S. presidential election.
4. Sarah Palin is an Assange fan.
President Trump is not the only Wikileaks lover on the right.
Earlier this year, Sarah Palin, the one-time conservative darling marginalized by her dopey sound bites, her punch-drunk family and her bald-faced lies, fell hard for Assange. In a heartfelt Facebook post, Palin praised Assange's anti-Clinton stance at Wikileaks and apologized for once criticizing him.
5. The investigation of Assange for alleged sexual misconduct has been discontinued.
Assange has not been charged with rape, as has often been reported. Two women in Sweden alleged that Assange had molested and coerced them in sexual encounters.
One charge was dropped because the statute of limitations ran out. Last May, Swedish authorities discontinued their investigation of the other charge, citing the difficulty in obtaining Assange's testimony while he is holed up in the Ecuadorian Embassy in London.
6. Once admired on the left, Assange has alienated many former allies.
For a long time, the Intercept and Glenn Greenwald took the lead in defending Assange from his critics. No more. In a recent piece, Robert Mackey wrote "We Knew Julian Assange Hated Clinton. We Didn't Know He Was Secretly Advising Trump."
In the piece, investigative reporter Barrett Brown blasted Assange. He explained he had defended Wikileaks for releasing emails hacked from the Democratic National Committee, "because it was an appropriate thing for a transparency org to do."
But in the messages with Trump Jr., he noted, Assange was "complaining about 'slander' of being pro-Trump IN THE ACTUAL COURSE OF COLLABORATING WITH TRUMP."
"This latest revelation about the 2016 election has disappointed some people," wrote TruthDig, which is an understatement. "Time will tell if Assange and Wikileaks can regain the public's trust and be regarded as impartial publishers."
7. Assange helped promote the bogus Seth Rich conspiracy theory.
In August 2016, Assange suggested during a television interview that his source for the DNC email might have been DNC staffer Seth Rich, who was murdered in Washington 12 days before Wikileaks began publishing.
"We have to understand how high the stakes are in the United States, and that our sources face serious risks," he said.
Assange offered a cash reward for information leading to a conviction in the murder—a gesture that sent alt-right sleuths, convinced that Clinton had masterminded the killing, into a foolish frenzy. There was nothing to the story, except that it caused a lot of unnecessary pain for Rich's grieving family.
Even Fox News retracted its conspiratorial allegations about Seth Rich. Assange did not.
8. Assange promised to turn himself in if Chelsea Manning was freed—then reneged.
If Obama grants Manning clemency Assange will agree to US extradition despite clear unconstitutionality of DoJ case https://t.co/MZU30SlfGK

— WikiLeaks (@wikileaks) January 12, 2017
But when President Obama commuted the remainder of Manning's sentence, Assange back-pedaled. He said he had only promised to surrender if Manning was pardoned "immediately" and several months had passed. Obama, he added, was just trying to "make life hard for him."
9. Filmmaker Laura Poitras made two versions of 'Risk,' her documentary about Assange. The first version was admiring, the second disenchanted.
"What specifically bred Poitras' distrust of Assange?" asked Slate. "The sex charges; the Russia connection; his blooming paranoia; the sense, gleaned from several in Assange's entourage (we see it on the faces of his lawyers and advisers, as they try to debrief him on his legal and PR troubles) that he's a narcissistic asshole. All of the above? "
10. Kate McKinnon plays him on Saturday Night Live. 
In her latest skit, the comedian spoofs Assange as a boy playing spy games he barely understands. The chain-smoking Assange meets with Donald Trump Jr. (Mikey Day) and brother Eric Trump (Alex Moffat) in a darkened parking lot underneath the Ecuadorian Embassy. He wants to be a mastermind, but the Trumps are not impressed.
"You look like Draco Malfoy," says Eric Trump.
"I'm not some dumb blonde you can take advantage of," says Assange.