Trump Ban Leaves 12-Year-Old Girl Facing Return To War-Torn Yemen
@JustinElliott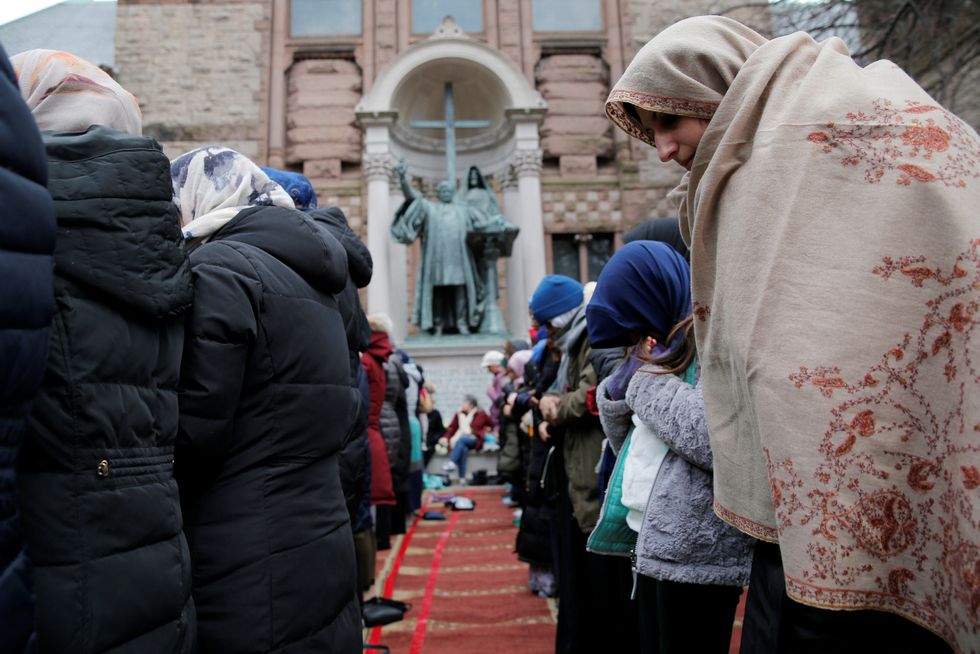 Reprinted with permission from ProPublica.
Ahmed Ali spent Sunday at a hotel near Djibouti's International Airport, anxiously checking CNN on his phone to see if the Trump administration would allow him to fly to the United States with Eman, his 12-year-old daughter.
Ali, 39, is a U.S. citizen, but his daughter had been living with grandparents in Yemen while American authorities processed her visa application. After years of waiting, the U.S. embassy issued the precious piece of paper last Wednesday, and father and daughter were excitedly preparing Friday for the flight that would unite Eman with her mother and two sisters.
They got through security at the airport before an official informed them that people with a Yemeni passport, like Eman, were prohibited from traveling to the U.S. by the executive order President Donald Trump says is needed to keep the country safe from terrorism.
"I got shocked because I don't know what I have to do," Ali said in a telephone interview on Sunday. "I can't take her back to Yemen. And I can't leave her here by herself — she is only 12 years old."
The Trump order, which bars citizens from Yemen and six other countries from entering the U.S. for 90 days, has left Eman in what amounts to a stateless limbo. She cannot join her American-citizen parents and family in the U.S. She has no roots or family in Djibouti.
And so on Sunday, her father, who works in a central California strip mall, was trying to decide how long he could continue to wait with her in a hotel he can scarcely afford. He said his only real choice — to send her back to the war-torn Yemeni city where she has lived under intense bombardment from Saudi forces backed by the U.S. — was unacceptable.
The plight of Ali and Eman is part of a larger story of lives thrown into disarray. Across the world, reports have emerged of doctors, students, performers and ordinary families whose permission to enter the U.S. had been granted and then summarily revoked.
Eman spent much of yesterday in tears as Ali struggled to explain as best he could what's happening.
"She can't really understand," he told me. "She said: 'Why only Yemenis? Why only us? Why only me?'"
Ali, the family's sole breadwinner has no idea what will happen next. The plane tickets, now gone, cost more than $2,000. The Lagon Bleu hotel, where he has been for almost two weeks, is expensive. In Los Banos, the town where he lives, he has worked for more than a decade as a manager at the Buy N Save Market, a small shopping center that includes a deli, a taqueria, and a gas station.
This morning he went to the U.S. embassy in Djibouti seeking answers but was turned away. "We can't do anything about it," a security guard told him.
The process that culminated in Eman being barred from boarding the plane Saturday began more than five years ago, according to the family's lawyer, Katherine Lewis.
Eman's mother is an American citizen by birth, but spent most of her life in Yemen. When Eman was born in Yemen, her parents assumed — incorrectly — that she was an American citizen too. Complicated rules requiring five years of residency in the U.S. for the parent of a child born abroad meant that Eman did not automatically become a citizen at birth.
When the couple realized this, they sought legal help. But cases involving Yemenis face long delays, made worse by the war. The U.S. closed its embassy in Yemen years ago and Yemeni citizens applying for visas now have to make appointments in Djibouti.
The particular irony of Eman's situation is that "as soon as she entered the United States, she would be a lawful permanent resident and eligible for U.S. citizenship immediately," said Lewis, who is with the firm Van Der Hout, Brigagliano & Nightingale in San Francisco. Eman has what is known as an immediate relative immigrant visa.
Lewis is now reaching out to the offices of California's senators to see if they can help.
The Trump order includes provision for exceptions on a case-by-case basis in the national interest.
The court orders that stayed aspects of Trump's executive order do not appear to affect this case because Eman is not yet in the U.S., Lewis said. And the possible change to the order exempting green card holders does not seem to apply either because Eman will not have a green card unless she can enter the United States, something she is barred from doing.
The White House did not immediately respond to a request for comment.
IMAGE: Muslim women pray during the "Boston Protest Against Muslim Ban and Anti-Immigration Orders" protesting President Donald Trump's executive order travel ban in Boston. REUTERS/Brian Snyder