'12 Years A Slave', 'Gravity' Share Academy Awards Glory
@AFP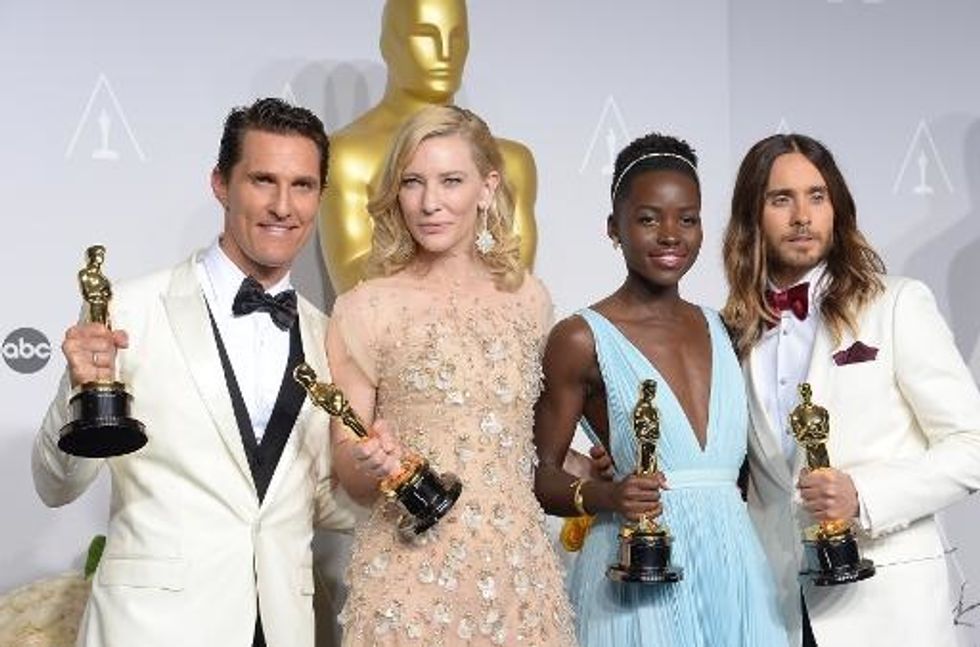 Hollywood (AFP) – Harrowing historical drama 12 Years a Slave won the coveted best picture Oscar, while 3D space thriller Gravity was the top prize winner at a politically tinged Academy Awards with seven.
True-life AIDS activist drama Dallas Buyers Club won three Oscars Sunday including best actor for Matthew McConaughey, while Australia's Cate Blanchett won best actress for Woody Allen's Blue Jasmine.
But 1970s crime caper American Hustle and Martin Scorsese's The Wolf of Wall Street went home empty-handed from the Oscars, the climax of Hollywood's annual awards season.
12 Years a Slave won three Oscars overall: best picture, best adapted screenplay and best supporting actress for Kenya's Lupita Nyong'o for her searing turn as a brutalized slave.
The movie, which won plaudits for depicting slavery with a raw realism not seen in the past, marks the first time the work of a black director — Briton Steve McQueen — has been honored with best picture glory.
"I dedicate this award to all the people who have endured slavery and the 21 million people who still suffer slavery today," McQueen said.
Mexican Alfonso Cuaron won best director for Gravity, the first Latin American to win the award.
His film — hailed for its jaw-dropping imagery — took six other prizes: best visual effects, sound editing, sound mixing, cinematography, film editing and original score.
As widely expected, Jared Leto won the best supporting actor Oscar for his fearless portrayal of a transgender woman suffering from AIDS in Dallas Buyers Club.
Politics surfaced in his acceptance speech: the actor and rock musician paid tribute to people in troubled Ukraine and anti-government protesters in Venezuela.
"To all the dreamers out there… in places like Ukraine and Venezuela, I want to say, we are here. And as you struggle to make your dreams happen, to live the impossible, we're thinking of you tonight," Leto said.
The 42-year-old also voiced support for marriage equality and paid tribute to the millions of people who have died of AIDS.
Dallas Buyers Club also won the make-up and hairstyling award, largely for efforts to transform Leto into a coquettish woman.
Before the show, Hollywood's finest paraded on the red carpet, mercifully dry after storm clouds lifted. Nyong'o was one of the shining fashion stars, in a pale blue pleated Prada gown.
Later on, a tearful Nyong'o — who turned 31 on Saturday — earned a standing ovation as she took the stage to accept her prize.
She paid tribute to her slave character Patsey, saying: "It doesn't escape me for one moment that so much joy in my life is thanks to so much pain in someone else's."
Host Ellen DeGeneres — who quickly earned raves for her second stint as host — opened with a monologue making fun of the storms that hit California on the eve of the Oscars.
"It's been a tough couple of days for us here. It has been raining," she said, addressing a global audience of hundreds of millions. "We're fine. Thank you for your prayers," she dead-panned.
She also made a stinging joke about 12 Years a Slave.
"It's going to be an exciting night. Anything can happen. So many different possibilities. Possibility No 1: 12 Years a Slave wins best picture. Possibility No. 2: You're all racists," she quipped.
Later, she set Twitter ablaze when a "selfie" photo she took with stars including Brad Pitt, Meryl Streep and Jennifer Lawrence quickly went viral, with more than 2.3 million retweets — a new Twitter record.
This year's Oscars race was one of the most fiercely contested for decades, as a pack of outstanding films campaigned for the ballots of the Academy of Motion Picture Arts and Science's 6,000 voting members.
The best picture race had been so close that the winner could have come down to only a few votes, under the Academy's preferential voting system.
While McConaughey was always the favorite for best actor, there had been growing talk in recent weeks about an upset win by Leonardo DiCaprio as debauched stockbroker Jordan Belfort in The Wolf of Wall Street.
The Titanic star's first nomination was 20 years ago, and he has now had five nods without a win. Small consolation: The Great Gatsby, in which he starred, won two Oscars on Sunday, for costume design and production design.
Disney's blockbuster musical hit Frozen won best animated feature — the studio's first since the category was introduced in 2002 — as well as best original song for Let It Go.
Italy's The Great Beauty won best foreign language movie and Twenty Feet from Stardom, about the unsung lives of backing singers, won the best documentary feature prize.
Sunday's broadcast featured performances by Irish rockers U2, playing their nominated song from Mandela: Long Walk to Freedom and by Idina Menzel, who sang the Oscar-winning Let It Go from Disney's Frozen.
It also celebrated the 75th anniversary of The Wizard of Oz with a reunion of Judy Garland's three children Liza Minnelli, Lorna Luft and Joey Luft, while Pink sang Over the Rainbow.
AFP Photo/Joe Klamar