14 States That Have Decriminalized Marijuana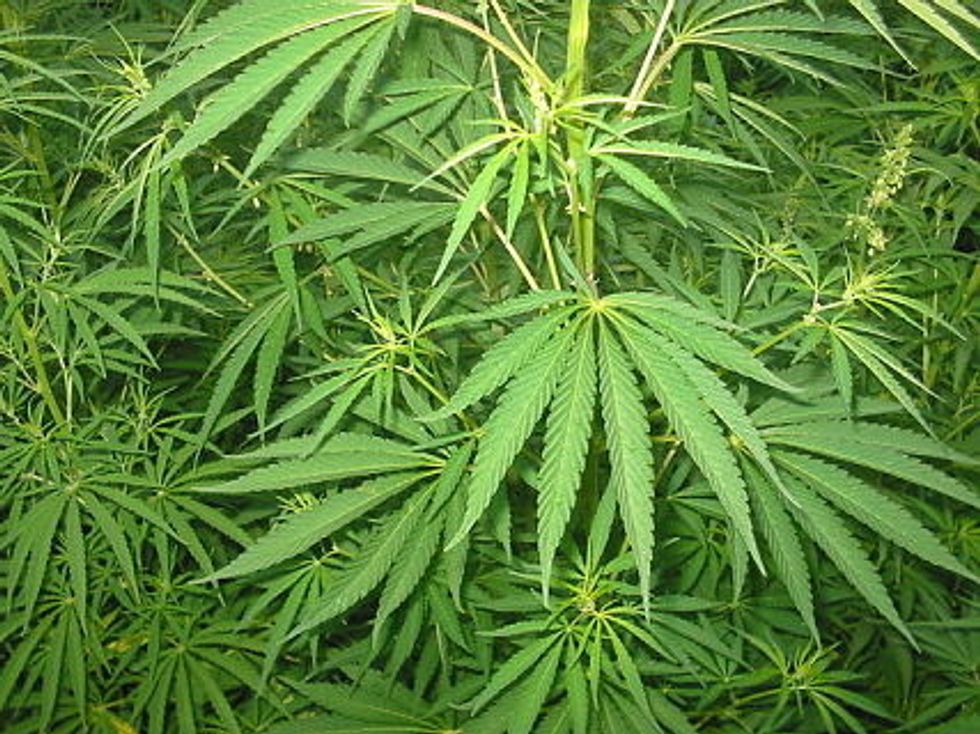 Rhode Island became the 14th state in the union to decriminalize marijuana to some degree on Monday. In these states — unlike Washington and Colorado, which both legalized the drug by voter referendum — people who use pot can be punished under state law, but only by some means other than prison time. Typically, offenders will receive a violation akin to a traffic ticket.
Even state legalization doesn't solve the conflict with the federal law that still prohibits any use of the drug under Schedule I of the Controlled Substances Act. However, it does make a dent in hundreds of thousands, if not millions, of Americans imprisoned for nonviolent drug crimes. And based on the 2012 election, it seems that more states will be pursuing the path of legalizing recreational use of the drug in a manner similar to alcohol.
The lack of a coherent federal policy makes enforcing state laws complex, and it also hinders a national policy to deal with the actual dangers of marijuana use, including dependence.
"There are three million people [nationally] who report that their lives are seriously interfered with by pot smoking and that's particularly problematic for juveniles," according to Mark Kleiman, the man who is helping Washington set up its state marijuana legalization regulations. "Six percent of high-school seniors are daily smokers and that can't be good for their education."
Studies suggest that decriminalization does not lead to increase in use of marijuana — ideally it would create an opportunity to engage in a more robust conversation about the risks of dependence.
Here are the states where marijuana isn't necessarily a jail-able crime anymore.
Photo: Wikimedia Commons

Alaska
The sale or distribution of marijuana is still a crime in Alaska, but possession of up to four ounces in one's home and  up to 24 private, noncommercial growing plants are acceptable under state law passed in 1975. Shortly thereafter the state's Supreme Court became the first and only court to say that the right to privacy in the state's Constitution protects an individual's right to possess marijuana in one's home for personal use.
AP Photo/Carolyn Kasher
California
In 2010, Gov. Arnold Schwarzenegger (R-CA) signed S.B. 1449. The law decriminalizes the possession of up to one ounce of marijuana and reduces possession from a misdemeanor to an infraction, treating possession of less than 28.5 grams like a traffic ticket, punishable by $100. Though the Governator supported decriminalization, he opposed Proposition 19, which would have legalized the drug. That measure was defeated in 2008.

Connecticut
Gov. Dannel Malloy (D-CT) pushed for a marijuana decriminalization law that passed both state houses and was signed into law in 2011. "Rather than a $1,000 fine, a criminal record and possible jail time, offenders would pay a $150 fine for a first offense and a fine ranging from $200 to $500 for subsequent offenses," NBC Connecticut reported.
Maine
Gov. John Baldacci signed a law expanding the state's decriminalization of marijuana making possession of up to 2.5 ounces as a civil violation without the inference that such an amount be presumed for sale. Possession of the drug above that amount and cultivation of more than 100 plants will be charged with an intent to distribute/sell and may result in jail time.
Photo: underwater
Massachusetts
Under the state's Sensible Marijuana Policy Initiative, decriminalized amounts of the drug less than one ounce and replaced a criminal charge with a $100 fine. The initiative was supported by prominent civic, business and religious leaders and 72 percent of the population. Since it became law, some localities have increased the punishment for being caught smoking in public.
Photo: Manu_J
Minnesota
Minnesotans who possess 1.5 ounces of cannabis can be charged with a misdemeanor punishable by a $200 fine and drug education. The state, however, aggressively prosecutes "drugged driving," with up to 90 days in jail for the first offense.
Photos: Conner395
Mississippi
One of the most surprising states on the list, Mississippi has decriminalized possession of up to about an ounce of marijuana, 30 grams. "Even so, there were still 10,401 marijuana arrests and/or citations in 2007," points out the Marijuana Policy Project. Possession of more than 30 grams is a felony — so there's a fine line between decriminalized and very criminalized in this state.
Photo: StuSeeger
Nebraska
The Cornhusker state also has decriminalized up to an ounce of marijuana. Offenders may receive a $300 fine. However, sale, distribution and "drugged driving" could easily result in jail time.
Photo: shannonpatrick17
Nevada
This state has a unique "three-strikes" marijuana decriminalization. You can be fined for possession up to an ounce three times before facing felony charges. But bring more than ounce of marijuana to Las Vegas — as Hunter S. Thompson likely did — and you could be facing a mandatory minimum sentence for intent to distribute.
AP Photo/Isaac Brekken, File
New York
Marijuana possession decriminalization is a hot issue in New York state, even though it has been decriminalized for up to 25 grams since 1977. A key provision of that law was that the drug has to be out of the public view. If the drug can be seen, possession becomes a misdemeanor with a potential punishment of incarceration for up to three months. As part of Mayor Bloomberg's controversial "Stop and Frisk" program, New York City residents — often young African-American and Latino males — are randomly stopped and asked to empty their pockets. Once they do, the marijuana that they may be holding is suddenly in public view.
Lawmakers are consider amending the law to make possession in public view simply a violation, not subject to arrest. The proposed legislation only affects New York City.
Note: Possessing a 32-ounce soda is not yet a felony in the Big Apple.
AP Photo/Richard Drew, File

North Carolina
Richard D. Allen, attorney at law, wants you to know that "in North Carolina, marijuana possession is absolutely a criminal offense!" However, the laws have been written so first-time offenders are not likely to serve jail time. Up to half an ounce of pot will get you a 30-day suspended sentence in jail and a $200 fine. Possession of over half an ounce and under 1.5 ounces will get 1-120 days in jail that you may be able to turn into community service and $500 fine.
Photo: taberandrew

Ohio
If you're going to get high in the Buckeye State, you're only going to get charged with a minor misdemeanor, similar to a traffic violation, for possession of up to three ounces. But you will lose your driver's license or any other professional license for six months. In 2012, the law was amended to make possession of drug paraphernalia (such as a bong) a minor misdemeanor as well.
Photos: dfornal

Oregon
Oregon would have likely joined Colorado and Washington to become one of the first states to legalize recreational use of marijuana if the ballot resolution hadn't included a rambling "High Times" preamble that included references to George Washington growing hemp. In 1972, it became the first state to decriminalize cannabis. The penalities were reduced in 1995. You'll pay $1,000 if caught with less than an ounce — however, you could do 30 days in jail if you're within 1,000 feet of a school. Sale of less than five grams is also only considered a violation, with a $1,000 fine and no jail time if caught.
Photo: JoeDuck