2 Admit Plot To Blow Up Police Station, Prosecutor And Ferguson Police Chief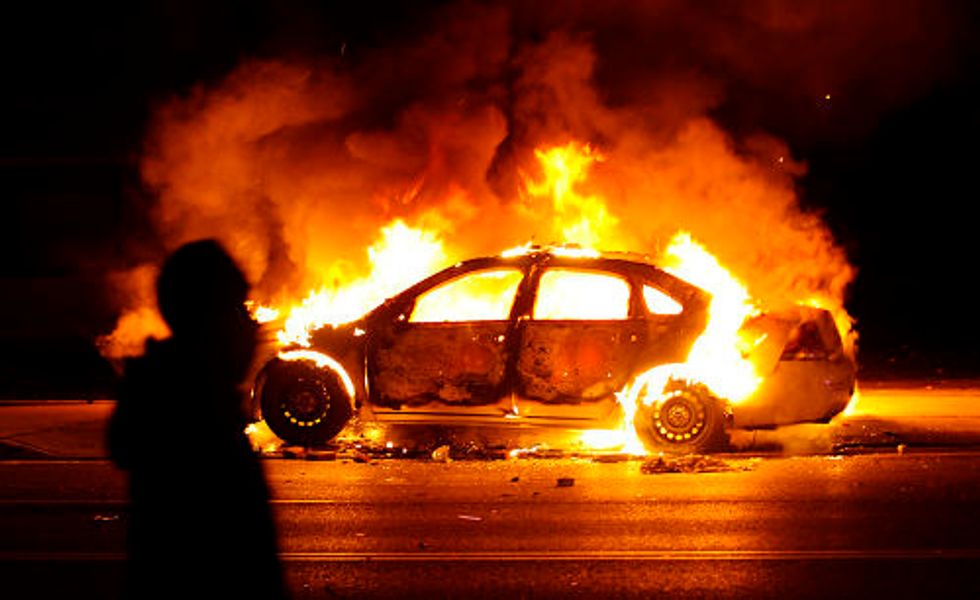 By Robert Patrick, St. Louis Post-Dispatch (TNS)
ST. LOUIS — Two men who met at the Ferguson protests and plotted violence against law enforcement admitted in federal court here Tuesday that they planned to blow up a police station, the top St. Louis County prosecutor and the Ferguson police chief.
Olajuwon Ali Davis, 23, and Brandon Orlando Baldwin, 24, each pleaded guilty of four explosives and gun charges that will carry seven-year prison terms when the men are sentenced Aug. 31.
They met in August in Ferguson, during the protests over the fatal shooting of Michael Brown, 18, by then-Officer Darren Wilson. Davis, a "frequent" protester, and Baldwin started talking about buying guns and organizing protesters to "be like an army" and fight back against police, their plea agreement says.
Federal agents and police tracked them and their calls and texts for weeks, recording some of the conversations. The two discussed using Baldwin, who was then an employee of Cabela's store in Hazelwood, to buy guns for felons and others. Baldwin admitted that he did buy three guns, falsifying federal forms by saying that the weapons were for him.
The men also talked about buying bombs. On Oct. 31, Davis "put it out there that he was a terrorist" during a conversation with a confidential informer, his plea says.
Baldwin, speaking to a second informer, said he wanted to build "bombs and blow things up," his plea says, and "hit them in places where it hurt, hit someone important."
On Nov. 8, Baldwin told the second informer that they wanted bombs that would divert police attention and others that would be "the last line of defense," the plea says. Baldwin said they wanted at least 10 bombs with a blast radius of at least five yards.
Baldwin said that they wanted "five for the people," with two more for ATMs and one "for one of them tanks," meaning the armored vehicles police were using. He later was heard saying, "We at war, you understand bro."
Baldwin said one target was an unidentified police headquarters, to "destroy their communications." Also mentioned as targets were St. Louis County Prosecuting Attorney Robert P. McCulloch and then-Ferguson Police Chief Thomas Jackson, the plea agreements say.
Baldwin also talked of targeting "somebody personal to them and then at his funeral we gotta get a couple more … Godfather style."
Neither McCulloch nor Jackson was harmed. Law enforcement sources and neighbors said the homes of both had been closely guarded.
Law enforcement sources previously identified the Gateway Arch as a bomb target.
Asked about that Tuesday, U.S. Attorney Richard Callahan, who was not the source of the original information, said the Arch was not mentioned in recorded conversations but may have been mentioned in others. He also said a bomb would not have made it past Arch security measures.
On Nov. 12, 2014, a confidential informer showed Baldwin a video of a bomb exploding, without explaining that the FBI had made it. Baldwin said, "We need 'em, we need 'em." He and the informer then went to Davis' home to show him the video.
Davis told the second informer on Nov. 17 that he wanted one bomb to test, as well as instructions and any examples of larger bombs.
The next day, Davis said that they wanted some bombs for cars, and wanted to be able to trigger the bombs remotely, without lighting a fuse. He gave the informer a $100 deposit and said he'd have the $150 more that Friday. But Baldwin was out of money, and on Nov. 19, said he was "inactive" until he received his unemployment benefits.
Both men were indicted that day on a charge related to the illicit purchase of a gun, although other charges were added later. The first charge came three days before McCulloch's announcement that a grand jury would not indict Wilson. The news triggered looting and multiple arsons in Ferguson.
Baldwin and Davis were arrested after Davis paid $150 and picked up what he thought were three pipe bombs from an undercover federal agent in a Hazelwood industrial park.
Both admitted conspiring to buy and use explosives to damage a building, vehicle or other property.
In a statement, Callahan said that Davis and Baldwin were a "danger to peaceful protesters as well as law enforcement." The prosecutor also said, "The disruption of this plot, coming as it did on the eve of the expected grand jury announcement, undoubtedly saved lives. Luckily for all of us, we'll never know just how many."
Investigators previously identified both defendants as members of the St. Louis Chapter of the New Black Panther Party. Baldwin also is known as Brandon Muhammad, according to court documents, and Davis also uses the last name Ali and goes by Brother Ali. Baldwin described himself as a field marshal for the party, his plea says. Davis said that he once carried a gun as part of a security detail for the party.
File photo: A protester walks by a St. Louis County police car that was set on fire along South Florissant Road in Ferguson following the announcement of the grand jury decision on Monday, Nov. 24, 2014. (Wally Skalij/Los Angeles Times/TNS)