5 Biggest Republican Lies About Benghazi News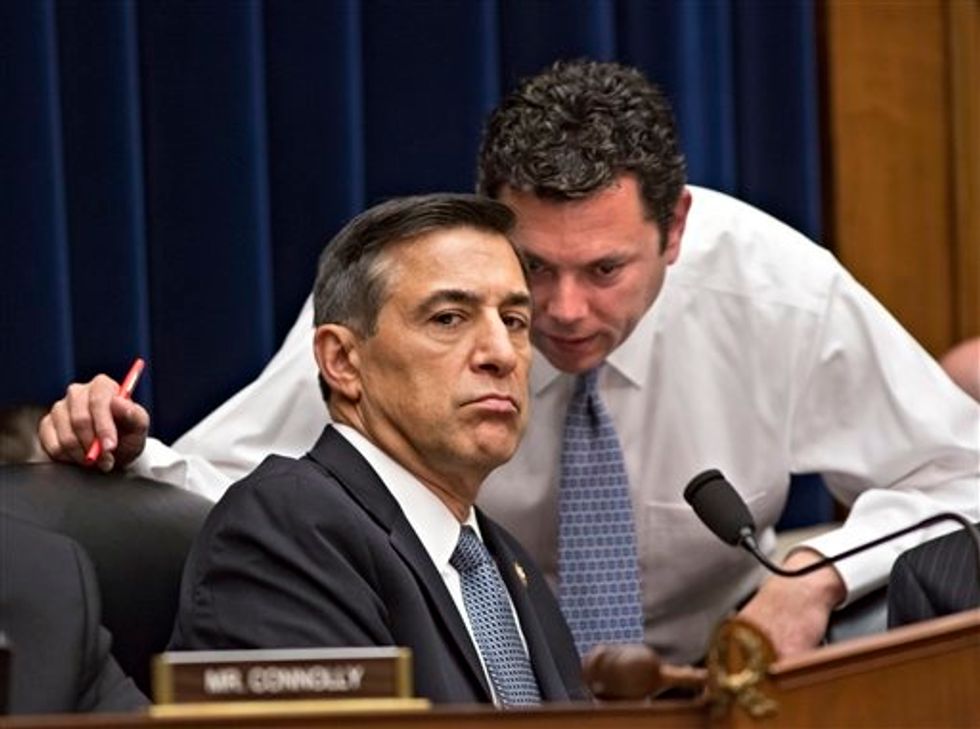 In case you missed it, the House Committee on Oversight and Government Reform held yet another hearing on Wednesday concerning the September 11, 2012 attacks on the diplomatic mission in Benghazi, Libya which resulted in the deaths of four Americans. House Republicans were hoping to find some type of damning evidence that would reveal a scandal or cover-up of information by the White House and State Department.
The terrorist attacks in Benghazi have been highly politicized by Republicans since the day after the attacks took place. Before President Obama was able to make a formal statement on the incident, GOP presidential hopeful Mitt Romney leapt at the opportunity to indulge in a political attack. "I'm outraged by the attacks on American diplomatic missions in Libya and Egypt and by the death of an American consulate worker in Benghazi," he said. "It's disgraceful that the Obama administration's first response was not to condemn attacks on our diplomatic missions, but to sympathize with those who waged the attacks."
Representative Darrell Issa (R-CA), Chairman of the Committee on Oversight and Government Reform, vowed from the day he took the gavel to hold over 200 hearings throughout the year to confirm that President Obama is "one of the most corrupt presidents in modern times." Wednesday's hearing was just one of Issa's attempts to try to associate the administration with a right-wing-generated conspiracy theory.
It seems as though the grand inquisition into finding a smoking gun may actually linger for a while longer. House Speaker John Boehner (R-OH), who up until a weekly press conference on Thursday has remained silent on the issue, called on the White House to release email correspondence related to the attacks, "Last November, the president said he was 'happy to cooperate in any way Congress wants. This is his chance." Boehner continued, "The State Department would not allow our committees to keep copies of this email when it was reviewed. I would call on the president to order the State Department to release this email so the American people can see it."
Republicans are so desperate to find something, anything, that they continue to obsess over the same talking points that have all been previously set straight. Here are five biggest lies expressed by Republicans regarding the Benghazi attacks.
AP Photo/J. Scott Applewhite
Hillary Clinton Personally Signed Cables Denying Security
During Secretary of State Hillary Clinton's testimony before the House Foreign Relations Committee in January, she vowed to have no knowledge of a request for added security at the American compound in Benghazi. Fox News fueled Republican hysteria with an allegation that a cable denying additional security, which has yet to be seen, was in fact signed by the former Secretary.
Representative Carolyn Maloney (D-NY) asked the three witnesses during Wednesday's hearing if this was standard protocol–all three agreed that Secretary Clinton's signature appears at the bottom of all cables regardless if they reach her desk or not.
AP Photo/J. Scott Applewhite
The Media Is Ignoring These Allegations
Fox News likes to grant itself credit with being the only news network to cover and reveal the "facts" surrounding the "Benghazi-gate" "scandal."
On his Sunday show last October,  Brit Hume lashed out against the mainstream media, "One of the problems we're having here is that it has fallen to this news organization, Fox News, and a couple of others to do all the heaving lifting on this story. And the mainstream organizations that would be on this story like hounds if there were a Republican president have been remarkably reticent."
The reality of this allegation is that all news networks were covering the attacks in Benghazi–Fox News is simply angry that the other networks weren't politicizing the attack and condemning President Obama as they were. Even Fox  host Geraldo Rivera had words for his friends at the network: "People, stop, I think we have to stop this politicizing. … [T]hese preposterous allegations –- reckless allegations that paint a picture of some fat bureaucrat watching TV –- I think that's really beyond the pale."
Fox News should have been more careful during its coverage of Wednesday's hearing after being so quick to criticize other news outlets following the September attack. Host Megyn Kelly criticized her own network when she admitted they were a bit "lopsided" in their coverage of the hearing after cutting to commercials during Democratic questioning of the witnesses.
Obama and Clinton Watched The Attacks In Real-Time
Fox News host Sean Hannity claimed in at least eight different circumstances that Secretary of State Hillary Clinton and President Obama watched the Benghazi attacks in real time from the situation room. "And if the State Department is now saying they never believed that this attack on the 11th of September against the U.S. consulate was a film protest gone awry, think about it — then, it's nearly impossible to believe that President Obama didn't know." Hannity said. "Oh, and did I mention the State Department was watching this unfold in real time?"
In a response to a question from Representative Dana Rohrabacher (R-CA) about this fictitious viewing party, the former Secretary stated, "There was no monitor, there was no real time."
What seems to have caused confusion for conservatives is the difference between Clinton and Obama receiving real-time updates from Benghazi, which was in fact the case, and watching real-time video.
Photo: Lawrence Jackson via Wikimedia Commons
Teams Were Prepared To Deploy But Given Orders To Stand Down
Republicans were up in arms upon learning that a Special Forces team stationed in Tripoli was ready to deploy to Benghazi during the attacks and was instead given orders to stand down.
The former Deputy Chief of Mission in Libya, Gregory Hicks, who was one of the witnesses at the hearing on Wednesday, confirmed that the team told to stand down was never meant to deploy to the site of the attack. Instead, they were intended "to secure the airport for the withdrawal of our personnel from Benghazi after the mortar attack." Hicks also stated that another team was deployed before this specific one was told to stand down — the first did in fact report to Benghazi and all officials were taken to Tripoli with 18 hours of the attack.
AP Photo/ Maya Alleruzzo, File
Accountability Review Board Is Part Of The Cover-Up And Their Report Can't Be Trusted
After the September 11 attacks in Libya, the State Department's Accountability Review Board was prompted to review the handling of the attacks by officials. Republicans clearly not pleased with the fact that the report didn't condemn President Obama and former Secretary Clinton decided it wasn't credible and launched their own investigation.
The result was a congressional report aimed at Republicans, which criticizes the administration for failing on just about every level — failing to acknowledge the need for heightened security at foreign consulates on the anniversary of the 2001 terrorist attacks, failing to realize that Benghazi would be a site for post-Gadhafi demonstrations, and the administration's attempts to mislead the American people with flawed information. The report states, "In sum, the events in Benghazi thus reflect this administration's lack of a comprehensive national security strategy or effective defense posture in the region…Congress must maintain pressure on the administration to ensure that the United States takes all necessary steps to find the Benghazi attackers."
Unfortunately for House Republicans looking for outside approval for their report during Wednesday's hearings, not only did the witnesses not come to their defense, but also weren't overly critical of the ARB report. Eric Nordstrom, the Regional Security Officer for Libya said of the ARB report, "I had an opportunity to review that along with other two committee reports. I think taken altogether, they're fairly comprehensive and reasonable."
Photo: U.S. Department of State Official Blog