5 Lowlights From The 2014 NRA Convention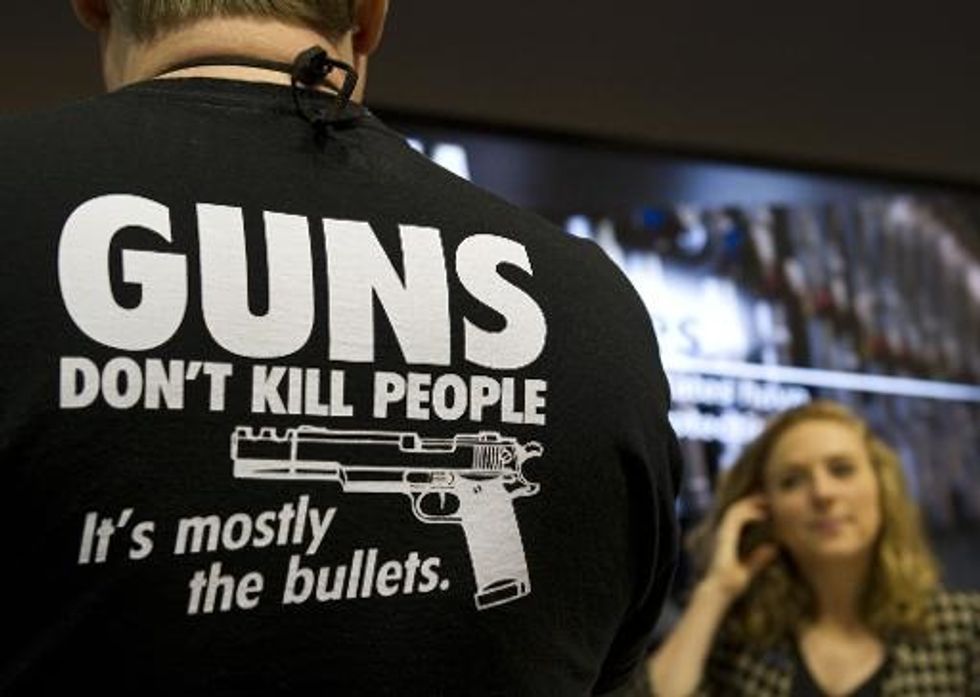 AFP Photo/Karen Bleier
After successfully beating back congressional attempts to strengthen gun laws, and watching firearm sales rocket to a 27-year high , one might think that the National Rifle Association would be in a good mood at its annual convention, which took place in Indianapolis over the weekend.
But that wasn't the case; as in past years , the gathering was dominated by the twin themes of paranoia about a coming government gun grab, and anger at liberal elitists who want to take away your freedom.
The weekend was filled with events and speeches illustrating the NRA's warped worldview — but some veered even further away from the mainstream than expected. Here are five of the lowlights:
Wayne LaPierre Plagiarizes Himself
It wouldn't be an NRA meeting without an apocalyptic speech by the group's executive vice president and CEO, Wayne LaPierre, who took to the podium on Friday to warn that America is collapsing — and only guns can save you now.
"We know, in the world that surrounds us, there are terrorists and home invaders and drug cartels and carjackers and knockout gamers and rapers, haters, campus killers, airport killers, shopping mall killers, road-rage killers, and killers who scheme to destroy our country with massive storms of violence against our power grids, or vicious waves of chemicals or disease that could collapse the society that sustains us all," LaPierre said.
"I ask you. Do you trust this government to protect you?" he asked. "We are on our own. That is a certainty, no less certain than the absolute truth…the life or death truth that when you're on your own, the surest way to stop a bad guy with a gun is a good guy with a gun!"
If that paranoid rhetoric sounds familiar, it's probably because you've heard it before. As Media Matters' Matt Gertz points out , LaPierre's speech is nearly identical to the fear-mongering address that he delivered to CPAC just one month earlier. The only substantive difference is a quick reference to former New York City mayor Michael Bloomberg's plan to spend $50 million on gun reform (conveniently, it seems that the only way to stop Bloomberg's power grab is to donate money to LaPierre's NRA).

Sarah Palin Endorses Torture
Former Alaska governor Sarah Palin once again demonstrated her nuanced take on global affairs on Saturday, when she told the crowd at the NRA "Stand And Fight" rally that — if she were president — waterboarding would be "how we baptize terrorists."
"C'mon! Enemies who would utterly annihilate America, they would obviously have information on plots. They carry out jihad. Oh, but you can't offend them. Can't make them feel uncomfortable, not even a smidgen," Palin said mockingly. "Well, if I were in charge, they would know that waterboarding is how we baptize terrorists."
Palin's remarks, which provide a handy reminder of why she is not in charge, come at the 7-minute mark of her speech:

Mark Levin Rips "French Republicans"
Mark Levin took plenty of shots at Democrats during his speech on Friday — among other attacks, he falsely claimed that "the Internal Revenue Service has been sicced on conservative and Tea Party organizations, and the Democrats defend it," and said, "I'd say guns are dangerous in the hands of liberals," before suggesting that the Constitution should be amended to protect "the right to bear arms unless you're a liberal" — but the right-wing radio host saved his best barbs for his own party.
"Meanwhile, the other party acts like a bunch of French Republicans, confounded, confused, not sure what to do," Levin said.
"They're looking for a new agenda, they're looking for a way to reach out. I have one. It's called the Constitution of the United States," he continued. "They're looking for a new economic policy. I have one. It's called capitalism."
I'm sure the French Republicans running for president in 2016 are eagerly awaiting their first Levin-hosted debate .
David Clarke Attacks A 94-Year-Old Man

Milwaukee County Sheriff David A. Clarke Jr. — an outspoken "gun rights" advocate who once warned that "the Obama-Marxist types want to start a civil war in this country" by reforming gun laws — earned loud applause for his broadside against retired Supreme Court Justice John Paul Stevens.
Responding to Stevens' nuanced argument for altering the Second Amendment, Clarke presented the following case:
"Our Second Amendment is under siege by intellectual elitists like former U.S. Supreme Court Justice John Paul Stevens, who wrote in an editorial in the Washington Com- Post newspaper " — get it? — "that this confusion over the meaning of the Second Amendment could be solved by adding five words. He would rewrite it to read, 'A well regulated Militia, being necessary to the security of a free State, the right of the people to keep and bear Arms when serving in the Militia shall not be infringed.'"
"I have a better way of clearing up any confusion that activist judges have about the meaning of the Second Amendment. I would add these seven words at the end of the clause," Clarke said. "Keep your hands off our guns, damnit."
Larry Pratt Still Loves Cliven Bundy
Photo: Gage Skidmore via Flickr
After right-wing hero Cliven Bundy revealed himself to be a racist crackpot , most of his erstwhile supporters cut ties with him at top speed. But according to Gun Owners of America executive director and noted crazy person Larry Pratt, Bundy's offensive meltdown did nothing to diminish the historic events that occurred in Bunkerville, Nevada.
"I think that this is a very positive development that came out of the confrontation out on that ranch," Pratt said at the convention on Saturday, as reported by Media Matters . "And hopefully we will look back on what happened there as a turning point in modern American history. The American people are saying 'Enough, no farther.'"
"I think we really are hopefully on an upswing," he reportedly added. "We are seeing, finally, a proper, legitimate, lawful response to illegitimate, unlawful exercise of government power, particularly on the federal level."
Unfortunately for Pratt, few people were on hand to hear his defense of Bundy and his militia allies; according to Media Matters , his speech — which took place outside of the Indiana Convention Center that played host to most of the meeting — was attended by only about 20 people.