5 Reasons It's So Hard Not To Help Donald Trump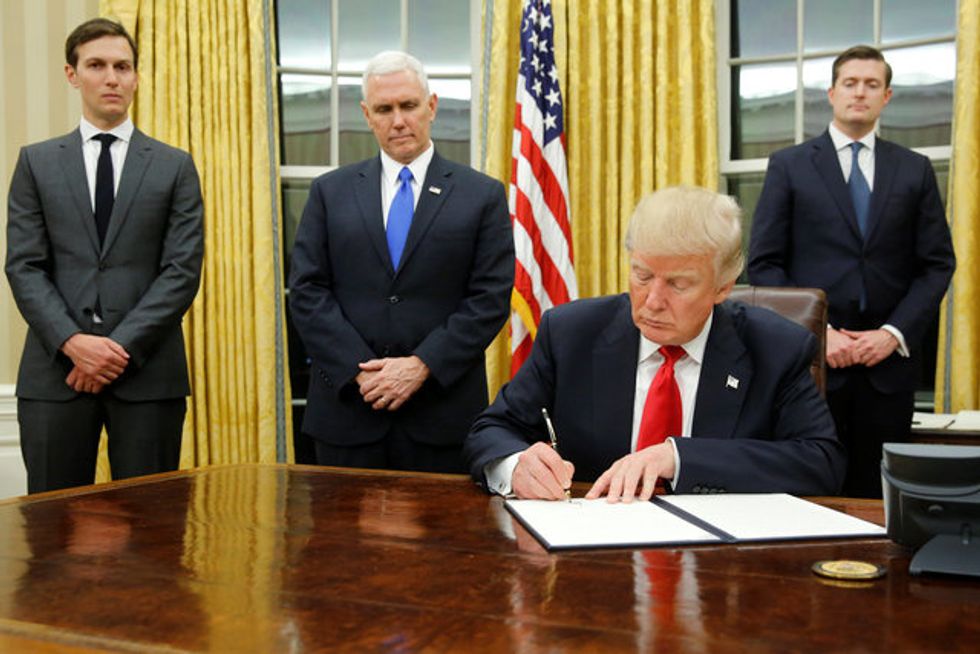 You probably hate using the words "President Trump" as much as I do.
Even if you do not invest the office of the presidency with mystical properties, you still recognize its extraordinary power to do good, or to strand thousands of people who are in the process of becoming permanent residents of the United States in countries and airports around the world.
"I am the President of the United States, clothed with immense power!" Tony Kushner has Abraham Lincoln say in Steven Spielberg's Lincoln.
This comes at a moment in the slog to pass the 13th Amendment when Lincoln's aspirations seem to face their greatest peril and the president's bombast seems to be an attempt to convince himself of his own agency, even more than his audience — the shady "lobbyists" he has employed to secure the necessary votes.
And in that effort to end the great evil of slavery, Lincoln's performance prevailed.
Everything about Donald Trump is about appearances and his fragile ego. Unlike Lincoln, his agenda shows no promise of elevating above anything but a childish need for self-validation and a tyrannical need for the accumulation of power.
Once when he was being deposed in a lawsuit in which he sued a journalist for questioning his "wealth," Trump explained that his net worth "goes up and down with markets and with attitudes and with feelings, even my own feelings."
America, despite our best efforts, is now in the Donald Trump's "feelings" business, especially because he hasn't divested from his own businesses.
Everything our chief executive does is chained to the massive insecurities of a man who can't even admit that the "very small" million dollar loan from his father, which was still a massive gift in the mid 1970s, was actually closer to "$14 million dollars."
Given his cartoonish faults, his relentless scapegoating and his petty vindictiveness, it's easy to not take him seriously. And now we have to take him for at least four years and face the realization that he actually is engaging in a strategy that may offend you but was convincing to the 75,000 Americans in three key states he needed to secure his minority presidency. And in 2018, Democrats face a Senate map with 10 swing states, nine of which Trump won.
And we also have to face that we may still be helping him as we did in 2016 by not flooding Democratic blue wall states from Wisconsin to Pennsylvania with volunteers and resources, not taking the prospect that he could win dead seriously.
Here are five ways we may still be helping Donald Trump.
1. It's hard to admit that nobody knows how to beat Donald Trump yet.
Some want to blame liberal sensitivity to language and "identity politics" for Trump's win, as if he isn't a walking open wound who appealed to "coded racism" in a way that no candidate has since George Wallace. But there are some ways smugness hurt the left in 2016. We believed the models that said Clinton had an 80 to 90 percent chance of winning. We discounted the effort of the Kochs to build a shadow GOP that may have helped the party keep the Senate and carry Wisconsin and Pennsylvania. We ignored Trump's engagement of Cambridge Analytica, the firm that used Facebook "psychometrics" to help win the Brexit vote for the "Leave" campaign. We also underestimated the impact of slowing GDP growth. Despite this all, absent FBI Director James Comey's unprecedented intervention into the election, which has been rewarded with Trump's nod to continue serving, Clinton likely would have won. Instead of focusing on the systemic and technical advantages the GOP has secured, the debate in the left often strays into repeating the trauma of the 2016 primary, which, despite representing substantive disagreements about the future of the party, often reinvigorate hurts that are mostly irrelevant given Hillary Clinton's involuntarily retirement.
2. Our brains do not get his appeal and thus amplify it.
Here is something that you understand but I constantly have to remind myself: The things that make me despise Trump are what make his supporters, a minority of Americans, love him. This brings us back to George Lakoff, the brain scientist who told us how to turn Trump into a "loser." A strong Washington Post piece summarizes the power of Trump's language:
Many liberals, by contrast, base their notion of optimal family structure on the idea of a nurturing parent rather than a strict father. Trump's language therefore strikes them as overly authoritarian.

By this theory, when Trump seems to flit from topic to topic, he's not being incoherent, but rather is building a case that he will be the strict father who asserts his authority in all spheres, whether it's protecting the nation by building the wall on the Mexican border, or by expanding the nuclear arsenal. "Trump is always selling and always making deals," Lakoff said. "When he tweets 'send in the Feds,' he's saying, 'I want you to buy what I'm selling, which is me — I'm taking care of this, I'm in control," Lakoff said.
3. It's almost impossible not to take the bait.
Lakoff also has developed a taxonomy of Trump's tweets that explains how the president uses rhetoric to his advantage:
It's almost impossible to not use Trump's frames and engage him on his distractions. And often there are so many distractions and so many awful things he's doing, it's impossible to suss out what he's trying to identify or exactly which story he's trying to distract from.
4. The liberal opposition to Trump is forming faster than the Tea Party.
Here's a happy problem Democrats have. The opposition to this new president is unprecedented in American history. The Women's March alone was probably larger than all Tea Party protests ever combined. And the thousands of Americans who showed up at airports to oppose the president's immigration policy — which seems singularly obsessed with "the symbolic politics of bashing Islam over any actual security interest" — show how widespread and agile the resistance to Trump's policies is. This massive movement raises questions for a party that hasn't seen anything like this since the peak of the Iraq War, including: How can this energy best be channeled into effective limitations on Trump's power and then victories at the polls? And can that be done without the left turning on itself? There are already signs that the base is "marching right past" its elected officials.
5. Trump's contradictions help him disguise how he is enacting failed Republican policies.
It turns out one of the biggest mistakes of the 2016 election may have been not saddling Trump with the GOP's extraordinarily unpopular policies — like defunding Planned Parenthood — in an effort to cast him beyond the pale of normal politics. This failed and now we're getting Mike Pence's policies with Donald Trump's temperament. Over and over, we need to remind Americans that Trump is scapegoating the most vulnerable and dividing America in order to repeat George W. Bush's fiscal policies, which will likely amount to the largest transfer of wealth to the richest in human history.
IMAGE: President Donald Trump, flanked by senior advisor Jared Kushner (standing, L-R), Vice President Mike Pence and staff secretary Rob Porter, welcomes reporters into the Oval Office as he signs first executive orders at the White House, January 20, 2017. REUTERS/Jonathan Ernst