5 Reasons You Have To Be Tolerant Of Bigotry To Support Donald Trump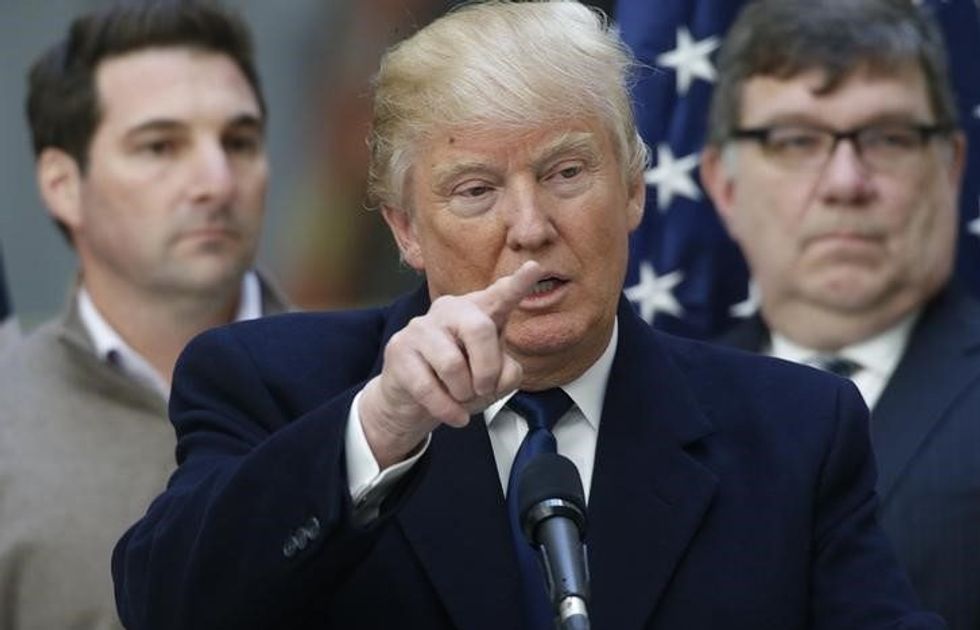 It's all just an act.
That's what Donald Trump's new, more professional staff — led by former war crimes advocate and old H.W. Bush/Dole convention delegate wrangler Paul Manafort — wants GOP insiders to know about the buffoonery of the billion-dollar baby they're about to nominate to be president.
"When he's out on the stage, when he's talking about the kinds of things he's talking about on the stump, he's projecting an image that's for that purpose," Manafort told a recent Republican National Committee meeting.
Trump himself has vowed to become so presidential that he will bore you to tears when the time is right. If you trust the polls, the right time was about five years ago.
Trump's favorability among Latino voters is at 9 percent, according to a recent Latino Decisions poll. Mitt Romney won close to 30 percent of the Latino vote — a lower number than John McCain, and he did even worse with the fastest growing group of new voters than George W. Bush.
Trump has made scapegoating Mexican immigrants his signature issue, and central to that the construction of a giant, impossible, mostly useless slab of concrete; a physical metaphor for his implicit promise to restore aging white Americans' perceived dominance over ethnic minorities.
The fantasy that we're bound to get a "new Trump" is endlessly appealing to the press, who look at general election polling numbers that show him being crushed by either Democratic frontrunner and fear a sudden ratings drop-off. The notion that Trump can whitewash away the bigotry that has defined his candidacy by starting fresh this summer is just a continuation of the premise that Trump's appeal is based broadly on the economic concerns of a working class that feels left out in this new economy.
Reporters eagerly seek out the anomaly of a black businessman at a Trump rally to make the case that Trump's populism isn't modern know-nothingism built on hostility to minorities, but rather some last grasp at the American dream.
While it's true that much of the middle class is running threadbare after decades of conservative policies have left older white Americans justifiably angry and scared, it's not true that this is just some blue-collar movement built on economic anxiety. Trump supporters — more than any other candidates' — oppose diversity, feel minorities are taking their opportunities and generally prefer white people to black people.
Be worried: These urges exist to some to degree in most American voters, but since the rejection of George Wallace, few candidates have sought to blatantly exploit them in the way Trump has.
The appeal to ethnocentrism has been a bulwark of conservative politics for generations, UC Berkeley Law professor Ian Haney López argues, and a key to the right's strategy of turning the white working class against the government programs that made the world's largest middle class possible in the first place. Trump's willingness to turn to the darkest urges of dog-whistle politics has made him nearly unstoppable in the GOP primary, and a potential electoral catastrophe in the general election.
Most Republicans will eventually buy into the fantasy that Trump's vicious racial appeals can be erased from our memories, because they have to. And so will the press.
The reluctance to smear a whole group as racist is a valuable urge. But it's just condescending not to expect the adults who support Trump to see what that they've bought into.
That's why it's crucial to make keep making this point: Supporting Trump may not necessarily make you a racist, but at the very least it does mean you're tolerant of bigotry. Here's why.
Photo: Republican U.S. presidential candidate Donald Trump speaks to the media during a news conference at the construction site of the Trump International Hotel at the Old Post Office Building in Washington, March 21, 2016.   REUTERS/Jim Bourg