5 Reminders Of How Dark It Is That Trump Is Cozying Up With The Murderous President Of The Philippines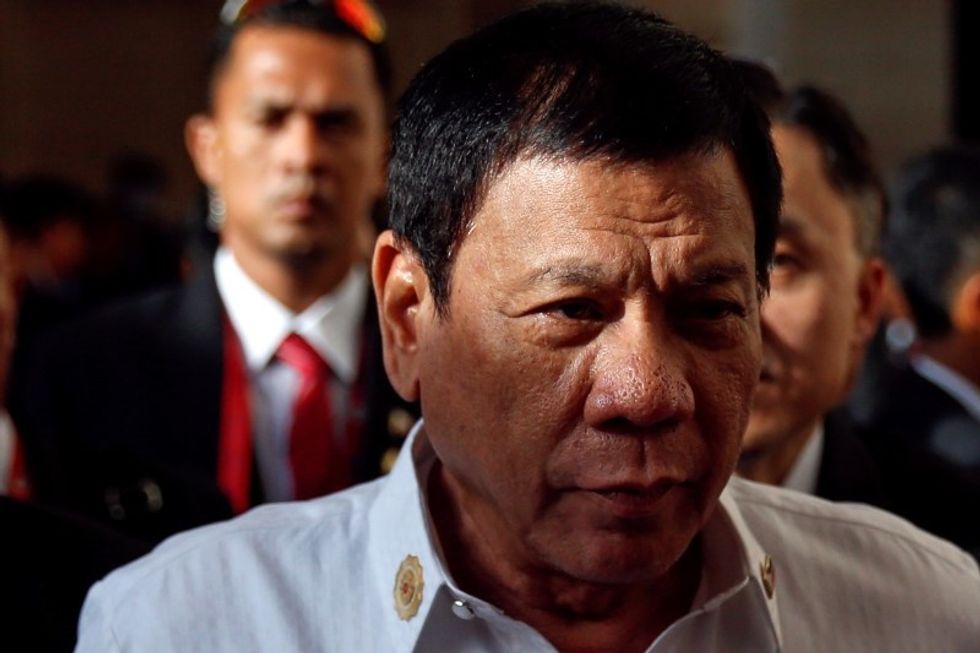 Reprinted with permission from Alternet.
On April 29, President Trump made a highly controversial phone call to Philippine President Rodrigo Duterte, an authoritarian strongman whose daily executions have become a hallmark of his brutal regime. Trump praised Duterte for his "unbelievable" success in the drug war and even extended an invitation to the White House.
Here are five reasons why Trump's open admiration for Duterte speaks volumes.
1. Thousands have been killed as a result of a Duterte-endorsed anti-drug campaign.
According to an extensive Human Rights Watch report published six months into his presidency, "national police officers and unidentified 'vigilantes' have killed over 7,000 people," targeting "suspected drug dealers and users… [as part of] a campaign of extrajudicial execution in impoverished areas of Manila and other urban areas."
2. Duterte has likened himself to Hitler.
"Hitler massacred three million Jews. Now there are three million drug addicts [in the Philippines]. I'd be happy to slaughter them," said the Philippine president to a crowd gathered in Davao last September.
3. His jobs plan is perverse.
According to the Philippine Star, Duterte promised overseas Filipino workers (OFWs) in the Middle East a job killing drug addicts should they become unemployed.
"If you lose your job, I'll give you one: Kill all the drug addicts," he said last month at the Ninoy Aquino International Airport (NAIA) in Manila. "Help me kill addicts… Let's kill addicts every day."
4. He's boasted about killing in cold blood.
"In Davao (City, as mayor,) I used to do it personally—just to show to the guys (cops) that if I can do it, why can't you?" Duterte told business leaders at a Manila meeting mid-December.
5. Cruel rape jokes are his "style."
"She was so beautiful, the mayor should have been first," Duterte said of of a gang rape victim, as Davao City mayor and presidential candidate last April. He would later dismiss the global backlash over his remarks with this gem: "I'm sorry in general… it's my style."
Alexandra Rosenmann is an AlterNet associate editor. Follow her @alexpreditor.
This article was made possible by the readers and supporters of AlterNet.