5 Shows That Should Be On Sarah Palin's 'Rogue TV'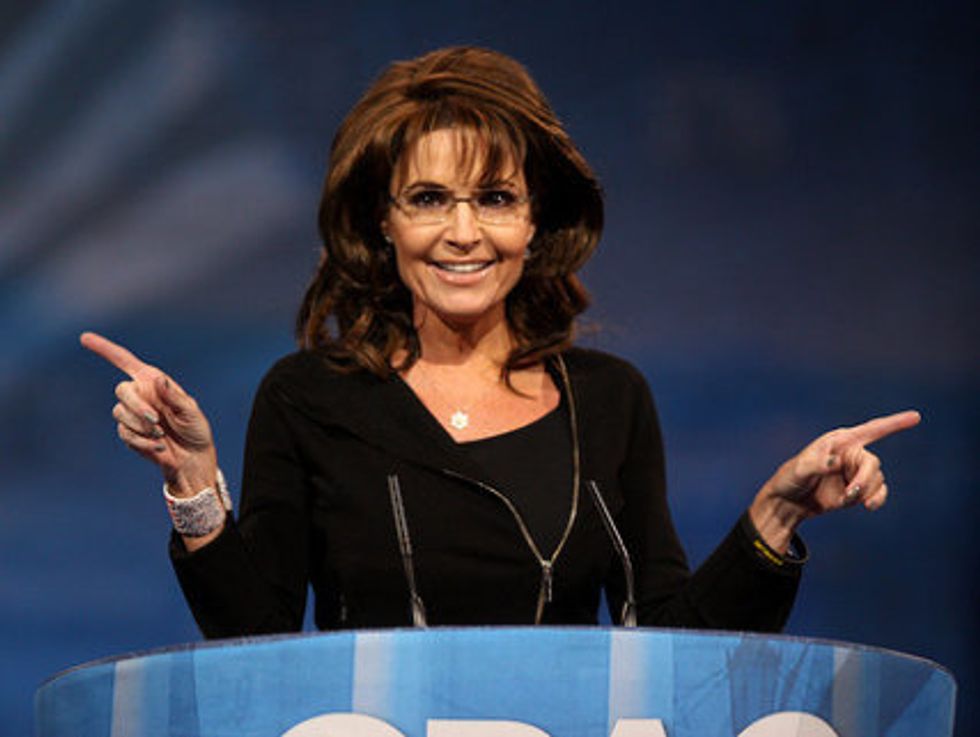 If you can't get enough of Sarah Palin on Fox News, or her new show Amazing America on the Sportsman Channel, talk to your doctor. Then get ready for her new digital cable channel, Rogue TV!
The channel will be available through Tapp, the digital video service founded by former CNN chief Jon Klein and former NBC Universal entertainment executive Jeff Gaspin. Subscriptions will cost $10 per month…

Palin's channel will feature video commentaries from the former Republican vice-presidential candidate, discussing current events and political issues…
This sounds a bit vague. Herman Cain's Cain TV — launched after the 2012 presidential election the former pizza mogul vowed to win — has come and gone, despite programming that featured a CGI dinosaur that loves family, and a show called Funny Stuff.
But Sarah Palin isn't just good for grifting from conservatives. Her snake-oil machine is an essential element of Democrats' chances of holding on to the Senate, with her endorsements of Tea Partiers like Christine O'Donnell and Sharron Angle.
So in hopes that Rogue TV will be a success, here are five suggestions for shows that will keep the new channel lining Palin's pockets for months.

Between Two Guards With Dinesh D'Souza
Conservatives need their own late-night show for the people who can't stay up past O'Reilly. In the video above, conservative "filmmaker" and accused campaign fraud Dinesh D'Souza shows that he is capable of appearing on camera and reading jokes that someone told him are funny.
If convicted, the always resourceful D'Souza could broadcast from his jail cell. If exonerated, his co-hosts could be his ex-wife and his fiancée, who cost D'Souza a job as president of a Christian college when he appeared with her at a conference before announcing his divorce.
That One Sandra Fluke Joke
Conservatives love to pretend that Sandra Fluke wants them to pay for her birth control. Ha! As if a treatment that's used to fight hormone imbalance, endometriosis and prevent abortions were actual health care that should be covered by health insurance, the way the consequences of obesity and impotence are.
Plucked from the pages of Twitchy, the website that questions the notion that a post should make more sense than the comments section, a conservative "activist" is invited each day to say that s/he doesn't want to pay for Sandra Fluke's birth control. The host would then say something like, "Oh snap!" and give the guest star a high-five.
This show will be best viewed following Rogue TV's That One Teleprompter Joke.
Scared Straight
You knew this one was coming.
With Rep. Michele Bachmann (R-MN) finishing her last term, she'll have time to team up with her husband of 35 years — Marcus, a family therapist — to take on the real bullies: the gays, employees who would like birth control coverage or "equal pay," and poor people who would qualify for Medicaid expansion in red states. The Bachmanns will take turns playing "good cop" and "bad cop" as their multiple costume changes will delight those conservatives who miss the glamour of Donny and Marie or TheLawrence Welk Show.
Black History — Up Until 1965

Did you know that Abraham Lincoln was a Republican!? Did you?
Then you can skip the first five episodes of Black History — Up Until 1965, hosted by notorious history nut Sarah Palin. The other two episodes document the wicked racism of Southern Democrats right up until the day Republicans helped Lyndon B. Johnson pass the Civil Rights Act of 1964.
What happened to those Southern Democrats after 1965? It's a mystery bigger than Malaysia Airlines Flight 370 on Rogue TV.
Image: Provided by Bob Weinstein

Creationist Cosmos
The evolutionists won't get equal time here.
Faith-based scientist Kirk Cameron explores the science behind the Bible and confounds non-believers to explain where both babies (Spoiler: The stork) and bananas come from. It's an experience 6,000 years in the making, 800 of which Abraham lived through, as you'll learn!
Cameron also will star in Rogue TV's first sitcom, The No-Bang-Until-Marriage Theory.