5 Things 'Pro-Lifers' Would Support If They Were 'Pro-Mom'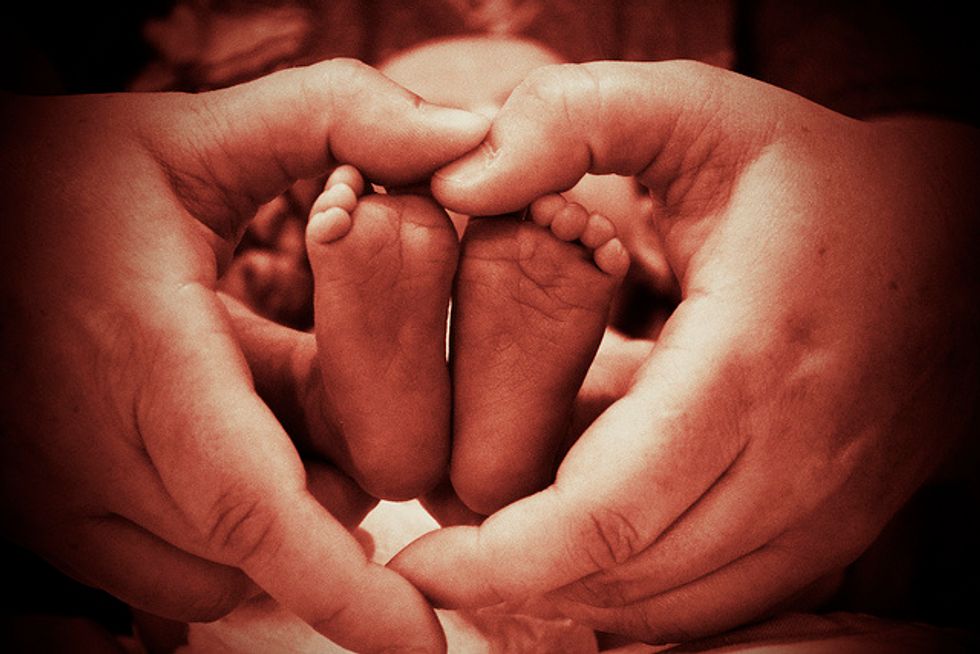 You probably missed an Easter miracle.
While conservatives were learning that the business community doesn't support their effort to stop gay people from being able to spend money freely, both conservatives and liberals were celebrating a Supreme Court decision. And — even more miraculously — it was a decision about pregnancy and women's rights.
In Young v. UPS, the majority "lightened the burden for women who sue their employers under the Pregnancy Discrimination Act (PDA), the federal law that bars employers from discriminating against pregnant workers," according to George Washington University School of Law's Naomi Schoenbaum.
Schoenbaum calls the shared right/left glee over the ruling an example of the bipartisan "Care Caucus" that has historically come together to promote women's rights and support families.
Thus far, the caucus is embarrassingly small — and horribly ineffective.
The abysmal way America deals with pregnancy, childbirth and child rearing is a national disgrace. And it presents a real opportunity for liberals, who can only make the situation better.
It's beyond a cliché to suggest that it's a little hypocritical for a party that supports the death penalty, augurs toward war and opposes universal health care to call itself "pro-life."
But it's a strategy — making all politics moral — that works.
Thanks to cultural grandstanding on issues including "life," Republicans are extremely popular with workers who haven't pursued higher education, and who — coincidentally —  happen to be the exact Americans most brutalized by conservative economics.
Liberals, on the other hand, tend to lean away from moralizing and rarely point out that no country in the advanced world makes it harder for new families than America.
The left has a real opportunity to show its concern for children and parents by exposing the simple fact that opposing reproductive rights is more about controlling people's bodies than reducing abortions — since abortion rates are higher in countries that criminalize the procedure.
Here are five ways Democrats can prove they're the "pro-family" party and force conservatives to come along with them.
1. Let pregnant women enroll in insurance plans at any time.
This is an easy one. Groups opposed to reproductive rights set up "Crisis Pregnancy" outlets that resemble clinics that offer abortions in order to dissuade pregnant women from ending their pregnancies. They offer bad science and manipulative moralizing. But why aren't we offering the pregnant what they really need: health insurance?
In March, 50 House Democrats signed a letter calling on the Secretary of Health and Human Services to reclassify pregnancy as a "qualifying life event." Why didn't Republicans sign that letter or send one of their own?
2. Establish humane parental leave and sick-leave policies.
"What do Papua New Guinea, Oman, and the United States of America have in common?" asked Margaret Talbot in The New Yorker. Her answer: "They are the only three countries in the world with no paid-maternity-leave law."
If you want to encourage healthy families, you can at least be as generous to new mothers as Iran, which offers them 12 weeks' leave at two-thirds of their salary.
And it isn't as if family responsibilities end after a few months.
That's why Senator Patty Murray (D-WA) introduced legislation that would provide seven paid sick days — that could be used to care for yourself or your family — to all Americans. Surprisingly, it passed the Senate — with the help of several blue-state Republicans who are up for re-election in 2016. But will the House even vote on it?
3. Establish universal pre-K.
"In pretty much every other developed country, government acts aggressively to meet [child care] needs — by subsidizing or directly providing early child care, for example, and by guaranteeing that parents can take time off, with pay, to care for newborns and sick relatives, as the Huffington Post's Jonathan Cohn notes.
Conservatives tend to argue that government support for social programs create dependency (because that's a much more palatable argument than saying, "We don't want government to do anything worthy because it makes it harder to cut taxes for the rich). But our lack of support for parents may explain why the labor participation rate for American women lags behind that of Sweden, Denmark, Portugal, Finland, Switzerland, Austria, Canada, Netherlands, Germany, Belgium, United Kingdom, Spain, New Zealand, Luxembourg and Australia.
In reality, the right doesn't mind dependency, as long as it's dependency on corporations. The kind of support parents get in most advanced countries is only provided to Americans by large businesses that recognize that it keeps parents in the workforce.
And there's another conservative argument for universal pre-K, argues The Washington Post's Emily Badger: "If you don't want to spend a lot on incarceration or welfare or Medicaid, you should spend money on preschool."
4. Give parents free money.
Conservative reformers — known by some as Decepticons — have been proposing ways to give tax breaks to parents. Unfortunately these plans generally scant the people who need them most — poor parents.
But there's a simpler way to do this: Give parents money.
Several countries do it — and nearly all of them have higher labor participation rates for women. "The benefits of using a straightforward child allowance are immense," noted Matt Bruenig of Demos. "It produces a monthly benefit check that can be relied upon no matter what, instead of the annual lump sums you tend to get with tax credits. People can receive it whether they file their taxes or not (those with low or no income may not file taxes)."
With new evidence that poverty is literally bad for kids' brains, Americans who offer no solutions to poor families while America has one of the highest poverty rates in the free world have no right to call themselves "pro-family."
Besides, we already have Republicans on record as supporting free money for children — as long as they are children of the richest .2 percent.
5. Stop trying to repeal Obamacare — and expand Medicaid instead.
Democrats have done a not-so-great job at selling the fantastic benefits for new mothers in the Affordable Care Act. Not only does the law expand coverage and end discrimination against the uterus as a pre-existing condition, it also offers "preventive screenings and other services for pregnant women at no additional cost to the patient."
Additional benefits for new mothers include folic acid supplements, smoking cessation counseling and drug counseling through Medicaid, and funding for a variety of new initiatives to research post-partum depression and experiment with home visits for new parents.
These improvements, along with contraception at no cost, undergird the argument that the  passage of Obamacare was the greatest "pro-life" victory ever. None of the sketchy Republican replacements for the law even attempt to replicate these benefits to new families.
For decades, Republicans have been holding the moral high ground on the issue of reproductive rights by arguing on religious and theoretical grounds. It's time to shame those who persist in conspiring to make life harder for new parents who lack basic resources.
Liberals won when they stood up for paid sick leave in the Senate — and they'll keep winning so long as they keep standing up for families.
Photo: Jennifer Lantigua via Flickr