5 Things To Remember About 'The Donald'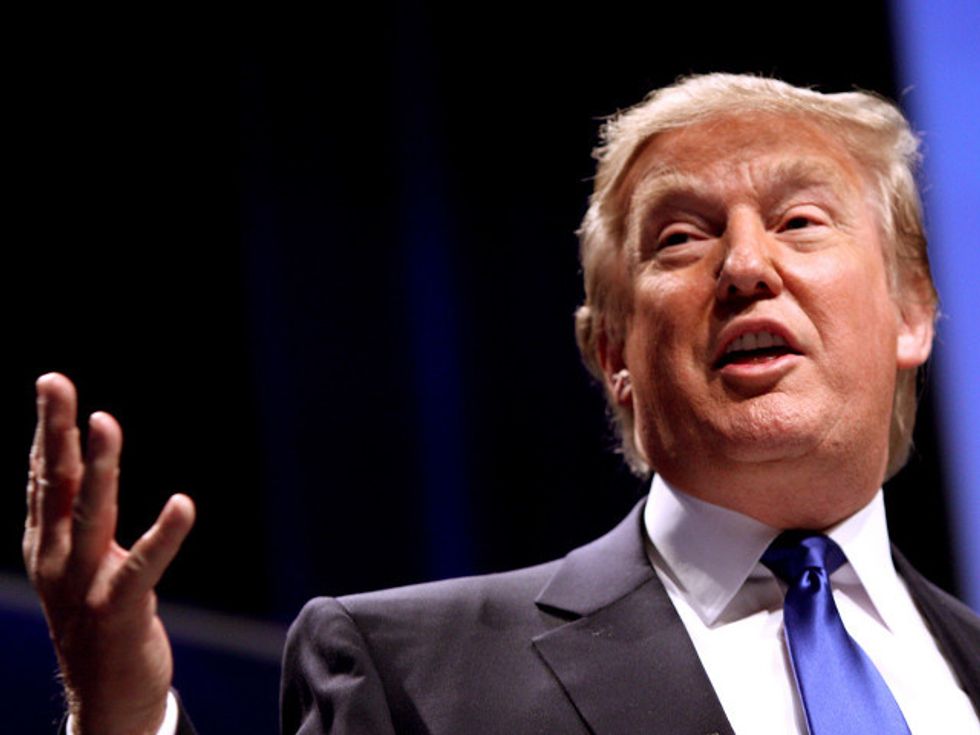 For years Donald Trump has boasted about what a great president he would make, brashly calling out pols as finks and phonies while never actually running for any elected office himself. That came to an end Tuesday morning with a rally at the Midtown Manhattan tower that bears his name.
"I don't like what I see happening to America," Trump said in a video released by his campaign. Over footage of America's infrastructure collapsing, businesses shuttering, and unemployment, he continued: "Our politicians are all talk, no action."
Echoing comments he made in January, when he vowed to make a "beauty" of a wall between the U.S. and Mexico, Trump said: "Millions of people are flowing across our southern border. We need to build a real wall."
"With all of this, our country has tremendous potential," he concluded. "Let's make America great again."
Trump, the tycoon who parlayed his own cartoonish imperiousness into a successful reality television career, enters a highly congested Republican primary field. What he lacks in political bona fides he will try to compensate with money ($9 billion in assets), name recognition, and swagger.
As he enters his first political campaign, here are five things from The Donald's formidable career to keep in mind.
1. He likes to file for bankruptcy.
Trump has repeatedly said that he would run the country the way he's run his businesses. Which is not exactly inspiring given that, despite his considerable wealth, Trump has filed for corporate bankruptcy four times.
The Donald himself has largely emerged from these bankruptcies with his personal wealth intact because when these LLCs, limited partnerships,and corporations go under, it's rarely his money at stake, according to a 2011 report in Forbes. 
"I've cut debt — by the way, this isn't me personally, it's a company," Trump said. "Basically I've used the laws of the country to my advantage and to other people's advantage … just as many, many others on top of the business world have."
Trump praises himself for "great timing" by jumping ship from his grandiose projects when they're about to fail.
2. He built his political following by becoming a "birther."
In the run-up to the 2012 election (in which he did not run), Trump garnered publicity — and drove up his ratings for The Apprentice — by being one of the most outspoken, prominent Republicans to insist that President Obama was born in Kenya.
"We don't know a thing about this guy," Trump said at the time. "There are a lot of questions that are unanswered about our president."
Shortly after President Obama released his long-form birth certificate in April 2011, he proceeded to roast a stone-faced Trump in merciless fashion at the White House Correspondents Dinner:
No one is happier — no one is prouder — to put this birth certificate matter to rest than The Donald. And that's because he can finally get back to focusing on the issues that matter, like: "Did we fake the moon landing?" "What really happened in Roswell?" and "Where are Biggie and Tupac?" All kidding aside, obviously we all know about your credentials and breadth of experience. For example… in an episode of Celebrity Apprentice… you fired Gary Busey. And these are the kinds of decisions that would keep me up at night.

Continue reading: He believes in nothing but Trump.
3. He doesn't stand for anything except Trump.
Trump's record of political donations and stances on the issues makes it clear that there's only one thing he's truly, passionately, steadfastly in favor of — Trump.
Despite casting himself as the model "bootstrap" businessman and constantly railing against government handouts, his own empire has relied heavily on corporate welfare — the kind that bolsters the real estate industry.
Before becoming a loud, vitriolic birther, Trump was actually a supporter of Barack Obama in 2008 — and that isn't even the most dramatic flip. While he has donated to both parties, he has given money to more Democrats than Republicans: In the 2010 election cycle, he gave $10,000 to the National Republican Senatorial Committee, compared with $25,000 to the Democratic Senatorial Campaign Committee.
"I've always been very political because I need zone changes," Trump has said. "When you need zone changes, you're political. Like, to build Trump Tower I needed a zone change. So, you know, I'll support a Democrat, a Republican, whatever the hell I have to support, I need that zone change."
4. He doesn't want people looking at his books.
It's long been speculated that the reason Trump never ran (until this year) is that he didn't want to subject his tangled financial history to the scrutiny that comes with running a presidential campaign.
When Trump declared he would not run in 2011, Wayne Barrett, who has been writing about Trump's shady dealings for a long time, laid out the case for why Trump would never dare make a bid for the presidency. Writing in The Daily Beast,  Barrett outlined two decades of Trump's empire building with a "catalog of criminals and cads," which featured multiple ties to organized crime; a partner who had been prosecuted for human trafficking; associates implicated in drug charges and stock swindles; and more.
At the time, Barrett wrote that "a gang of questionable associations like this would've converted a candidacy into a scandal, damaging his star status," had Trump decided to run.
5. He does not believe that human activity causes climate change — or in environmental protection of any kind.
Trump has been pretty unequivocal on this point. He has loudly and proudly called the whole climate problem a hoax, openly mocked anyone who disagrees, and once referred to the science behind climate change as "very expensive GLOBAL WARMING bullsh*t."
In his long, rambling announcement speech on Tuesday morning, Trump referred to a Chinese "military island in the middle of the South China sea" and then decried the environmental regulations that he said would prohibit Americans from doing such a thing, because "we would never build in an ocean."
Oh, and he hates windmills. He unsuccessfully went to court to try to get them removed from the area surrounding his golf course in Scotland. He believes they are an aesthetic crime, a "horrible intrusion" that is "ruining communities," and a killer of bald eagles (a metaphor, perhaps?).
Photo: Gage Skidmore via Flickr