5 Things You Need To Know About The 2016 Election — Before It's Too Late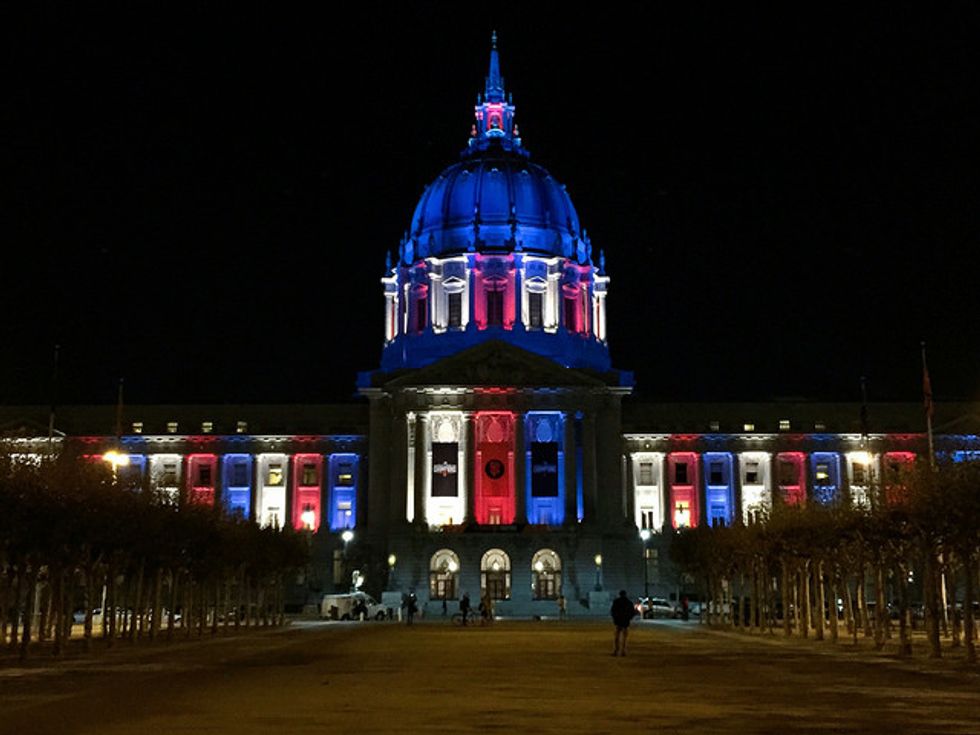 If you're one of the few Americans over 35 not running for president, I hope you'll be one of the more than 100 million who will vote in next year's general election.
There will be debates about whether this next election rises to the level of "the most important in our lifetime." I argue "Hell, yes!" for the reasons that follow. But there's no doubt that it will be the most expensive. When we go to the polls on November 8, 2016, billions of dollars will have been spent to elect the 45th president.
Things neither candidate nor party can control — primarily economic growth — will likely play a larger role in determining who will be president than campaigns, debates, or the candidates' personalities. Still, there are a number of unique variables at play in this second post-Citizens United election that make it fascinating and unpredictable.
America hasn't sent the same party to the White House three times in a row since 1988 — if you ignore the fact that Al Gore won in 2000. Democrats haven't held the presidency for more than three terms since Franklin D. Roosevelt won four times, followed by Harry Truman's victory in 1948. And you have to go back to the 19th century to find another three straight wins for Democrats.
Anyone who watched how disciplined and effective Republicans were in exploiting a fortuitous electoral map in 2014, as Democrats scrambled away from their own president and policies, should recognize the GOP is definitely capable of avoiding the clown show that marked its 2012 campaign. But given the 16 or so declared or nearly declared candidates, led by five frontrunners tied at 10 percent in the most recent Quinnipiac University poll, the potential for idiocracy in action looms large.
Even larger are the consequences for the nation. Here are five things you need to know about the 2016 election now — before it's too late.
1. The next president could easily determine control of the Supreme Court for decades.
By the end of the next president's first term, four of the Court's sitting justices — Antonin Scalia, Anthony Kennedy, Ruth Bader Ginsburg and Stephen Breyer — will exceed or butt up against the life expectancy for their genders. They will all have passed the average retirement age for the Court since the early 1970s. Of these four, three — Kennedy, Ginsburg and Breyer — are the majority of the majority that has upheld the Roe v. Wade decision we rely on to protect reproductive rights for women in all 50 states. So a Republican president would have a 3 out of 4 chance that his or her first appointment will capture the conservative movement's golden fleece and allow states to begin prosecuting women and doctors for miscarriages.
Sheldon Adelson and David Koch, two billionaires who have personally directed hundreds of millions of dollars to elect Republicans, claim that they're pro-choice. But they reserve their support for candidates who think only people born male deserve reproductive rights, for one simple reason: The justices who oppose women's rights are also champions of corporate rights. No two justices have voted on behalf of corporate interests more during the last half century than John Roberts and Samuel Alito.
In the past, GOP presidents have made the mistake of appointing moderate Republicans who became rational while on the Court. That will never happen again. The sort of judge any Republican will appoint now will be in the fiercely partisan mode of Alito. Today Republicans have four votes on the Supreme Court for almost anything they want. Electing their nominee in 2016 could raise that number to as high as seven. That wouldn't just mean the end of Roe. It could be the end of the minimum wage, Medicare, Social Security and most environmental laws as we know them.
2. Republicans need a miracle performance to win.
Former Obama administration senior advisor Dan Pfeiffer said this quote from a recent Washington Post article by Dan Balz is "almost all you need" to know about 2016:
Based on estimates of the composition of the 2016 electorate, if the next GOP nominee wins the same share of the white vote as Mitt Romney won in 2012 (59 percent), he or she would need to win 30 percent of the nonwhite vote. Set against recent history, that is a daunting obstacle. Romney won only 17 percent of nonwhite voters in 2012. John McCain won 19 percent in 2008. George W. Bush won 26 percent in 2004.
Some Republicans suggest that the next GOP nominee could appeal to more white people than Mitt "The Dictionary Definition of White Guy" Romney. But to do that they'd have to replicate Ronald Reagan's 49-state sweep that had more to do with a booming economy than anything else.
3. The GOP primary is taking place in an alternate dimension.
In Republican reality, where the "Founders" are Roger Ailes and Rupert Murdoch, same-sex marriage is bad, the Iraq War is good, and the rich need more tax breaks. Both Democrats and Independents—who are mostly Republicans too embarrassed to identify as such—disagree completely. Most Republicans have supported some form of immigration reform, but conservatives who make up the most reliable GOP primary voters rabidly oppose it. Because the GOP field is so large and so many candidates are desperate for attention, there is great potential for bad ideas to rise up and leave their stink on the party during the general election.
4. Eventually, Republicans will need to return to a campaign of blurring differences.
Wisconsin governor Scott Walker is increasingly emerging as the frontrunner in the Iowa GOP caucuses and the GOP primary in general. Conservatives love him because even though his policies have helped lead to his state's middle class shrinking at a faster rate than any other, he stuck them in Democrats' faces and made them suck on them. But even Walker knows how to effectively blur differences with Democrats without alienating his base.
Big-money funders tend to favor Marco Rubio and Jeb Bush because the former would be the first Latino president while the latter is married to a Mexican woman, has Mexican-American kids, and speaks fluent Spanish. Both of these candidates are doing their best to swerve from Romney's ham-handed "self-deportation" to an immigration policy as welcoming toward Latinos as possible without dividing the party. Rubio has turned against his own reform bill, the closest thing he has to a legislative accomplishment, and Bush sounds like every other Republican saying, "First we must secure the border," although it's more secure than it's been in a generation. Both are still far better positioned to blur differences on this crucial issue than Romney ever was.
One issue they won't be able to blur is the Supreme Court and Roe v. Wade — especially if running against a woman.
5. Liberals love Hillary Clinton thus far.
Liberals who oppose — nay, despise — the Clintons are loud and proud. There just aren't many of them so far, certainly not enough to pose a serious primary threat. In the latest Quinnipiac poll, Hillary Clinton has more support than all of her Democratic competitors combined, with 57 percent. That number rises to 61 percent among self-described "very liberal" voters. Vermont senator Bernie Sanders has gained support, but mostly from the 20 percent or so of Democrats who would prefer his Massachusetts neighbor, Senator Elizabeth Warren. Former Maryland governor Martin O'Malley starts his campaign with one (1) percent support — and his attempt to position himself as an insurgent who opposes passing the presidency between two families is belied by his establishment record and his 2008 support for Clinton.
There's some evidence that the GOP's attempts to summon scandals around Clinton have affected voters' trust in her. But she still leads all her Republican competitors. This may because after decades of fake scandals, she is inoculated against the right's attacks.
The indictment of former Speaker of the House Dennis Hastert for alleged blackmail related to sexual misconduct is the perfect example of how Clinton critics turn out to be projecting their own worst faults on Hillary and/or Bill. And the idea that a party built on donations from billionaires — who are trying to avoid taxes and responsibility for the costs of their corporations' pollution — is truly, deeply concerned about the Clintons' fundraising ethics seems similarly ridiculous.
Photo: GPS via Flickr