5 Tight Races That Could Decide Which Party Controls Senate
@alexvhenderson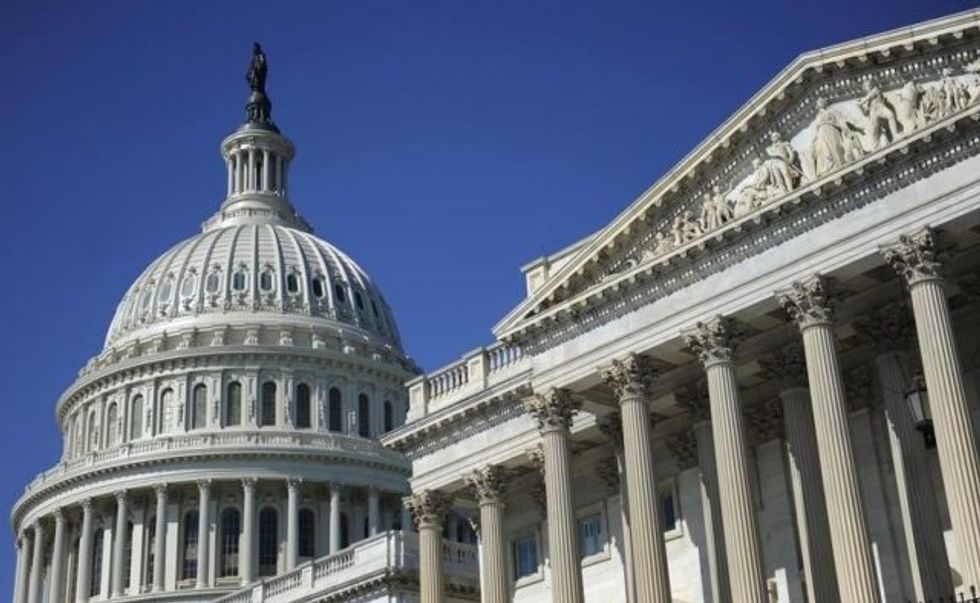 Although Democrats are feeling increasingly optimistic about their chances to retake the U.S. House of Representatives in the 2018 midterms, they are facing an uphill battle in their quest to gain a majority in the U.S. Senate. All 435 seats in the House are up for grabs on Tuesday, November 6, which gives Democrats a lot more wiggle room and potential paths to victory. But in order to win a majority in the Senate, Democrats would have to maintain every seat they are defending while taking at least two seats from Republicans—which is doable but certainly challenging in light of how tight many Senate races are shaping up to be.
If the Democratic Party can, for example, maintain all of its current Senate seats while achieving victories for Jacky Rosen in Nevada and Kyrsten Sinema in Arizona, the U.S. Senate will have a narrow Democratic majority in 2019. But that is a major "if" because some Senate Democrats who are seeking reelection this year—including Bill Nelson in Florida and Claire McCaskill in Missouri—are facing what appear to be very tight races. And political pundits might be staying up late on November 6 to find out whether Democrats or Republicans will have a majority in the U.S. Senate in 2019.
Here are five of the most exciting, nail-biting U.S. Senate races to keep a close eye on between Labor Day and Election Night 2018.
1. Arizona: Kyrsten Sinema v. Martha McSally
Between the death of Sen. John McCain and Sen. Jeff Flake's decision not to seek reelection, Arizona will have two new faces in the U.S. Senate in 2019. McCain's seat will remain in Republican hands next year: by law, Arizona Gov. Doug Ducey must appoint a Republican to fill the seat temporarily until a special election is held in 2020. But Flake's seat is in play for Democrats, and Democratic nominee Kyrsten Sinema has been performing well in recent polls. Sinema would probably have an easier path to victory if she were running against either former Arizona State Senator Kelli Ward or former Maricopa County Sheriff Joe Arpaio, the two extremist wingnuts Martha McSally defeated in Arizona's GOP gubernatorial primary on August 28. But Arizona voters went with the establishment pick, nominating McSally—who is definitely right-wing but not a Tea Party loon. And McSally, like Sinema, has been representing Arizona in the U.S. House of Representatives.
According to hypothetical match-ups from various pollsters, Sinema would have defeated Ward or Arpaio by double digits. But the race becomes much tighter in a Sinema/McSally matchup. A late July poll from OH Predictive Insights found Sinema leading McSally by 4%. Democrats want Flake's seat badly, and if Sinema wins, it would be the first time Arizona elected a Democrat to the U.S. Senate since 1988.
2. Texas: Beto O'Rourke v. Ted Cruz
Texas has a reputation for being Wingnut Central, but the Long Star State isn't as unfriendly to Democrats as some pundits believe. In major Texas cities such as Houston, Dallas, Austin, San Antonio and El Paso, it isn't hard for Democrats to win mayoral or City Council races—Houston's last Republican mayor, Jim McConn, left office in 1982. And Democrats have been representing parts of Texas in the U.S. House of Representatives. But when it comes to gubernatorial, U.S. Senate or presidential races, Republicans have been seriously dominant in Texas—which is why it is shocking to see how well Democrat Beto O'Rourke has been performing against incumbent Sen. Ted Cruz in recent polls.
A new Emerson poll finds O'Rourke trailing Cruz by only 1%, and this follows recent polls showing Cruz leading by 4% (NBC News/Marist), 2% (Texas Lyceum) or 6% (Quinnipiac). Cruz, in fact, is so worried that he has asked his bitter rival from 2016, Donald Trump, to please campaign for him in Texas. Cruz still has the advantage: the Texas GOP has an incredibly strong ground game. But the fact that a Texas Senate race is turning out to be this much of a nail-biter is a huge surprise.
3. Nevada: Jacky Rosen v. Dean Heller  
Of all the incumbent Senate Republicans who are seeking reelection in 2018, Nevada's Dean Heller is said to be the most vulnerable. Heller is the only Republican senator who is up for reelection in a state that Democrat Hillary Clinton won in the 2016 presidential race, and recent polls show Nevada's Senate race to be incredibly tight. A Suffolk University/Reno Gazette Journal poll released in late July found Heller to be leading Democratic nominee Jacky Rosen by only 1%, while other polls show Rosen slightly ahead. And if this keeps up, it could be Wednesday, November 7—or later—before voters find out whether Heller or Rosen won.
Heller, however, shouldn't be performing as well as he is in the polls. In 2017, the Nevada senator voted to overturn the Affordable Care Act of 2010, a.k.a. Obamacare, and deprive Americans of Americans of health insurance—including countless entrepreneurs and small business owners. And for that reason alone, Heller deserves to be thrown out of office.
4. Florida: Bill Nelson v. Rick Scott
Florida is a perfect example of why Republicans might maintain control of the Senate even if Sinema wins in Arizona and Rosen wins in Nevada. In the Sunshine State, three-term Democratic Sen. Bill Nelson is seeking a fourth term—and his Republican opponent, Gov. Rick Scott, has been performing well in recent polls. Scott is leading Nelson by 6% in a recent Florida University poll and 3% in a recent Mason-Dixon poll. Nelson was reelected by double digits in 2006 and 2012, but 2018 is proving to be more challenging for the veteran senator.
5. Missouri: Claire McCaskill v. Josh Hawley
In 2012, Missouri Sen. Claire McCaskill (a centrist Democrat) was reelected by 15% when she defeated Todd Akin (the Republican embarrassment whose campaign was doomed after he asserted that women who are victims of "legitimate rape" rarely become pregnant). But in 2018, polls have showed a very tight race between McCaskill and Republican nominee Josh Hawley (Missouri's attorney general). Some polls have showed McCaskill slightly ahead; others have showed Hawley slightly ahead—and along with Nelson, McCaskill is proving to be one of the more vulnerable Democratic senators seeking reelection.
Alex Henderson is a news writer at AlterNet and veteran political journalist. His work has also appeared in Salon, Raw Story, Truthdig, National Memo, Philadelphia Weekly, Democratic Underground, L.A. Weekly, MintPress News and many other publications. Follow him on Twitter @alexvhenderson.