6 Reasons Trump and Sessions Are Constitutional Idiots When It Comes To Threatening and Punishing Sanctuary Cities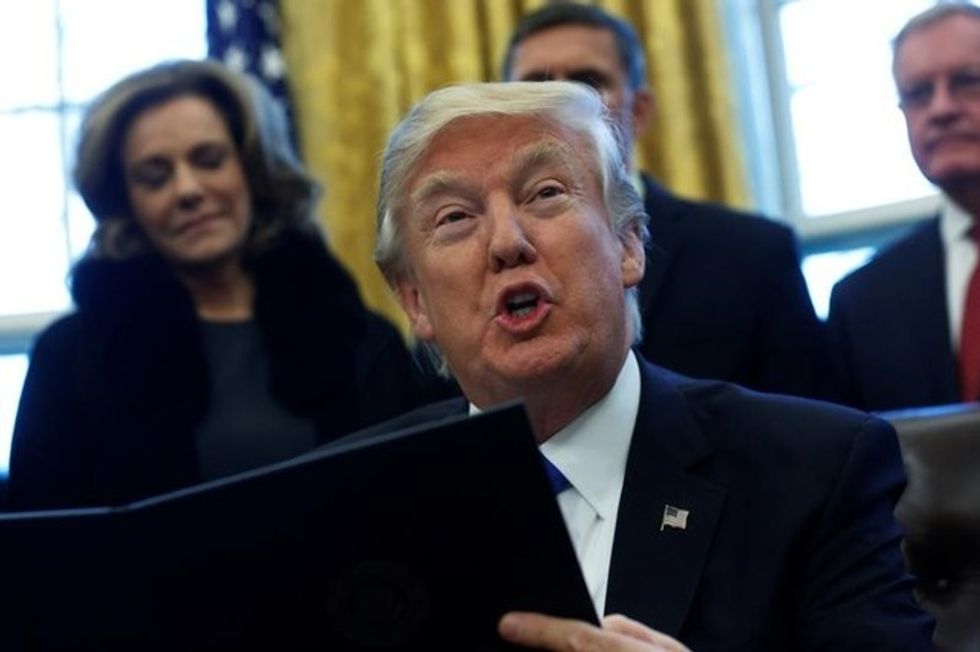 Reprinted with permission from Alternet.
On Tuesday, a federal judge in California issued a nationwide restraining order blocking President Trump's order that would punish cities and counties offering sanctuary to visa-less immigrants by depriving them of federal law enforcement funds.
While the White House ridiculed that order—Chief of Staff Reince Priebus said, "It's the 9th Circuit going bananas"—that's exactly the opposite of what U.S. District Court Judge William H. Orrick wrote in his 49-page ruling. Trump and his White House team have gone off the rails, Orrick wrote, ignoring the Constitution, offering arguments that make no legal sense and making repeated threats that show a lack of control. Orrick says the White House is headed for a big loss in federal court.
The constitutional basics are that the federal government cannot ignore the separation of federal and state powers and order local authorities to become arms of federal police or face punishing federal funding losses. Moreover, it is Congress, not the White House—a different, co-equal branch—that controls the money Trump wants to take back.
Orrick's ruling cited U.S. Supreme Court decisions written by some of the court's most conservative members, Chief Justice John Roberts and former Associate Justice Antonin Scalia. Trump apparently ignored that when he scoffed at Orrick's order at the end of another executive action signing ceremony Wednesday.
"Are you surprised about this 9th Circuit ruling?" a reporter called out, a White House transcript said. The president responded, "I'm never surprised by the 9th Circuit. (Laughter.) As I said, we'll see them in the Supreme Court. (Laughter and applause.)"
Let's look at what the judge actually wrote. Here are six excerpts from the ruling.
1. The White House Didn't Dare Make a Constitutional Argument: "The Government does not respond to the Counties' constitutional challenges but argues that the Counties lack standing because the Executive Order did not change existing law and because the Counties have not been named 'sanctuary jurisdictions' pursuant to the Order. It explained for the first time at oral argument that the Order is merely an exercise of the President's 'bully pulpit' to highlight a changed approach to immigration enforcement."
2. The White House Admitted in Court Trump's Order Had No Teeth: "[White House] Counsel disavowed any right through the Order for the Government to affect any other part of the billions of dollars in federal funds the Counties receive every year. It is heartening that the Government's lawyers recognize that the Order cannot do more constitutionally than enforce existing law."
3. Trump Hasn't Learned Yet That Ill-Spoken Words Have Consequences: "And if there was doubt about the scope of the Order, the President and Attorney General [Jeff Sessions] have erased it with their public comments. The President has called it 'a weapon' to use against jurisdictions that disagree with his preferred policies of immigration enforcement, and his press secretary has reiterated that the President intends to ensure that 'counties and other institutions that remain sanctuary cites don't get federal government funding in compliance with the executive order.'"
4. Trump's Attorney General Also Keeps Making Idiotic Empty Threats: "The Attorney General has warned that jurisdictions that do not comply with Section 1373 would suffer 'withholding grants, termination of grants, and disbarment or ineligibility for future grants,' and the 'claw back' of any funds previously awarded. Section 9(a) is not reasonably susceptible to the new, narrow interpretation offered at the hearing. Although the Government's new interpretation of the Order is not legally plausible, in effect it appears to put the parties in general agreement."
5. These Threats Are Harmful and Violate Sanctuary's Constitutional Rights: "They [San Francisco and San Mateo Counties] have demonstrated that they have standing to challenge the Order and are currently suffering irreparable harm, not only because the Order has caused and will cause them constitutional injuries by violating the separation of powers doctrine and depriving them of their Tenth and Fifth Amendment rights, but also because the Order has caused budget uncertainty by threatening to deprive the Counties of hundreds of millions of dollars in federal grants that support core services."
6. Trump Is Going to Lose If He's Dumb Enough to Keep This Nonsense Up: "The Counties must show that they are likely to face immediate irreparable harm absent an injunction, that they are likely to succeed on the merits, and that the balance of harms and public interest weighs in their favor. The Counties have met this burden… They have established that they are likely to succeed on the merits of their claims and that the balance of harms and public interest decisively weigh in favor of an injunction."
Who Has the Last Laugh?
These excerpts from Orrick's ruling are a breathtaking indictment of the Trump administration's hyperbole, bullying and legal fabrications. While the fight over sanctuary cities is not over, it unmasks Trump as all bluster and no bite. That doesn't mean the White House won't keep pushing its war on immigrants. In fact, the White House's initial reaction to Orrick's ruling was to again insult the judiciary.
"Today, the rule of law suffered another blow, as an unelected judge unilaterally rewrote immigration policy for our nation," said a statement issued by White House Press Secretary Sean Spicer, who, if you haven't guessed, is not a lawyer. "Once again, a single district judge—this time in San Francisco—has ignored federal immigration law to set a new immigration policy for the entire country."
Spicer's rant didn't stop there. He said the ruling was a gift to "the criminal gang and cartel element in our country," painting again a deliberately false picture of immigrant communities as being inundated with crime when the opposite is true.
As Matthew Miller, the Obama Justice Department's former spokesman, tweeted, "I hope these guys never learn that repeatedly insulting judges is worsening their chances in court."
Don't hold your breath. In the meantime, the cartel whose behavior breaks the law is the Trump gang.
This article was made possible by the readers and supporters of AlterNet.