7 Things To Know About Ajit Pai, The Man Trump Tasked With Killing Net Neutrality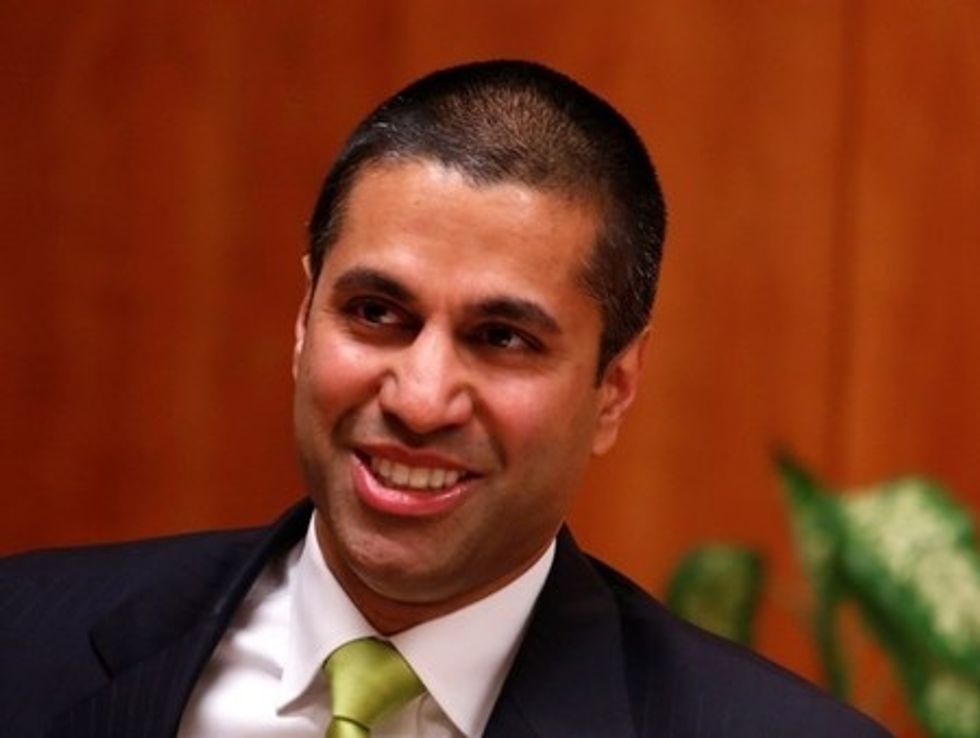 Reprinted with permission from AlterNet.
Ajit Pais is chairman of the Federal Communications Commission, the government agency that regulates radio and television airwaves, cable TV, and internet. In other words, he has immense power.
President Trump appointed Pai to serve as chairman in January and Pai has quickly moved to advance the interests of big broadcasting companies and internet service providers at the expense of the public. Next month, the five-member FCC will vote on Pai's proposal to roll back FCC rules limiting cable and internet service providers from charging more for their services.
Even Trump supporters should be appalled, says the reliably conservative Forbes magazine.
Tim Berners-Lee, the man who invented the protocols of the World Wide Web, is blunt: "The FCC under Ajit Pai has consistently chosen to sell out Americans for the profit of corporations."
So who is this guy?
1. He's from Kansas.
To Tom Frank's plaintive query, "What's the matter with Kansas?" one can only respond, Ajit Pai is the matter with Kansas. He grew up in Parsons, a small town near the Oklahoma border, where his parents were doctors.
Like his fellow Kansas conservatives Kris Kobach and Sam Brownback, Pai is a bland and intelligent fanatic. Unlike Kobach, he does not seem to be animated by xenophobia, just an odd passion for doing the bidding of a handful of internet service providers.
 2. He cultivates a humorous persona.
Pai likes to quote "The Big Lebowski" in his Twitter feed. He produces an oversize coffee mug at opportune moments in search of laughs.
John Oliver's verdict on the wit of a self-regarding toady: not bloody funny.
3. Pai used to work for Verizon.
It was a short stint, according to Wikipedia:
Pai left his Department of Justice post in February 2001 to serve as Associate General Counsel at Verizon Communications Inc., where he handled competition matters, regulatory issues, and counseling of business units on broadband initiatives. Pai left Verizon in April 2003….
But the Verizon experience proved formative. Fifteen years later, Pai's proposal to dismantle the FCC's net neutrality rules is exactly what Verizon wants today: the right to charge you more for internet access.
4. Pai wants to take a 'weedwhacker' to net neutrality.
Sometimes, Pai couches his arguments in terms of "innovation" and "investment," which are largely bogus. The telephone and cable companies are not going to stop investing in internet broadband technology under the current rules. They make good money off the present system. They just want to make more.
Other times, Pai speaks of taking a "weedwhacker" to internet regulations.
In this Personal Democracy Forum video, Timothy Wu explains why this is such a bad idea.
"Net neutrality," of course, is a sleeping pill of a phrase. The subject is technical and can be boring. So it is worth hearing Wu explain key terms like "Title II" and "fast lanes," without losing the big point. Net neutrality protects the internet we have today, "as an experiment in free speech."
Ajit Pai wants to end the experiment to help boost the quarterly profits of Verizon and Comcast.
5. All of the big tech companies oppose Pai on net neutrality.
Last July, the leading companies and websites that grew up with the internet—Google, Apple, Wikipedia, Reddit and the like—came together for a day of action to educate users about the danger of the FCC's plans.
Cynthia Hogan, head of public policy for Apple in the United States, laid it all out in a letter sent to the FCC. "Providers of online goods and services need assurance that they will be able to reliably reach their customers without interference from the underlying broadband provider," she wrote.
6. The FCC received millions of public comments on net neutrality rules—and Pai ignored virtually all of them.
The FCC received 22 million comments on net neturality rules, of which 1.3 millionwere probably fake. If you remove the bot-generated comments, 95 to 98 percent of the real living commenters favored keeping the current rules that regulate ISPs like public utilities.
"We are so used to these systems being manipulated that people just think that's how the internet works," Berners-Lee recent told the Guardian. "We need to think about what it should be like….If they're not serving humanity, they can and should be changed."
"Gas is a utility, so is clean water, and connectivity should be too," Berners-Lee continued. "It's part of life and shouldn't have an attitude about what you use it for—just like water."
7. Pai has transformed net neutrality into a political cause.
The open internet nonprofit Fight for the Future is orchestrating nationwide protests ahead of the FCC's expected hearing to vote on removing the rules. Protests are already being planned for December 7 at Verizon locations in New York City, Denver, San Francisco, and Phoenix. Similar public protests will be coordinated in cities and towns across the country by grassroots volunteers using tech-friendly methods like email, texts and social media.
Last week, Sen. Susan Collins (R-Maine) became the first congressional Republican to publicly break with the FCC chairman. "Senator Collins does not support the FCC's decision to abolish net neutrality," a spokeswoman said.
Let Verizon know your opinion of its former employee and current flunky Ajit Pai, by attending a demonstration near you.