'A Knife In The Back': Boehner Faces Bipartisan Fury After Punting Sandy Aid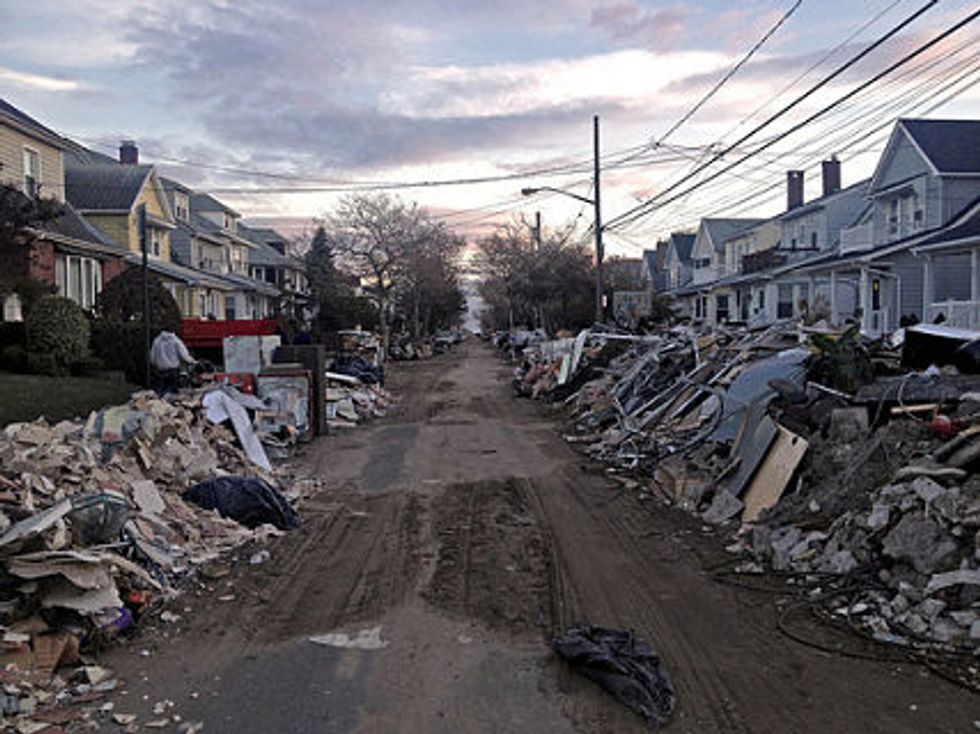 House Speaker John Boehner is facing a bipartisan firestorm over his decision not to vote on Hurricane Sandy relief before the 112th Congress adjourns, creating a new crisis for Republican leadership just hours after the end of the "fiscal cliff."
On December 28th, a bipartisan coalition of 49 Democrats and 12 Republicans passed a $60 billion aid package through the Senate to provide relief to the states that were devastated by the storm in October. But after dragging their feet on the measure for weeks, on Tuesday night Republican leadership decided that the bill would not be considered until the 113th Congress convenes on Thursday — despite House Majority Leader Eric Cantor reportedly saying he was "99.9 percent confident" that the bill would be introduced after the fiscal standoff was resolved.
Speaker Boehner has promised to make Sandy relief his top priority in the new Congress, but that isn't good enough for many Representatives who took to the floor to slam Boehner's callous disregard for the storm's victims.
"This was a disgrace. They are inexcusable," Rep. Peter King (R-NY) said of Speaker Boehner and Majority Leader Cantor last night. King, normally a reliable Republican vote, described the decision not to provide hurricane relief as a "knife in the back," and warned that Republicans are "going to have to go a long way to get my vote on anything" after the debacle.
King also called on New Yorkers to stop contributing to the Congressional Republicans who have ignored their urgent needs. "These Republicans have no problem finding New York when they're out raising millions of dollars. They're in New York all the time filling pockets with money from New Yorkers," King raged. "I'm saying anyone from New York and New Jersey who contributes one penny to Congressional Republicans is out of their mind."
If New York Republicans follow King's advice, it could have a crippling effect on the GOP's fundraising efforts; according to The Huffington Post's Paul Blumenthal, New Yorkers donated around $4 million to the NRCC in 2012.
Tea Party-backed Rep. Michael Grimm (R-NY) concurred with King, calling Boehner and Cantor's move "a personal betrayal."
"But I think more importantly, when you parse out all the politics, the people of this country that have been devastated are looking at this as a betrayal by the Congress and by the nation, and that is just untenable and unforgivable," Grimm added.
The outrage was not limited to congressmen from the states directly affected by the storm. Louisiana Democrat Cedric Richmond noted that "I'm from New Orleans, and we were great beneficiaries of this body coming together after Katrina and Rita to help us in a time of our greatest need. And it's appalling that this house can't come together when we have so many Americans in need."
Some are wondering if the House GOP's decision is related to the northeastern states' reliably Democratic voting record; as Rep. Rush Holt (D-NJ) said on the floor, "I'd like to think this is not a partisan matter, but I have to wonder what is going on here." Indeed, House Republicans have never hesitated to approve federal aid for disasters that struck red states; for example, it took less than a month for a Republican Congress to approve $62.3 billion in disaster aid after Hurricane Katrina battered the reliably Republican Gulf Coast.
The other likely explanation for the GOP's intransigence is Speaker Boehner's fear of proposing billions in federal spending, just hours after nearly blowing the fiscal cliff deal due to his caucus' insistence on adding spending cuts to the bill. If this were Boehner's calculation, he would be following the advice of right wing Washington Post blogger Jennifer Rubin, who coldly suggested that the speaker could "save face" by leaving Sandy victims to suffer.
President Obama weighed in on the controversy Wednesday morning, issuing a statement urging House Republicans to pass a disaster relief bill immediately.
It has only been two months since Hurricane Sandy devastated communities across New York, New Jersey, and Connecticut as well as other eastern states. Our citizens are still trying to put their lives back together. Our states are still trying to rebuild vital infrastructure. And so, last month, working closely with the governors of the affected states, I sent Congress an urgent request to support their efforts to rebuild and recover. The Senate passed this request with bipartisan support. But the House of Representatives has refused to act, even as there are families and communities who still need our help to rebuild in the months and years ahead, and who also still need immediate support with the bulk of winter still in front of us.

When tragedy strikes, Americans come together to support those in need. I urge Republicans in the House of Representatives to do the same, bring this important request to a vote today, and pass it without delay for our fellow Americans.
New Jersey governor Chris Christie and New York governor Andrew Cuomo also released a joint statement calling for action, noting that "This failure to come to the aid of Americans following a severe and devastating natural disaster is unprecedented," and that "The fact that days continue to go by while people suffer, families are out of their homes, and men and women remain jobless and struggling during these harsh winter months is a dereliction of duty."
Photo by "ma neeks" via Flickr.com