A Market In Boston For Every Taste And Price Point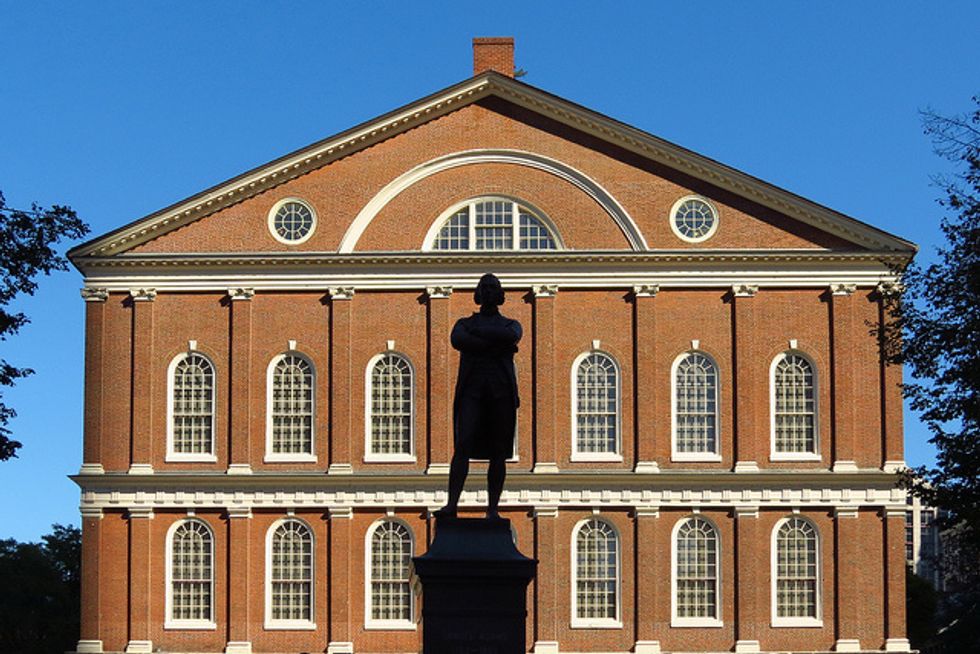 By Ellen Creager, Detroit Free Press (TNS)
BOSTON — It's hard to pack an organic egg in your suitcase.
Still, tourists can find souvenirs galore at Boston's newest tourist attraction, the Boston Public Market. You may even find lunch.
"Bring a knife, and you can get some smoked sausage, some bread and cheese, and you've got lunch to go," says Becky Stillman of Stillman Quality Meats, standing next to her family's bierwurst case.
Opened on July 30, the year-round indoor public market features products and produce from across New England. The wide, bright space near Boston's North End is next to the Rose Kennedy Greenway park. It also is near Boston's tourism heart, Quincy Market and Faneuil Hall.
Inside, the aisles are still being populated with permanent vendors. Each is more artist than farmer. One sells Rhode Island-made capocollo cured meats. Another features dairy products from the Massachusetts Cheese Guild. You can buy fresh fruit vinegar. Handcrafted chocolate. Perfect sunflowers. Piles of heirloom tomatoes show nary a blemish.
I visited the public market twice on a Saturday, once in early morning with few visitors and once in the late afternoon when it was packed.
Although geared to fresh food, there are plenty of options for souvenir-hunting tourists. You can buy raw honey from a Massachusetts beekeeper. You'll find fieldstone trivets, where all the fieldstone comes from old stone farm walls in New England. You can purchase bowls made from wood salvaged from fallen trees in the region.
The Public Market also has a new demonstration kitchen and a seasonal outdoor market on Sundays and Wednesdays.
The market is fun. It is sure to have an effect. I'm just not sure on whom.
Why? Cost. That artisanal handmade sausage is $17 a pound; beeswax candles are $12, and a type of cheese called Pinnacle is $25.99 a pound. Come to this area on a Saturday, and it seems that most of the actual grocery-shopping public is directly next door at the chaotic, lowbrow, outdoor Haymarket farmers market where you can buy five lemons for $1.
Of course, walk two blocks farther, and you are at the biggest traditional market of all: Quincy Market at Faneuil Marketplace, the city's most visited tourist attraction.
Quincy Market was saved from the wrecker's ball in 1976. Today, it is a food colonnade surrounded by a web of buildings, push-carts and shops, where you can buy everything from Sunglass Hut shades to shadow lanterns. Inside the hot, aromatic building, shoulder-to-shoulder tourists quaff chowder and shawarma, curry and cheese steaks. The building still has great bones, especially the center court with an oval balcony and sweeping staircase. Faneuil Hall Marketplace is about to embark on a needed renovation – and longtime tenants are afraid they'll be up-scaled right out of their space.
Across the street from Quincy Market, climb a few steps and you are inside the Great Hall of Faneuil Hall. The old building known for its role in hatching the American Revolution is a National Historic Landmark. And it is hushed and cool in comparison to the chaos outside.
Tourists sit quietly, observing the expansive and serene colonial architecture.
One can imagine firebrand patriot Samuel Adams arguing here, and he certainly did, back in the day. One can also imagine the Son of Liberty taking a break, wandering outside through the clanging streets and markets of Boston of today.
I picture Adams wandering past Quincy Market's push carts and chain stores and into the new Boston Public Market, sniffing and analyzing. I see him walking past the kiosks and pausing to hear the vendors' stories. Products from New England! Hardworking small farmers! Heirloom tomatoes! Trivets from fieldstone and bowls from fallen trees!
That's how you build a country, Sam Adams would say. Hard work. American ingenuity. Shopping locally. One organic egg at a time.
Then, he'd give it his stamp of approval.
___
IF YOU GO
Boston Public Market is at 100 Hanover Street, next to the Haymarket T stop on the Green Line. It is a couple blocks from Faneuil Hall/Quincy Market. It is open Wednesday-Sunday year-round, 8 a.m.-8 p.m. Free.
Lodging: Ouch. Plan to spend about $250 a night even for a mid-range hotel. If you want to focus your stay on the North End near the Boston Public Market, think about staying in Cambridge near the Green Line.
Nearby attractions:
_ Quincy Market and Faneuil Hall Marketplace: 200,000 square feet, 70 shops, food colonnade.
_ Rose Kennedy Greenway: Created after the Big Dig buried the unsightly freeway underground. Now mature plantings and fountains make it a pleasant walkway.
(c)2015 Detroit Free Press. Distributed by Tribune Content Agency, LLC.