A Million Americans Sign Petition To Impeach Clarence Thomas
@CynicalBrandon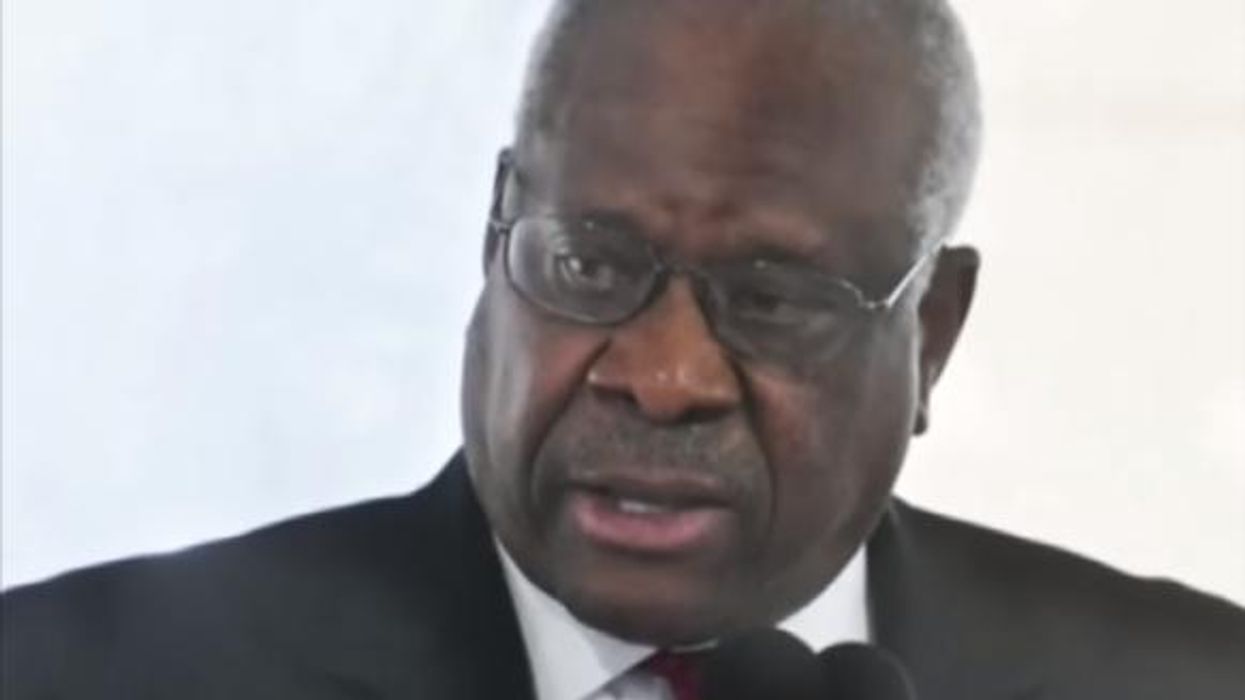 YouTube Screenshot
Only once in the history of the United States has a Supreme Court jurist faced impeachment. The lone instance occurred in 1804 when Associate Justice Samuel Chase was put on trial in the Senate after charges were brought by the House of Representatives. According to Senate records, Chase was accused of "refusing to dismiss biased jurors and of excluding or limiting defense witnesses in two politically sensitive cases." He was acquitted in 1805.
The process of removing a sitting Justice from the nation's highest legal authority is the same as extracting an incumbent president. The Constitution requires a simple majority in the House to approve an investigation into alleged "high crimes and misdemeanors," and two-thirds of the Senate to convict.
Now, nearly 200 years later, the demand to impeach Associate Justice Clarence Thomas is surging.
On Sunday, a petition drafted and circulated by MoveOn.org surpassed a million signatures. And the tally is still growing.
The basis for impeaching Thomas rests on three main points: previous suspicions of corruption, his unambiguous desire to strip American citizens of their civil rights, and conflicts of interest stemming from his wife Ginni's right-wing activism and participation in former President Donald Trump's plot to subvert the 2020 election.
The petition states:
The right-wing rigged Supreme Court overturned Roe v. Wade last week, effectively taking away the right to privacy and bodily autonomy that's been considered legal precedent for the past 50 years. Supreme Court Justice Clarence Thomas—who sided with the majority on overturning Roe—made it clear what's next: to overturn high court rulings that establish gay rights and contraception rights.
Thomas voted against a Supreme Court decision to compel the release of Donald Trump's records regarding the January 6 insurrection and attempt to overturn the results of the 2020 presidential election.
Thomas' failure to recuse himself warrants immediate investigation and heightened alarm. And it's only the latest in a long history of conflicts of interest in the service of a right-wing agenda and mixing his powerful role with his conservative political activism. He has shown he cannot be an impartial justice and is more concerned with covering up his wife's coup attempts than the health of the Supreme Court.
He must resign—or Congress must immediately investigate and impeach.
But no matter how many signatures the campaign amasses, the decision to pursue a case against Thomas ultimately belongs to Congress. Considering the current makeup of both chambers, coupled with the ongoing probe into the events of January 6th, 2021, the chance of impeachment proceedings emerging is remote.
Reprinted with permission from Alternet.