Poll: Big Majority Of Ohio Voters Support Abortion Rights Amendment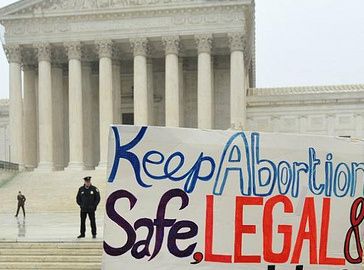 Court Blocks Mississippi From Closing State's Last Abortion Clinic
Nearly two-thirds of voters in Ohio back a constitutional amendment that, if passed, would guarantee the right to an abortion in the state, according to a USA Today /Suffolk University poll published on Monday.
Fifty-eight percent of voters support the amendment, which would make abortion legal in the state up until fetal viability, usually considered to be around 24 weeks' gestation.
Abortion rights supporters are trying to put the constitutional amendment on the ballot in November. It's a complicated process that requires nearly 450,000 signatures to be collected statewide. However, those signatures must come from at least 44 of the state's 88 counties, and the number of signatures in each county must add up to five percent of its votes for governor in the previous election cycle.
The groups seeking to get the measure on the ballot submitted the signatures earlier in July, and the Ohio secretary of state is scheduled to announce on Tuesday whether the amendment's proponents obtained the number of signatures needed to qualify for the November ballot.
The text of the proposed amendment says, "Every individual has a right to make and carry out one's own reproductive decisions, including but not limited to decisions on: contraception; fertility treatment; continuing one's own pregnancy; miscarriage care; and abortion." It says, "The state shall not, directly or indirectly, burden, penalize, prohibit, interfere with, or discriminate against either an individual's voluntary exercise of this right or a person or entity that assists an individual exercising this right."
According to the USA TODAY Network/Suffolk University poll, the measure has widespread support among Democratic and independent voters, including 85 percent of independent women. It also has support across all age groups and levels of education.
In an effort to block the proposed amendment from passing, Republicans are trying to raise the threshold for the number of votes that ballot initiatives need to garner in order to pass from a simple majority to 60 percent.
An Ohio Republican state lawmaker said in a February letter to his colleagues that the abortion referendum is a major reason why he thinks Republicans should raise the percentage of the vote needed to pass ballot measures.
"After decades of Republicans' work to make Ohio a pro-life state, the Left intends to write abortion on demand into Ohio's Constitution," state Rep. Brian Stewart wrote in a letter posted to Twitter by reporter Andrew Tobias. "If they succeed, all the work accomplished by multiple Republican majorities will be undone, and we will return to 19,000+ babies being aborted each and every year."
The USA Today poll shows, however, that even if Republicans raise that threshold, the amendment may pass anyway, as it's just 2 points shy of 60 percent; the poll's margin of error is 4.4 percentage points.
Abortions in Ohio are currently illegal after fetal cardiac activity can be detected, usually around six weeks' gestation. That deadline is so early in pregnancy that many don't yet know they are pregnant, let alone have the time to decide whether to continue with the pregnancy or to obtain an abortion.
Ohio passed the law banning abortion at this very early stage of pregnancy in 2019, but it only went into effect in 2022, after the Supreme Court overturned its landmark Roe v. Wade ruling that had affirmed the constitutional right to an abortion before fetal viability.
The proposed ballot amendment has broad support, even while Ohio has trended Republican over the last decade. Former President Donald Trump carried the state by 8 points in both 2016 and 2020 .
"The general public in Ohio still likes their local Republican lawmakers, but when it comes to extreme positions against abortion rights, they are reeling them in," David Paleologos, director of the Suffolk University Political Research Center, which conducted the survey, told USA Today .
Reprinted with permission from American Independent .