Abrupt Exit Cannot Salvage Ryan's Reputation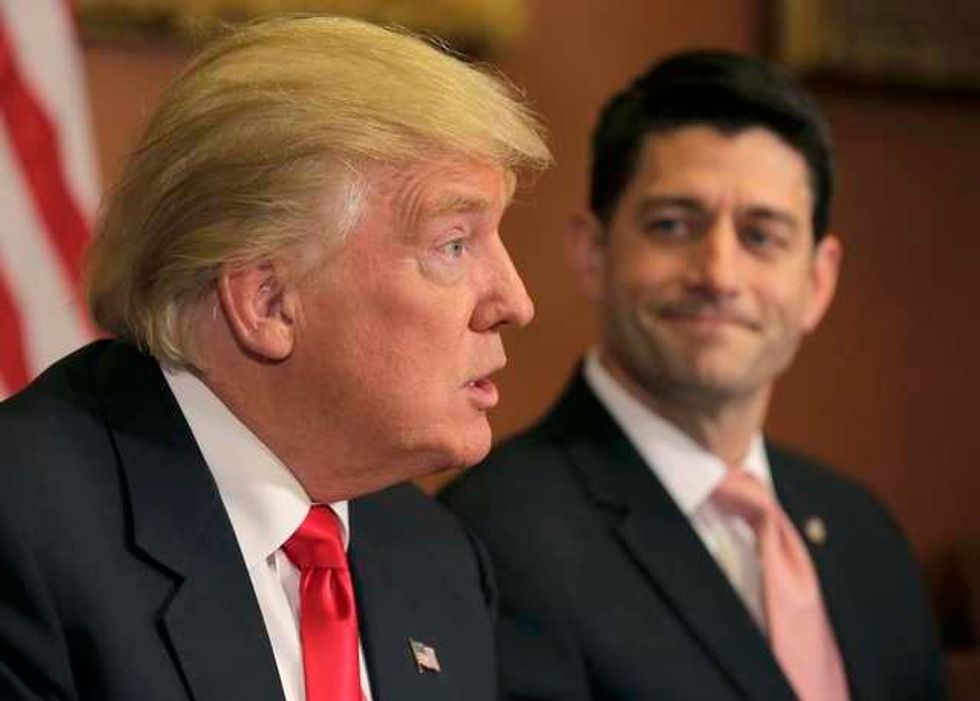 Reprinted with permission UExpress
If House Speaker Paul Ryan believes he can still save his reputation, he is sadly mistaken. Historians — and voters — will remember him as one of the once-bright stars of the Republican Party (and there are several) who have been irreparably tarnished by their association with President Donald J. Trump.
When Ryan made the surprising announcement that he will not seek re-election, Washington observers noted that he is probably tired of shepherding his fractious House majority. Ryan took the job reluctantly after his predecessor, John Boehner, gave up and left politics. And his contentious House colleagues have managed to accomplish little under his leadership.
Still, Ryan's announcement doesn't obscure the big mess he will leave behind. It merely calls more attention to the collapse of a Republican Party that controls the House, the Senate and the White House. Among the most glaring signs of that collapse is the failure of powerful Republicans to block President Donald J. Trump's worst impulses.
As Ryan edges closer to the exit, the nation faces the prospect of a constitutional crisis. Trump's frequent Twitter outbursts illuminate his outrage over special counsel Robert Mueller's investigation into the possibility that his campaign colluded with Russian operatives. Governed by impulse, disdainful of generations of political tradition and ignorant of constitutional requirements, the president has suggested that he is looking for a way to fire Mueller.
That would mark us as a nation no longer governed by the rule of law and would trigger a dilemma worse than Richard Nixon's Saturday Night Massacre. There were then, at least, Republicans who were willing to resist a power-mad president trying to fire the special counsel assigned to investigate him. There appear to be none now. While Democrats have pressed for legislation to protect Mueller's job, leading Republicans, including Ryan and Senate Majority Leader Mitch McConnell, have insisted that no such law is necessary.
Ryan has kept quiet as Trump has bashed immigrants, though the Wisconsin native is a longtime supporter of a freer immigration policy. He has muted his criticism of Trump's insistence on tariffs, though Ryan hails from the establishment wing of the GOP, which has long endorsed free trade.
All of that is a long way from the Paul Ryan who was among Trump's foremost GOP critics during the presidential campaign. Back then, Ryan noted Trump's casual racism, his xenophobia and his shabby treatment of women. When Trump lashed out at a federal judge of Mexican heritage, Ryan said, "Claiming a person can't do their job because of their race is sort of like the textbook definition of a racist comment. I think that should be absolutely disavowed. It's absolutely unacceptable."
But once Trump was elected, Ryan placed his personal convictions into a blind trust. He abased himself by showering Trump with spectacularly undeserved praise, claiming that the former reality TV host has shown "exquisite presidential leadership." The House speaker sublimated his moral and political concerns to his overarching desire to cut taxes for the country's wealthy.
Indeed, that has been Ryan's only accomplishment. And it has shattered his image as a fiscal conservative; the tax bill added a trillion dollars to the annual deficit. According to the Congressional Budget Office, the national debt will likely be the same size as the nation's gross domestic product within 10 years.
Ryan claims that he fully intended to cut spending by "reforming entitlements" — specifically Social Security and Medicare — but that assertion only places another of his obsessions in stark relief. The Speaker is often described as a devout Catholic, but his real religion is an unsparing social Darwinism. Long a disciple of Ayn Rand, the novelist who idealized capitalism and rejected the concept of a social safety net, Ryan seems to believe that the less fortunate just need to work harder and take care of themselves.
Let's hope Ryan meant it when he said that he wants to spend more time with his family. He won't be missed on the political stage.