Acting DNI Deploys Pseudo-Document To Promote 'Obamagate' Melodrama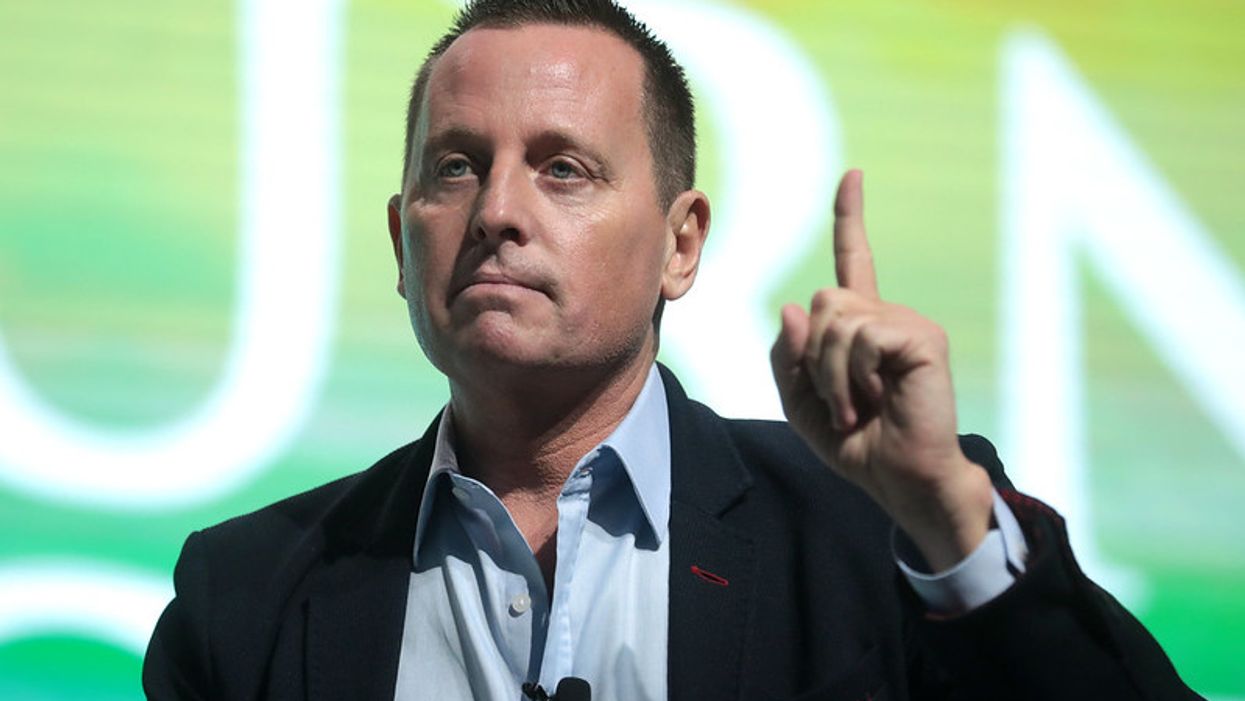 Reprinted with permission from MediaMatters
Acting Director of National Intelligence Richard Grenell, a former Fox News contributor and Republican Party stalwart who was appointed to lead the U.S. intelligence community because of his loyalty to President Donald Trump, provided a document of his own devising to Congress on Wednesday. It promptly leaked to the press. Republicans, including Trump himself , immediately seized on the content in the document as evidence of vast Obama administration malfeasance. Fox hosts spent the next two days incessantly declaring that it vindicated their conspiracy theories, turning their attention away from the coronavirus pandemic . And more credible media outlets, buffeted by the partisan claims, responded with a flurry of stories , at times failing to properly contextualize the story.
---
Trumpists have declared Grenell's document a smoking gun showing that disgraced former Trump national security advisor Michael Flynn, who pleaded guilty for lying to the FBI about his calls with Russian Ambassador Sergey Kislyak as part of special counsel Robert Mueller's investigation into Russian interference in the 2016 election, was a victim of an Obama administration conspiracy, and Fox is hyping that narrative with wall-to-wall coverage. In reality, the document provides almost no information whatsoever. It is simply a list of senior Obama administration officials who received Flynn's name after they followed the National Security Agency's standard process and asked the agency to unmask the identity of an individual generically referenced in an NSA report they were authorized to read. It does nothing to establish that any of the individuals named acted improperly in any way -- or even how many unmaskings were related to the Kislyak calls.
We've seen misinformation campaigns , where false or deceptive information is distributed, and disinformation campaigns , when that distribution is done with the full knowledge of its inaccuracy. Grenell is engaged in a noninformation campaign . He deliberately crafted and propagated a data point so vague that it is virtually meaningless on its own. But pro-Trump partisans -- particularly at Fox -- have easily picked up, misread (deliberately or not), and promoted the point, aligining it with their wild assumptions. Those furious misinterpretations have in turn spurred attention from the mainstream press, driving the conspiratorial thinking into the broader public.
This is an intentional plan that corresponds with what the president wants from his director of national intelligence. "Trump hopes enough information will be released by his intelligence appointees to muddy the waters and lend a patina of confusion about what Mr. Obama may have done, according to people familiar with his thinking," The New York Times reported Thursday. As the president struggles in reelection polling, Trump and his Fox propagandists are using the Flynn story to try to damage the credibility of former President Barack Obama and Vice President Joe Biden, Trump's 2020 opponent.
Grenell's noninformation campaign is the latest salvo in a years-long campaign by Trump and his Fox propagandists to turn the Russia investigation inside out , presenting the Trump associates who pleaded or were found guilty under its auspices as victims and those involved in carrying out the probe as criminals.
With vast swathes of the federal bureaucracy in the hands of partisans selected for their loyalty to the president, including the DNI and Justice Department, we should expect more of these releases -- and perhaps more dangerous actions -- in the coming months, as Trump's supporters try to push the political debate away from the ongoing pandemic that has killed more than 80,000 Americans so far in order to secure his reelection.
The Trumpist Defense Of Michael Flynn
Michael Flynn is a retired general who served as Trump's national security adviser during the 2016 presidential campaign, the transition, and the early days of his White House tenure. At various points during that timeline, Flynn was also assigned by Trump to find the Hillary Clinton emails he had publicly asked Russia to procure; was under investigation by the FBI, which was concerned with whether he was serving as a witting or unwitting agent of the Russian government; was illegally acting as an unregistered agent of the Turkish government, for which he was reportedly involved in discussions of a kidnapping plot; and was seeking Trump's approval for a plan to transfer nuclear technology to Saudi Arabia after working as a paid adviser for the group behind the proposal.
On December 29, 2016, the day the Obama administration placed sanctions on Russia in response to its interference in the presidential election, Flynn called Russian Ambassador Sergey Kislyak and urged him that Russia not retaliate for those sanctions. Flynn was fired as Trump's national security adviser after reports surfaced that he lied to Vice President Mike Pence about those conversations, which opened Flynn up to blackmail from the Russian government. He would later repeatedly plead guilty as part of Mueller's probe to lying to the FBI about those calls before renouncing that plea last year.
The position on Flynn among Trumpists like Fox host Sean Hannity is that he is an American hero, that there was no good-faith reason to probe any of his actions during that period, and that anyone involved in such an effort was a participant in the broad-ranging Obama administration conspiracy to take down Trump, which the president terms "OBAMAGATE."
Their argument features Flynn's conversation with Kislyak in two ways: They argue that the FBI's interview with Flynn was a nefarious "setup" and suggest that the leak about the conversation from a "senior government official" to The Washington Post 's David Ignatius for his 2017 column , which brought the call into public light, was an illegal attempt to take down Flynn and Trump by someone who had improperly "unmasked" his identity from intelligence intercepts.
William Barr's Justice Department showed last week that the Trump administration is putting the force of the federal government behind Fox's conspiracy theories when it filed a dubious and virtually unprecedented motion seeking to drop the government's case against Flynn, citing the FBI's interview tactics. And on Wednesday, Grenell tried to use his own power as the director of national intelligence to provide grist in support of the other fork of the Flynn defense.
"Unmasking" And What Grenell's Document Shows
On Tuesday, The New York Times reported that Grenell had declassified and provided to the Justice Department what the paper described as "an Obama-era document related to President Trump's former national security adviser Michael T. Flynn" and "a list of Obama administration officials who sought to learn the identities of Trump associates swept up in surveillance of foreign officials." Later that day, Republican Sens. Chuck Grassley and Ron Johnson sent a letter to Grenell and Barr asking for the document. Grenell provided it to the senators on Wednesday, and it was immediately leaked to CBS News' Catherine Herridge, a former Fox reporter whose work often promotes Republican talking points. Herridge then published the letter on Twitter. (The document did not turn out to be precisely what the Times had reported. It had been generated on May 4, not during the "Obama era," and dealt solely with cases involving Flynn, not "Trump associates" more generally.)
In NSA reports derived from the legal surveillance of foreign targets, analysts anonymize ("mask") the names of U.S. persons to protect their privacy. It is routine for senior officials to ask the NSA to reveal ("unmask") those identities in cases where they believe that information is necessary to understand the intelligence. The NSA has a standard procedure for doing this, including a review of the justification of the person seeking the unmasking. For context, Trump administration officials sought and received the unmasking of U.S. persons from the NSA more than 10,000 times in 2019 and nearly 17,000 times in 2018.
The document is a list created at Grenell's request of several dozen "officials who submitted requests" to the NSA between Trump's election and the end of January 2017 to unmask an identity which turned out to be Flynn, as detailed in an attached memorandum to Grenell from NSA Director Paul Nakasone. It provides the names of the officials, which include then-Vice President Biden, Cabinet secretaries, and intelligence agency leaders, and the date on which their requests were processed. It is the second version of the document -- as Nakasone detailed, the list was originally provided in alphabetical order but revised to be chronological.
That's it.
Contrary to the insinuations from the right-wing figures, the document provides no evidence that any single unmasking was related to Flynn's calls with Kislyak. In fact, the record suggests none of them were the original unmasking that first discovered Flynn had made the call, as that one was done by the FBI from its own intercept, not the NSA's. Nor does it show that Flynn was in some way targeted -- by definition, unmasking occurs when senior administration officials don't know the name of an American referenced in an intelligence report.
Indeed, there is no indication in the document that anyone listed behaved inappropriately -- in fact, it makes clear that the Obama-era unmaskings happened by the book. "Each individual was an authorized recipient of the original report and the unmasking was approved through NSA's standard process, which includes a review of the justification for the request," it states. It also points out that the NSA cannot confirm that any of the persons who requested the unmaskings eventually saw the information.
Grenell's Non-information Plot
Grenell is totally unqualified for his post. While previous occupants of his position ran intelligence agencies, he at most was a consumer of their products during a brief stint as U.S. ambassador to Germany. What he brings to the table instead, along with unswerving loyalty to the president, is broad experience in public relations and shaping news cycles, which he honed as a spokesperson for Republican politicians and for the U.S. mission to the United Nations, a strategic communications consultant for domestic and foreign clients, a Fox contributor, and a notably unhinged Twitter troll.
Grenell personally requested, sought revisions to, declassified, and provided the document to Congress in precisely this form, showing precisely what he wanted to become public.
If he wanted the document to include more information -- by for example, including the actual documents for which Flynn's name was unmasked, or summaries thereof -- it would. Without that, despite the right-wing chorus linking Grenell's document to Flynn's Kislyak calls, it doesn't provide evidence that any single unmasking had anything to do with them. In fact the majority of the unmaskings predate the calls and thus could not be related. Indeed, it doesn't even indicate that Flynn was a participant in the intercepts used in the intelligence reports in which his name was unmasked, as the New York Times ' Charlie Savage points out: