Trump's 'Obamagate' Retreads Debunked Conspiracy Theories
@CourtneyHagle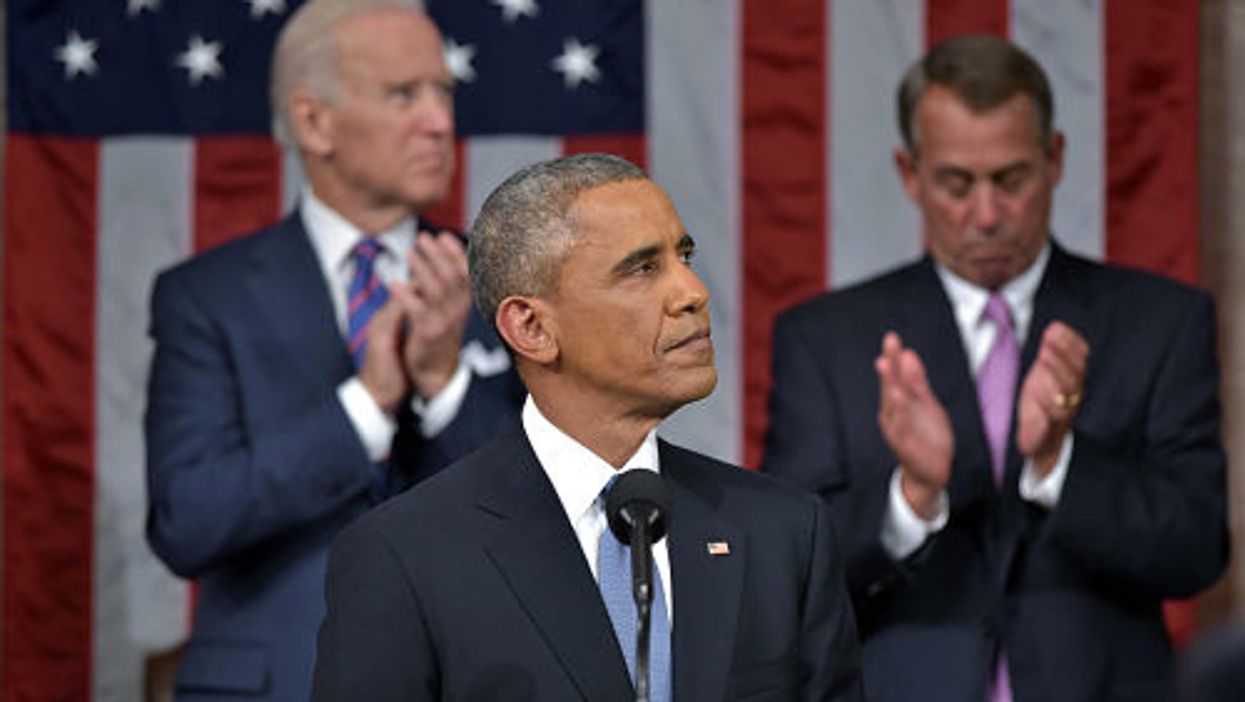 Reprinted with permission from MediaMatters
Last weekend, President Donald Trump unleashed a series of Mother's Day tweets accusing former President Barack Obama of an unspecified crime, referring to it as "Obamagate." Trump later went as far as to suggest that Obama and the Democratic presidential front-runner, former Vice President Joe Biden, should be in prison.
---
However, Trump has hardly been clear on what crimes Obama allegedly committed. When a Washington Post reporter asked, Trump responded, "You know what the crime is. The crime is very obvious to everybody. All you have to do is read the newspapers -- except yours."

While the president has not offered details, anyone who has watched Fox News host Sean Hannity's show over the past three years can recognize that Trump's "Obamagate" is just an attempted rebrand of the right's years-in-the-making "deep state" conspiracy theory, sometimes called Russiagate. Media Matters has documented the origins of the conspiracy theory, the role of Attorney General Bill Barr's politicized Justice Department, and key players in right-wing media who have spread its baseless claims.
What is "Obamagate?"
"Obamagate" is just another version of the right's "deep state" conspiracy theory
According to right-wing media, over the last several years government bureaucrats who held their positions during previous administrations comprise a "deep state" that has worked to undermine the Trump administration. This deep state conspiracy theory has evolved into a reflexive defense of Trump in a wide array of circumstances, from the Ukraine scandal that led to his impeachment to his administration's handling of the coronavirus.
The core allegation made by Trump and his right-wing media allies is that in 2016, the Obama administration and the FBI, led by then-Director James Comey, sought to prevent Trump from becoming president. When that didn't work, conservative media claim, the Obama administration and FBI officials sought to enact a backup plan to stop Trump in the form of special counsel Robert Mueller's investigation into the Trump campaign's contacts with Russia.
Since 2017, right-wing media have consistently and repeatedly called for retaliatory investigations against a slew of top FBI and Obama administration officials who they view as aiming to end Trump's presidency, including Obama and Comey. Some Republican politicians have also joined in or at least publicly attempted to sow doubt about the legitimacy of the Mueller investigation. Reps. Jim Jordan (R-OH), Matt Gaetz (R-FL), and Devin Nunes (R-CA) have each appeared on Fox repeatedly to push deep state conspiracy theories, especially on Hannity, and Senate Judiciary Committee Chairman Lindsey Graham (R-SC) is conducting his own investigation into the FBI's Russia probe.
Recent events led to an escalation in "Obamagate"
Attorney General Bill Barr has increasingly politicized the Justice Department in pursuit of Trump's political goals, and his efforts came to a boiling point recently when the DOJ moved to throw out the case of Trump ally Michael Flynn, who pleaded guilty in 2017 to charges of lying to the FBI.
Supposedly vindicated by the attempted dismissal of Flynn's case, right-wing media are now intensely focused on the January 2017 events preceding Flynn's FBI interview that ultimately resulted in his guilty plea -- an interview that the right claims was engineered, in part by Obama, to trap Flynn into lying to the FBI.
Recently uncovered documents in Flynn's case have also served as fodder for right-wing media in claiming that the FBI and Obama administration officials were trying to undermine Trump's presidency. Newly released transcripts from interviews conducted by the House Intelligence Committee during its Russia probe also have brought accusations from the right against top FBI officials and House Democrats.
On May 13, GOP Sens. Chuck Grassley (R-IA) and Ron Johnson (R-WI) released what the right is interpreting as a list of people who may have unmasked Flynn's identity in the transcripts of his December 2016 conversations with then-Russian Ambassador Sergey Kislyak. Right-wing media and their allies believe if they can identify who unmasked Flynn and prove that the official (or officials) illegally leaked Flynn's identity to the press, then that proves the Obama administration tried to sabotage the Trump administration. In reality, the list has little significance and isn't nearly the bombshell that right-wing media are trying to make it out to be. It is unlikely the original Flynn unmasking is even on the list.
While there are some legitimate problems with the FBI's conduct over the course of the Mueller investigation, Trump and his media allies' efforts to muddy the waters by cherry-picking information to weave complex, self-serving theories will ultimately make any significant reform difficult by further demoralizing an already overly politicized agency.
How the DOJ is being used to carry out the political goals of the deep state conspiracy theory
Bill Barr's role
Trump's media allies have held Attorney General Bill Barr up as the man who will be able to carry out their retaliatory investigative goals. The attorney general has been trying to undercut any investigation into the president's connections with Russia during the 2016 election even before he was nominated to his post. Moving to drop the charges against Flynn is only the latest example in a long list of actions Barr has taken to increasingly politicize the Justice Department to help Trump and his allies:
Right-wing media figures have heaped praise on Barr for going after the "deep state." They are also doubling down on claims that Flynn was a victim and never did anything wrong.
The Durham probe's role
Since October 2019, when he was appointed by Barr, U.S. Attorney John Durham has been leading a criminal inquiry into the origins of the Trump-Russia investigation. That probe was reportedly expanded again in May. Now, right-wing media are focusing on identifying which Obama administration officials were aware of the calls between Flynn and the Russian ambassador, which has become a key question in Durham's probe.
On April 24, The New York Times reported that Durham was looking into a 2017 column written by The Washington Post's David Ignatius about Flynn's call to Kislyak -- revealing that Durham was examining not only the origins of the FBI investigation, but also whether Ignatius' source was intentionally trying to damage the Trump administration.
The predecessor to the Durham probe, DOJ Inspector General Michael Horowitz's investigation into the Mueller investigation, fell short of reaching the right-wing media's desired conclusion: incriminating Trump's enemies. But Hannity and others have remained optimistic that Durham, and Barr, will deliver the retaliatory results that they have been looking for.
Key figures involved in pushing the years long deep state conspiracy theory
Sean Hannity
Fox News prime-time host Sean Hannity has played an outsized role in the promotion of the "deep state" theory, using his three-hour daily radio show and nightly Fox program as a conduit to hammer the supposed details and call for retaliation against perceived "deep state" operatives. Hannity frequently hosts guests who have been consistent drivers of the "deep state" conspiracy theory since 2016, and his show's influence on Trump is well-documented.
Since leaving office, Obama has remained a frequent target of Hannity's ire -- for instance, in August 2019, the Fox host said that "it's time for Obama to be put under oath" about his role in Flynn's case. And now, Hannity has quickly latched onto the president's rebranding of Russiagate as "Obamagate." Last week, Hannity suggested that Obama was sending coded messages "to deep state operatives to go out and do more dirty work."
Gregg Jarrett
Gregg Jarrett is a Fox News legal and political analyst and Hannity regular who is known for pushing deep state conspiracy theories about the Mueller investigation. Trump has even promoted Jarrett's book The Russia Hoax: The Illicit Scheme to Clear Hillary Clinton and Frame Donald Trump.
Jarrett has regularly called for retaliation against those involved in Obama's administration and the Mueller investigation; he has described Trump as the real "victim" of Russian collusion; and in March 2018, Jarrett called for Obama to be subpoenaed.
Joe diGenova and Victoria Toensing
Joe diGenova and Victoria Toensing are a husband-and-wife legal duo who have frequently pushed deep state conspiracy theories on Fox and were implicated along with Rudy Giuliani in trying to dig up dirt on Biden as part of the Trump-Ukraine scandal.
The pair have close ties to Barr going back years and have frequently assured Hannity and others that Trump's attorney general will successfully carry out the retaliatory aims of the deep state conspiracy theory against Obama and FBI officials. In one example, after Barr announced counter investigations into the Mueller investigation, diGenova reassured Hannity that Barr will "conclude" that "it all started in the White House. Barack Obama knew about this from day one." In the same appearance on Hannity, Toensing predicted that several Obama officials would be implicated, including Biden and Obama himself.
John Solomon
John Solomon is a former opinion columnist and vice president at politics outlet The Hill who was instrumental in pushing the Biden-Ukraine conspiracy theory. He pushed misinformation so often and had so many conflicts of interest that The Hill reviewed his writings, added disclaimers to his pieces on Ukraine, and announced changes in internal policy to avoid similar problems in the future. Solomon became a Fox News contributor in October 2019, and now frequently appears on Hannity. He is also legally represented by Toensing and diGenova, and some of the legal duo's other clients have ended up as sources for Solomon's "reporting."
Solomon has demonized the Mueller investigation for years; in 2017, when he was the chief operating officer for Sinclair Broadcast Group's Circa website, he and his colleague Sara Carter primarily focused on undermining the origins of the Mueller investigation.
In 2017, Solomon also emerged as a key anti-Mueller figure on Fox News -- especially Hannity -- where he continued to spread misinformation and call for retaliation against Obama and FBI officials. Solomon's slanted reporting has been a fundamental part of Hannity's conspiracy theories, and Hannity has called for Solomon to receive the Pulitzer Prize.
Sara Carter
Sara Carter is a Fox News contributor who, along with Solomon, has played an outsized role in promoting the deep state conspiracy theory on Hannity's show over the last several years. In 2018, Carter called the Mueller investigation a "bloodless coup."
Carter has regularly promised that indictments against FBI and Obama officials are imminent, usually basing her information on unnamed sources.
After Barr announced counter-investigations into the Mueller report in 2019, Carter predicted that there are "a number of indictments that are on the way" and claimed that the investigations will "lead all the way back to the White House. … And I'm talking about the Obama administration."
Dan Bongino
Dan Bongino is a Fox News contributor who frequently appears on Hannity's show to rail against the Mueller investigation and call for retaliation against FBI and Obama officials, whom he has accused of trying to launch a "coup" to get rid of Trump.
Lou Dobbs
Lou Dobbs is a Fox Business host whose sycophantic, pro-Trump commentary makes his show a hot spot for anti-Mueller deep state narratives.
In 2018, Dobbs called the Mueller investigation an "ideologically inspired jihad" and he has been calling for Obama to be investigated since 2017. Last week, Dobbs accused Obama of orchestrating a plot to "overthrow" Trump.
Jeanine Pirro
Jeanine Pirro is a Fox News host and former judge who is known for her extremist rhetoric and for having a close relationship with the president.
Pirro has been railing against the Mueller investigation since 2017, when she called it a "fishing expedition" and demanded a "cleansing" of FBI and DOJ officials "who should not just be fired, but who need to be taken out in handcuffs." Since then, Pirro has consistently called for retaliation against various officials in the Obama administration, FBI, and DOJ. Recently, Pirro accused the judge in Flynn's case of being part of a political conspiracy, claiming that Judge Emmet Sullivan is an "activist judge" and part of "the left coming in" to the justice system.
.@JudgeJeanine: "There is a cleansing needed in our FBI and Department of Justice. It needs to be cleansed of indiv… https://t.co/3DemH2i3G0

— Fox News (@Fox News) 1512986401.0
Tom Fitton and Judicial Watch
Judicial Watch President Tom Fitton has remained a key figure in promoting the right-wing media's deep state conspiracy theory, arguing for years that the Mueller investigation was a plot to destroy Trump's presidency.
In 2018, Fitton called on the president to pardon anyone brought up on charges related to the Mueller investigation, saying that Trump should "just pardon everybody, you know, just have a field day," including people Fitton admitted may actually be guilty.
Fitton has also been trying to link Obama to the deep state conspiracy theory for years. In February 2018, Fitton claimed on Fox News that he "always wondered why President Obama has skated really free from any serious inquiries about his involvement in the Russia investigations."
When the DOJ moved to throw out Flynn's case, Fitton's statement at Judicial Watch claimed that "the targeting of General Flynn was a key part of the Obama/Clinton/Deep State coup against President Trump."
The Federalist
Ben Domenech, Sean Davis, and Mollie Hemingway
The Federalist and its publisher Ben Domenech, co-founder Sean Davis, and senior editor Mollie Hemingway have also spent years hammering the idea that the Trump administration was the target of a deep state plot that goes all the way to Obama himself.
In a recent article summarizing Obamagate, which it calls "the biggest political scandal of our time," The Federalist referred to the Mueller investigation as an "organized effort by the Obama administration to nullify the results of the 2016 presidential election," claiming that it was "in effect an attempted coup."
Key officials targeted by the deep state theory
Barack Obama
Although it did not originally bear his name, Obama and members of his administration have been the main target of this conspiracy theory as right-wing media try to rebrand the Russia investigation as illegitimate or as a setup by the Obama administration to undermine Trump. Other accusations against Obama have included claims that he was actively enabling Russian interference in the 2016 election and that a "deep state" consisting of Obama-era officials is still working in government and taking orders from the former president.
The deep state theory's evolution, Obamagate, has focused on a January 5, 2017, Oval Office meeting that has come under criticism on the right because during that meeting, Obama expressed knowledge of Flynn's contacts with the Russian ambassador. The conspiracy theory generally accuses Obama of having been aware of plans by FBI and DOJ officials to launch an investigation into Flynn and other Trump associates and to destroy Trump's presidency. Former Obama-era officials have disputed whether Flynn came up at all in the meeting. Regardless, right-wing media allege that Flynn needed to be gone or he'd find out what Obama and his administration had been up to, so the former administration set Flynn up. This theory gained even more traction last week, when House Intelligence Committee Chair Adam Schiff (D-CA) released a series of transcripts from the Mueller investigation, including interviews with some Obama-era officials who testified they had no evidence of collusion in the interactions between the Trump campaign and Russia.
Joe Biden
The former vice president got caught up in the deep state conspiracy theory when right-wing media started accusing Crowdstrike, the company that secured the Democratic National Committee's servers when they were hacked in 2016 by Russians, of being Ukrainian-owned and helping to falsely accuse Russia of the hack. Neither of these things are true, but right-wing investigations into Ukraine spun off into falsely accusing Biden of trying to get a Ukrainian prosecutor fired to protect his son, a scandal which backfired and ultimately led to Trump's impeachment.
Biden also attended the January 5, 2017, Oval Office intelligence briefing and, according to a memo from former national security adviser Susan Rice, Biden stayed behind after the meeting along with Comey and a few others. Right-wing media claim Obama at that point told him about the Flynn-Kislyak calls. The right has been increasingly hammering Biden's supposed connection to the deep state since he became the presumed Democratic presidential nominee.
Sally Yates
In the past, former Deputy Attorney General Sally Yates has been a right-wing media target for allegedly leaking information to the press and pushing the infamous dossier of opposition research compiled by Fusion GPS' Christopher Steele, even though she supposedly knew it was full of "Russian lies," that ultimately led to the wiretap of Trump adviser Carter Page.
Yates also attended the January 5, 2017, Oval Office intelligence briefing and was part of the group that was told to stay behind after the briefing by Obama, who then told them about Flynn's contacts with the Russian ambassador. According to documents released as part of the DOJ's attempt to drop the case against Flynn, she was surprised that the president knew that Flynn and Kislyak had talked in December 2016. Yates later said she was concerned Flynn was susceptible to blackmail. Right-wing media argue that makes her pivotal in what they view as a setup against Flynn.
Susan Rice
Right-wing media often accuse former Obama national security adviser Susan Rice of unlawfully "unmasking" or revealing the identity of American citizens on tapped calls with foreign entities. Trump allies claim that Flynn was unmasked illegally, which supposedly led to him being set up by the FBI. Rice has also been accused of leaking information to reporters toward the end of Obama's administration.
Rice also attended the January 5, 2017, Oval Office intelligence briefing and later wrote in a recently released memo that she and Biden were in attendance after the main briefing when they learned about Flynn's contacts with the Russian ambassador. Right-wing media have seized on her memo as providing further details about what they were told in the meeting, including that Obama supposedly cautioned Comey and Yates to consider withholding information about Russia from the incoming administration.
James Comey
Right-wing media view Comey as a major driver of the FBI corruption that they claim tried to destroy Trump's presidency, and they falsely accuse him of leaking information to the press. The former FBI director oversaw the start of the investigation into Flynn, which right-wing media argued was illegitimate even before Barr's DOJ moved to throw it out.
Comey also attended the recently uncovered January 5, 2017, Oval Office intelligence briefing and stayed behind to talk to Obama about Flynn. In court documents, Yates recalled that Comey suggested that Flynn may have violated the Logan Act, a law meant to prevent private citizens from interfering in foreign policy disputes (following DOJ's move to drop the Flynn case, some conservatives have argued the law should be repealed).

James Clapper
Russiagate promoters accuse the former director of national intelligence under Obama of leaking classified information and pursuing illegitimate investigations. The right has also frequently mischaracterized his statement that there was "no evidence" of collusion between the Trump campaign and Russia.
Clapper also attended the January 5, 2017, Oval office intelligence briefing, and recent revelations have now led to speculation from right-wing media that Clapper lied to Congress in July 2017 about whether he personally briefed Obama on the phone calls between Flynn and Kislyak.
Andrew McCabe
Right-wing media blame the former deputy FBI director for pushing the Steele dossier along with Comey and allege that he lied to FBI investigators about classified leaks to the media.
In February, the Justice Department moved to drop an investigation ordered by Barr into whether McCabe lied to the FBI, infuriating the right and renewing claims of a DOJ bureaucratic "deep state."
John Brennan
Right-wing media allege that DOJ Inspector General Michael Horowitz's report on the origins of the Trump/Russia investigation confirmed that former CIA Director John Brennan lied to Congress about whether the Steele dossier was used in the Obama administration's intelligence community assessment on Russian election interference.
Peter Strzok and Lisa Page
Peter Strzok is a former FBI agent who became a right-wing media target because leaked texts between himself and Lisa Page, a former FBI attorney, allegedly showed an anti-Trump bias in the special counsel investigation. The texts also revealed they were having an affair, which led to vicious attacks from both right-wing media and the president.
According to recently declassified documents, Strzok moved to keep the Flynn probe open on January 4, 2017, after it was set to be closed. Right-wing media have characterized this move as interference to illegitimately continue an investigation and said the Logan Act was potentially used as justification.
Nellie and Bruce Ohr
Nellie Ohr worked as a contractor for Fusion GPS, the firm that dug up information that led to the infamous Steele dossier. Many on the right point to the fact that her husband, former Associate Deputy Attorney General Bruce Ohr, is a high-ranking DOJ official as further evidence of the "deep state," and Hannity has called for retaliatory investigations against both.
Samantha Power
The former U.S. ambassador to the United Nations is one of a handful of officials that right-wing media suspect of leaking sensitive information to the press toward the end of Obama's presidency and conspiring to stop Trump's presidency. Like Yates, she has often been accused of illegally unmasking American citizens, especially by Hannity.
Rod Rosenstein
Right-wing media have previously alleged that former Deputy Attorney General Rod Rosenstein knowingly lied to the FISA court to illegally target Trump aide Carter Page by using Clinton's "phony dossier that was full of Russian lies" without informing the court of its origins or noting that it was unverified. They falsely claim this is vindicated by the Horowitz report.