Trump Accuses Obama Of 'Biggest Political Crime' — But Can't Say What That Was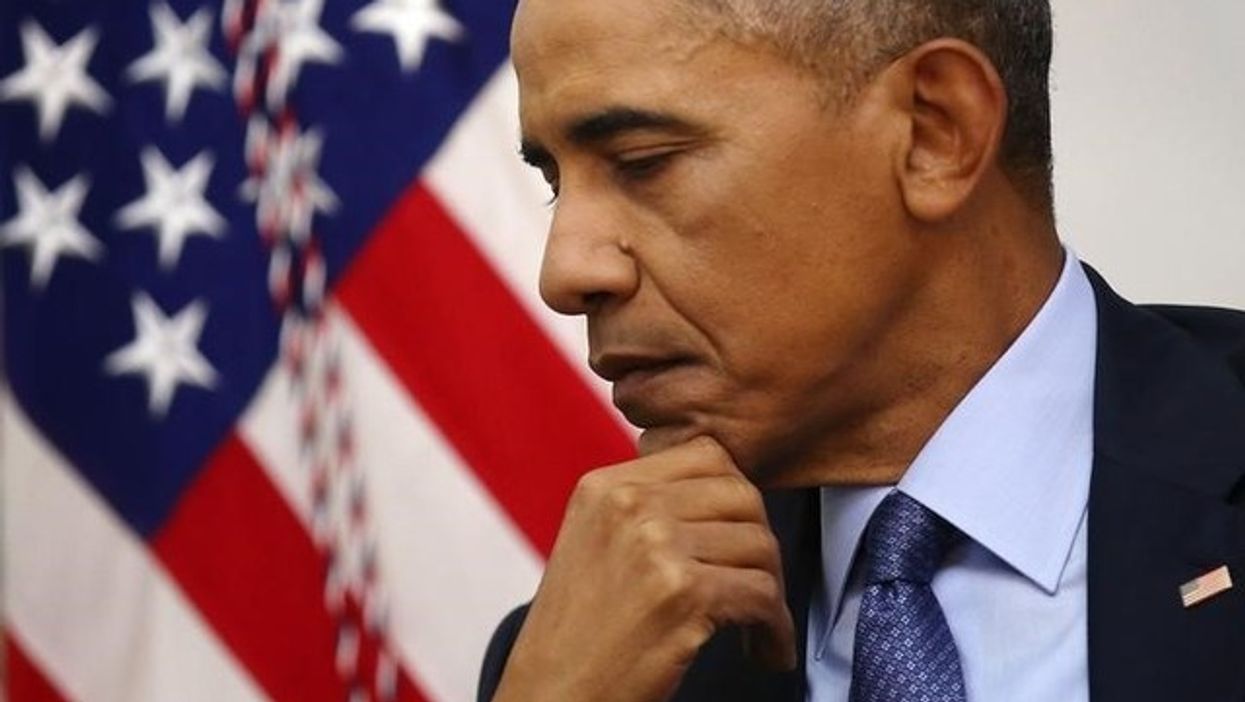 Reprinted with permission from Alternet
While the United States is still struggling to cope with the COVID-19 crisis, President Donald Trump and his right-wing media allies have been distracting themselves by whipping up hazy and dubious allegations about the origins of the Russia investigation. They've targeted members of the Obama administration and former President Barack Obama himself with strained accusations.
In a weekend Twitter rant, Trump himself declared the previous administration carried out the "biggest political crime in American history, by far!" But he was extremely vague about what he meant. (Trump has previously alleged that treason was carried out against him, but there's no sign he actually knows what that would entail.)
---
So when he appeared in the White House Rose Garden on Monday to address reporters, Washington Post reporter Phil Rucker asked him directly what he's been talking about.
"What crime exactly are you accusing President Obama of committing, and do you believe the Justice Department should prosecute him?" Rucker asked.
"Uh, Obamagate!" Trump said. "It's been going on for a long time. It's been going on from before I even got elected. And it's a disgrace that it happened."
Of course, that wasn't an answer, so Rucker pushed forward.
"What is the crime, exactly, that you're accusing him of?" Rucker asked.
"You know what the crime is!" Trump said, still not actually naming a crime. "The crime is very obvious everybody. All you have to do is read the newspapers — except yours."
It remains unclear what crime Trump thinks Obama may or may not have committed, or what facts would justify these allegations. But Trump has never been one for specifics. Unfortunately for him — and for Attorney General Bill Barr, if he hopes to find a crime — the administration has committed itself to an extremely broad definition of executive power. In defending the president from his impeachment charges, the Republican Party has essentially asserted that American presidents have carte blanche to direct criminal investigations against whomever they choose. So it's not ever clear what Obama could have done regarding the Russia investigation that would, in their view, constitute a crime. (And, for what it's worth, Inspector General Michael Horowitz found no indication of political influence in the initiation of the Russia investigation.)
Watch the clip below:
.@PhilipRucker: You appeared to accuse Obama of a crime yesterday. What did he do? TRUMP: "Obamagate." RUCKER: W… https://t.co/6Q5VnzXmgp

— Aaron Rupar (@Aaron Rupar) 1589231633.0