After Passage Of Anti-Abortion Bill, Film Industry Boycott Looms Over Georgia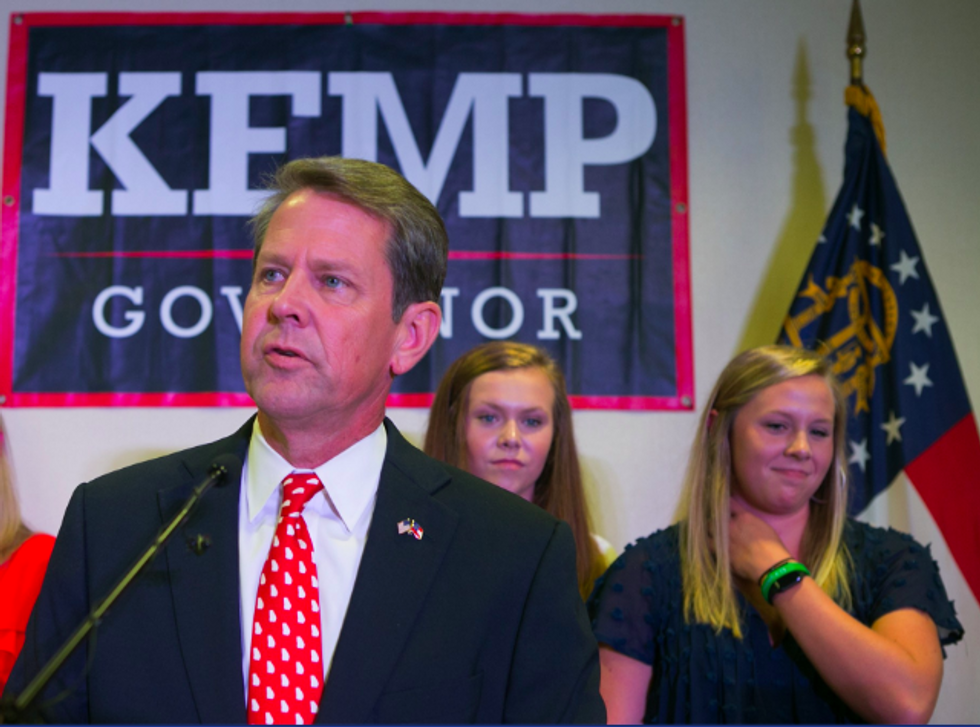 Georgia is already feeling the economic fallout from the radical anti-abortion law signed by Republican Gov. Brian Kemp, as several major film and television productions have pulled out of the state in protest.
A film starring Kristin Wiig and The Power, a major television show for Amazon Studios, have already abandoned plans to film in Georgia, according to a Tuesday TIME report.
"We had no problem stopping the entire process instantly," Reed Morano, an Emmy-winning director working with The Power, told TIME. "There is no way we would ever bring our money to that state by shooting there."
As movies and television shows pull out, workers in Georgia's $9 billion-a-year entertainment industry are afraid of the damage that could result thanks to what their state lawmakers have done.
"We're in panic mode," Kathy Berry, a location scout who was scheduled to work on The Power before Kemp signed the bill into law, told TIME. "The sky is falling."
Berry added that she'd heard of at least two more productions postponing plans to begin shooting in Savannah because of the Republican-backed law.
The boycott, spearheaded by actress and activist Alyssa Milano, targeted Georgia after Kemp signed an extreme abortion ban into law earlier this month.
The law criminalizes abortion after the sixth week of pregnancy — or just two weeks after a missed period, before many women know they're pregnant. The law threatens up to 10 years in jail for both doctors performing the procedure and the women getting it. Because it's difficult to tell an early abortion from a natural miscarriage, the law will expose people who have miscarriages to potential prosecution.
"I understand that some folks don't like this new law. I'm fine with that," Kemp said dismissively at a recent Republican retreat. He said he is proud of his radical anti-woman law "even though that makes C-list celebrities squawk."
Kemp may try to speak like a tough guy in front of a friendly audience — but he was so afraid of facing film industry representatives and protesters that he canceled a planned trip to Hollywood.
And while Kemp is making light of the boycott, Georgia workers are the ones who will suffer from Kemp's callous extremism.
"We used to film here in the summertime like crazy," said Tim Jordan, an experienced cameraman who worked on several major motion pictures. "Now there's this void. It feels like with this abortion law, they're going to wait and see what happens."
Morano, who worked on previous shoots in Georgia, said the hardest part is knowing how the boycott will impact great folks she has worked with. But she stands by her decision.
"I'm sorry if the work moves away from where you live," she told TIME. "But having this basic fundamental right for women is more important than anything in this moment in time."
Published with permission of The American Independent.