After 'Spy' Briefing Flops, Trump Flips Out
@EricBoehlert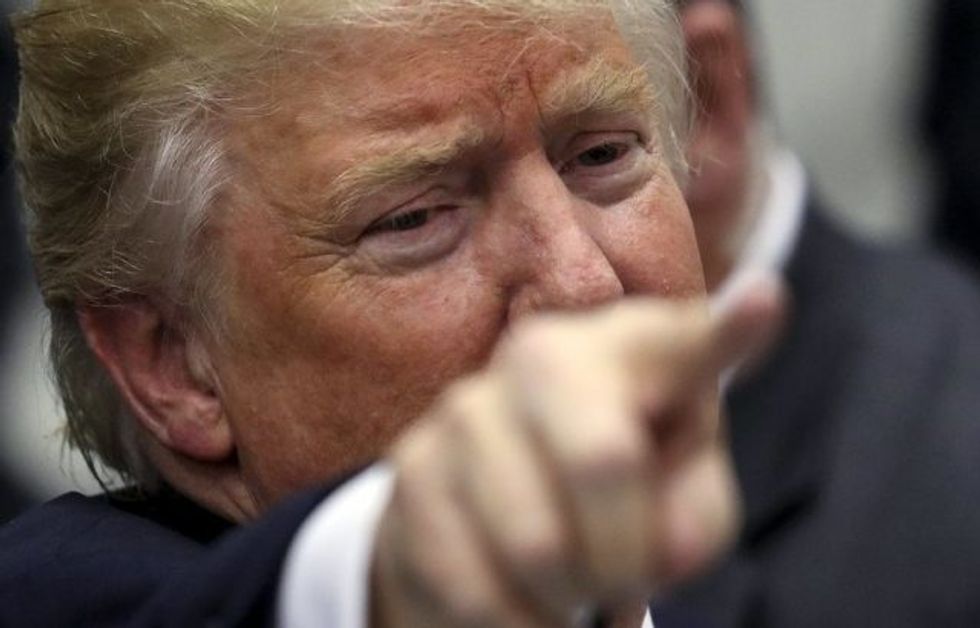 Reprinted with permission from Shareblue.com
Somebody forgot to tell Trump than the GOP's bigger-than-Watergate "spy" scandal flopped spectacularly on Thursday. Because on Friday he was still flailing around on Twitter, pushing the dopey narrative.
He's ranting and raving while his own Republican Party has gone quiet regarding its latest failed attempt to cover up for Trump.
Even the GOP's bumbling Inspector Clouseau, Rep. Devin Nunes (R-CA), who's running interference for the White House on the Russia scandal, has gone strangely quiet in the last 24 hours. (Nunes has a long history of Russia-related flops.)
So instead of quoting Republicans on Friday about the supposed "spy" blockbuster, Trump was reduced to a three-tweet rant in the span of one minute, citing dishonest right-wing writers, still loyally clinging to the hollow tale.
"'Everyone knows there was a Spy, and in fact, the people who were involved in the Spying are admitting that there was a Spy…Widespread Spying involving multiple people.' Mollie Hemingway, The Federalist Senior Editor But the corrupt Mainstream Media hates this monster story!" Trump exploded.
He's desperately pushing the notion that there was "Deep State" plot to undo his campaign in 2016, and subsequently one to undo his presidency. Republicans still can't produce any evidence to support the wild and reckless claim. Nor can they explain how, if such a conspiracy to sink his campaign existed, he managed to win the election.
On Thursday, Trump and the GOP were hoping for a breakthrough when the Department of Justice held a pair of classified briefings in response to Trump's demand for an investigation.
But Rep. Adam Schiff (D-CA), ranking member of the House Intelligence Committee, and Senate Republican Leader Mitch McConnell (R-KY) both came out of that meeting with bad news for Trump.
"Nothing we heard today has changed our view that there is no evidence to support any allegation that the FBI or any intelligence agency placed a 'spy' in the Trump Campaign, or otherwise failed to follow appropriate procedures and protocols," Schiff announced.
The entire "spy" claim is based on wishful thinking. Last Friday, Trump's attack dog Rudy Giuliani was already trying to walk back the story.
"First of all, I don't know for sure, and neither does the president," he told CNN's Chris Cuomo. Giuliani said he'd heard this allegation from "people" and that he didn't "know if they're right or not."
There's no there there. Who's going to tell Trump?