Alexandria Ocasio-Cortez Is Off To A Mostly Fabulous Start
@FromaHarrop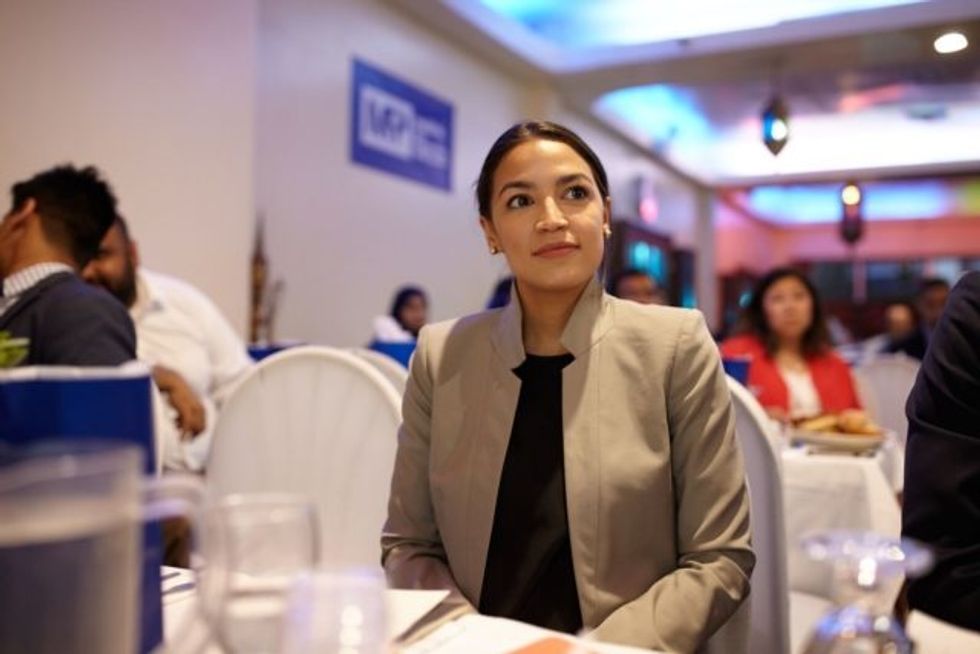 Reprinted with permission from Creators.
As most everybody knows, a remarkable Bronx resident named Alexandria Ocasio-Cortez just won a Democratic primary against a 10-term congressman. That she is a 28-year-old Latina and an unapologetic progressive has many Democrats over the moon.
She is perfect, almost.
The attention paid her youth, ethnicity and gender gives short shrift to her positive message, street smarts and bottomless work ethic. Her success is not so easily reproduced as some hope or imagine.
What Ocasio-Cortez has done is more compelling than how she was born. A serious student, she won second prize in a high school science contest and earned a degree from Boston University. But she decided to work as a waitress and bartender to help her widowed mother — who cleaned houses and drove buses — stay economically afloat. And she somehow managed to find time to start a children's book publishing company extolling the good life in the Bronx, where she lives in a modest apartment.
So the compelling part of her story is not so much about identity, an obsession among some Democrats and key to their losses nationwide. It's about the tough economics that confront working families.
Ocasio-Cortez's agenda is somewhat more radical than the Democratic average. But let's keep this in perspective. The political reality is that the great majority of Democratic primary wins have gone to moderates whose views reflect their districts. Ocasio-Cortez appealed to a certain liberal urban landscape. It helps to note that especially strong support came from Astoria, a largely white Queens neighborhood filling up with millennials.
Some commentators have unfairly portrayed Joe Crowley, the man she beat, as just a tired old white guy. Fact is, he honorably served his diverse district as an exemplary liberal. When the results came in, Crowley immediately conceded and offered to help Ocasio-Cortez in the general election. And she graciously thanked him for decades of service. Way to go, everyone.
All this said, it would be naive to ignore the attraction that a brilliant young Latina might have for minorities and many white liberals. But Ocasio-Cortez's pitch goes relatively light on identity. She generally talks about blue-collar America as an economic interest rather than a racial one.
Here's how she stated her goals on MSNBC the morning after her victory: "We believe that every working-class American deserves the opportunity to change their economic destiny and their children's future." Works in the Bronx. Works in Milwaukee.
And she explained her strategy of not making the election about Donald Trump — about not getting into "a Twitter war" with him. This woman knows what she's doing. It doesn't hurt that she's unpretentious, articulate and photogenic.
No one expected Ocasio-Cortez to win, including her. That, I hope, accounted for the unwise item on her agenda list — abolishing the nation's immigration and customs enforcement agency. Reporters picked up on this as a neon light flashing yellow on an otherwise limitless political career.
Her working families, many immigrants themselves, are already juggling three lousy-paying jobs to support their families. Do they want more downward pressure on wages, which uncontrolled immigration would bring? I don't think so. The Congressional Hispanic Caucus quickly came out against ending immigration enforcement.
Now that Ocasio-Cortez is a serious contender, it's a good bet that she'll abandon or better explain that stance. She'll have to if she hopes to represent an electorate more politically diverse than New York's 14th Congressional District. Her mother says she'd like to be president.
First things first. Ocasio-Cortez still has to win the general election, though that almost certainly will happen. Whatever her future, she has already added a ton of class to liberal politics. It's a pleasure to watch her.
Follow Froma Harrop on Twitter @FromaHarrop. She can be reached at fharrop@gmail.com.To find out more about Froma Harrop and read features by other Creators writers and cartoonists, visit the Creators webpage at www.creators.com.
Header image source.