Alton Sterling's Killing Was Caught On Camera, But Justice Is Still A Long Shot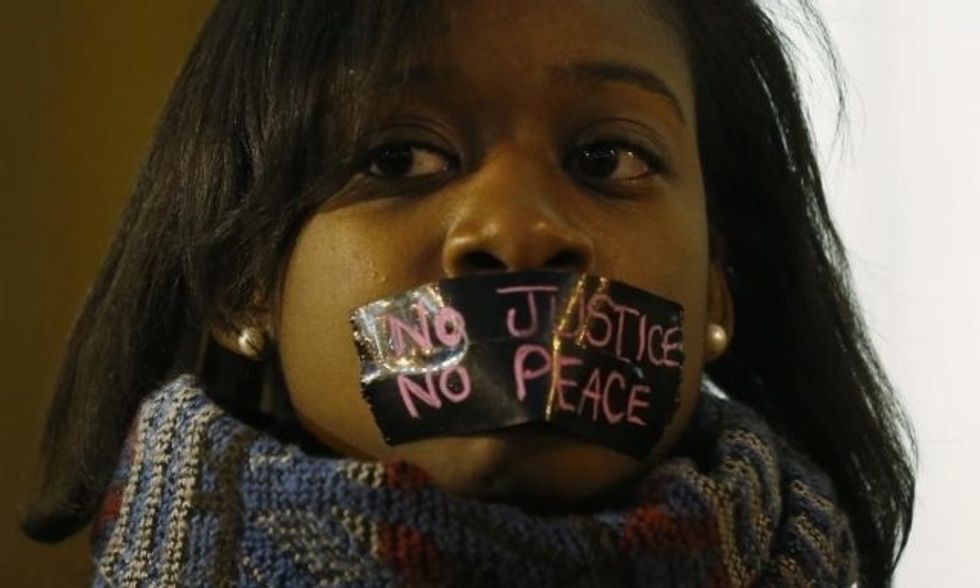 Yet another black man has been killed by police officers during a confrontation. This time, it was Alton Sterling, a 37-year-old father of five who was known for selling CDs outside the convenience store where he was shot down on Tuesday.
The Advocate reported that police were called after an anonymous caller claimed that Sterling had threatened him with a gun.
Sterling is the tenth person to have been killed by police in the state of Louisiana this year. Out of the ten victims, seven were black, two were white, and one's race was "unknown." For two of victims, it is "unknown" if they were armed at the time of the shooting.
Eric John Senegal was one of them. He was killed at 27-years-old by deputies who were serving a narcotics search warrant. Two officers were placed on desk duty after the incident. Local media did not follow up on Senegal's killing.
Shannon Labit, Travis Stevenson and Calvin Smith suffered from mental illnesses.
No one has been indicted in the nine deaths before Sterling's, and Lousiana Gov. John Bel Edwards did not make statements after any of the previous killings, though he did after Sterling's death.
Tuesday's shooting is different in one way – it is clearly visible in a now-viral 48-second video caught by a bystander. By Wednesday morning, protesters were demanding answers and justice, and Sterling's family made a heart wrenching televised statement. Sterling's 15-year-old son cried uncontrollably as his mother pledged that Sterling's death "will not go unnoticed."
"I think that the city is going to have to give us some good answers," Edmond Jordan, an attorney representing Sterling's family who is also a Louisiana state legislator, told CNN. "And I don't know if they'll be able to."
According to Baton Rouge Police Department spokesman Captain L'Jean McKneely, the officers involved in the shooting were wearing body cameras, but the cameras allegedly came loose during the altercation.
Baton Rouge Police Lt. Johnny Dunham later said that the body cameras did catch some footage. "That footage may not be as good as we hoped for. During the altercation, the body cameras did become dislodged, but they did stay on and active and recording at this time." he said at a Wednesday press conference.
This is not the first time Baton Rouge Police officers have had trouble capturing incidents with their body cameras. The Advocate reported in January that the Baton Rouge Police Department planned to stop the use of L-3 brand body cameras because officers were having trouble keeping them in place.
The national attention provoked by the video may be why Louisiana officials are promising to meticulously investigate Sterling's death.
Gov. Edwards announced Wednesday morning that the shooting of Sterling will be investigated by the civil rights division of the Department of Justice. He called the video of the shooting "disturbing, to say the least."
But this is not the first time such an incident was caught on camera, and more often than not, video of a police killing isn't enough to convict the officers. Daniel Pantaleo, the NYPD officer who killed Eric Garner with a chokehold in 2014, was acquitted by a jury. Garner was unarmed, and Pantaleo had faced two civil suits previous to the incident related to abuses of power.
The 2015 murder of Walter Scott is one of few cases of police shootings where an officer involved has been charged with murder. Video of the incident showed officer Michael Slager shooting 8 times at an unarmed Scott, who was running away on foot. Slager is awaiting trial.
Police violence caught on camera has been a part of American life for decades. The videotaped beating of Rodney King in Los Angeles in 1991 caused outrage across the country, which further intensified after the officers who hit him with batons more than 50 times were acquitted by a jury. Three days of violent riots followed in which at least 53 people died.
The Rodney King case happened more than 20 years ago, but black men continue to be harmed and killed by police officers at a disproportionate rate.
The 2012 murder of teenager Trayvon Martin revived activism against police brutality, yet the man who killed him, George Zimmerman, infamously walked away with an acquittal. Just last week, another officer was acquitted in the death of Freddie Gray in Baltimore, and another in the videotaped beating of a teenage girl in Texas.
With the rise of social media and increased accessibility to information including video, citizen activism has exploded and the Black Lives Matter movement has gained momentum, but little has been done to address the issue in a lasting manner.
While no legislation has been passed to address police brutality in the state, Louisiana passed a law to protect "Blue Lives" back in May. The law includes crimes against law enforcement under the state's hate crime legislation. It says anyone found to have targeted a police officer, firefighter, or first responder because of their profession will face an increased penalty of five years in prison, and a fine of up to $5,000.
At the time, Gov. Edwards said police officers "deserve every protection that we can give them."
Louisiana is one of 14 states that have a "bill of rights" for police, including the allowance that "Any interrogation of a police employee or law enforcement officer in connection with an investigation shall be for a reasonable period of time and shall allow for reasonable periods for the rest and personal necessities of such police employee or law enforcement officer," and "The police employee or law enforcement officer shall be granted up to thirty days to secure such representation, during which time all questioning shall be suspended."
During these 30 days, officers are not required to answer any questions, and can council with each other if there is more than one officer involved.
According to a Washington Post database of news reports, public records, social media and other sources, at least 505 people have been killed by police so far this year. The states leading the country in police killings are California with 63, Texas with 45 and Florida with 33.
Photo: A protester wears tape over her mouth during a silent demonstration against what they say is police brutality after the Ferguson shooting of Michael Brown, an unarmed black teenager, by a white police officer, in St. Louis