America Takes A Knee, As Pro Sports Pushes Back Hard Against Trump Slander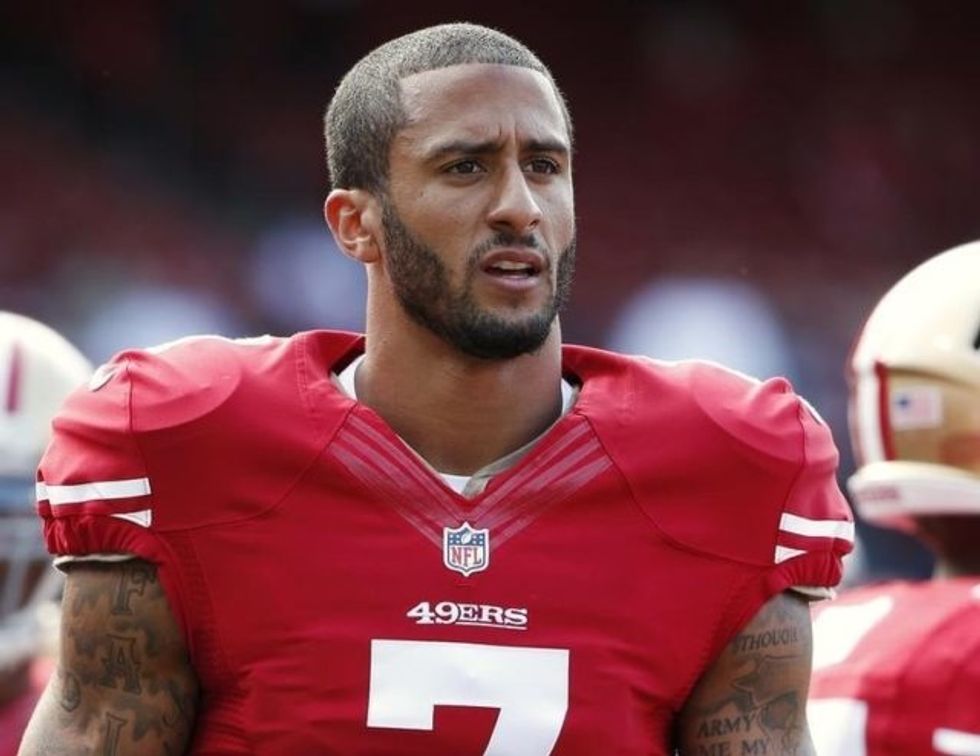 Reprinted with permission from AlterNet.
After Donald Trump insulted black athletes from both the NBA and NFL this week, big names in pro sports are pushing back hard against the president's insults.
This story began long before President Trump took office, but as is his fashion, Trump has put himself squarely at the center of the controversy.
In August 2016, former San Francisco 49ers quarterback Colin Kaepernick took a knee during an NFL game, igniting one of the biggest political stories in sports in years. At a rally Friday night in Alabama, President Trump urged NFL owners to, "Get that son of a bitch off the field right now!"
This morning, President Trump upped the ante with a series of tweets.
…NFL attendance and ratings are WAY DOWN. Boring games yes, but many stay away because they love our country. League should back U.S.

— Donald J. Trump (@realDonaldTrump) September 24, 2017
If NFL fans refuse to go to games until players stop disrespecting our Flag & Country, you will see change take place fast. Fire or suspend!

— Donald J. Trump (@realDonaldTrump) September 24, 2017
Roger Goodell of NFL just put out a statement trying to justify the total disrespect certain players show to our country.Tell them to stand!

— Donald J. Trump (@realDonaldTrump) September 23, 2017
In an overseas game in London, players began the game by taking a knee.
Trump vs NFL! The war begins! #nflinlondon#nflukpic.twitter.com/ODW5Jri2gT

— NFL in London (@nflinlondon) September 24, 2017
In MLB baseball, a rookie player on the Oakland Athletics took a knee.
From the @sfchronicle's Santiago Mejia, here is A's rookie Bruce Maxwell becoming the first MLB player to take a knee for the anthem: pic.twitter.com/q8QVY9hW15

— Susan Slusser (@susanslusser) September 24, 2017
And last night, at the Global Citizens Concert in New York, Stevie Wonder took a knee for America.
Stevie Wonder Takes To Knee In Prayer For America At Global Citizens Festival https://t.co/gwl4kkV21Vpic.twitter.com/vJdKsvPky1

— ThatGrapeJuice (Sam) (@thatgrapejuice) September 24, 2017
As Sunday NFL games begin across the nation, and the concurrent NBA controversy surrounding the Golden State Warriors' now-canceled visit to the White House morph together, this story is only going to get bigger and bigger and bigger.