Amnesty Slams United States Over Civilian Deaths In Afghanistan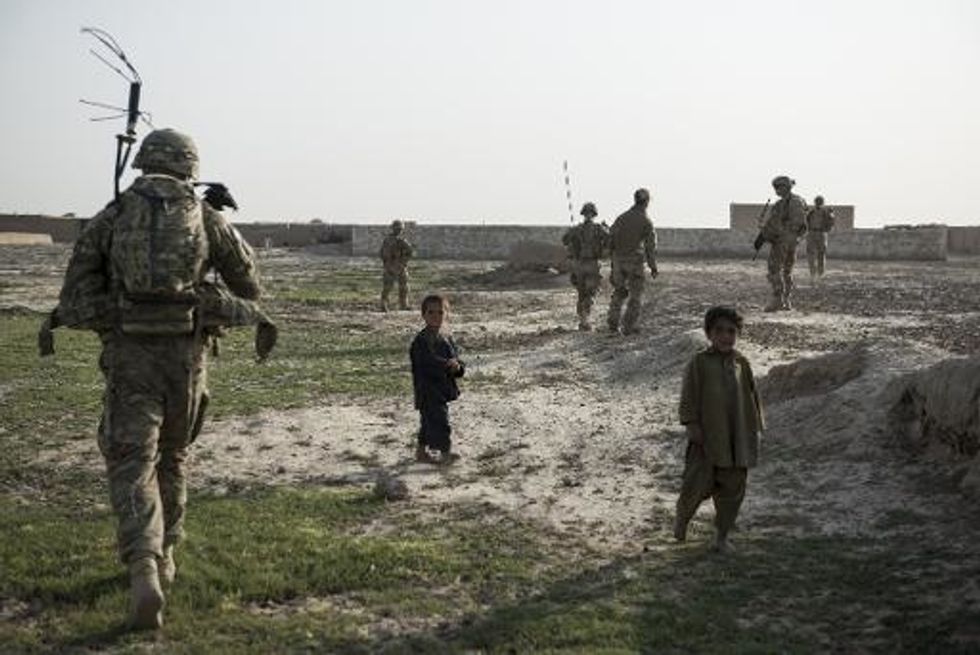 By Ben Sheppard
Kabul (AFP) — The families of thousands of civilians killed by American forces in Afghanistan have been left without justice or compensation, Amnesty International said Monday, in a damning indictment of the U.S. military as it withdraws.
Amnesty said it had gathered evidence of "a deeply flawed U.S. military justice system that cements a culture of impunity" in dealing with Afghan civilian deaths and injuries caused by U.S.-led NATO coalition operations since 2001.
President Hamid Karzai has often castigated U.S. forces for civilian casualties and he welcomed the release of the Amnesty report, though it triggered a firm response from the U.S. and NATO's International Security Assistance Force (ISAF).
Amnesty researchers interviewed 125 Afghans who had first-hand information on 16 separate attacks that resulted in civilian casualties, as well as collating data from 97 reported incidents in the last seven years.
An Amnesty spokesman said its data that thousands of civilians had been killed by U.S. forces was based on UN reports on civilian casualties, a Science magazine investigation in 2011 and other sources, but it gave no total death toll.
"The U.S. military justice system almost always fails to hold its soldiers accountable for unlawful killings and other abuses," said Richard Bennett, a director of Amnesty International.
"None of the cases that we looked into -– involving more than 140 civilian deaths -– were prosecuted by the U.S. military. Evidence of possible war crimes and unlawful killings has seemingly been ignored."
The Amnesty report, entitled "Left in the Dark," detailed a U.S. bombing in 2012 when women were collecting firewood in the mountains of Laghman province.
Seven women and girls were killed and seven more were injured.
Ghulam Noor, who lost his 16-year-old daughter Bibi Halimi in the attack, brought the bodies to the district centre after hearing NATO forces claimed that only insurgents had been killed.
"We had to show them that it was women," Noor told Amnesty. "I have no power to ask the international forces why they did this. I can't bring them to court."
Amnesty said villagers filed complaints with the provincial governor, but international forces are immune from Afghan legal processes and no one ever contacted family members to investigate the attack.
"I'm very happy that you have focused on something that is the main point of disagreement between Afghanistan and the U.S.," Karzai told Amnesty representatives invited to the presidential palace on Sunday.
"I believe that civilian casualties should never happen. Together with you, we should stop them."
– Strained U.S.-Afghan ties –
The U.S. department of defense said U.S. forces "go to extraordinary lengths to avoid civilian casualties" and investigations and prosecutions are launched when incidents may be unlawful.
ISAF underlined that the UN attributes just one percent of all Afghan civilian casualties to international military forces — with insurgents responsible for 90 percent.
Last week Afghan officials said a U.S. air strike had killed four civilians in the western province of Herat, in a misguided revenge attack after rockets were fired at an airbase.
Amnesty said its report concentrated on the United States rather than other members of the NATO coalition since it was the largest national force and was implicated in the majority of civilian casualties.
"Amnesty International is aware of only six cases over the last five years in which members of the military have been criminally prosecuted for unlawfully killing Afghan civilians," it said.
In the most high-profile killing, U.S. army sergeant Robert Bales was sentenced to life in prison after gunning down 16 villagers in 2012.
U.S.-led foreign troop numbers in Afghanistan have declined from a peak of 150,000 in 2012 to just 44,300 now — of whom 30,700 are American.
All NATO combat soldiers will depart by the end of the year, though a follow-up support mission of about 10,000 troops is planned if the next president signs security deals with the United States and NATO.
The deal with the United States would continue to give so-called "immunity" to American troops, who would be prosecuted under their own legal system.
AFP Photo/Brendan Smialowski
Interested in world news? Sign up for our daily email newsletter!