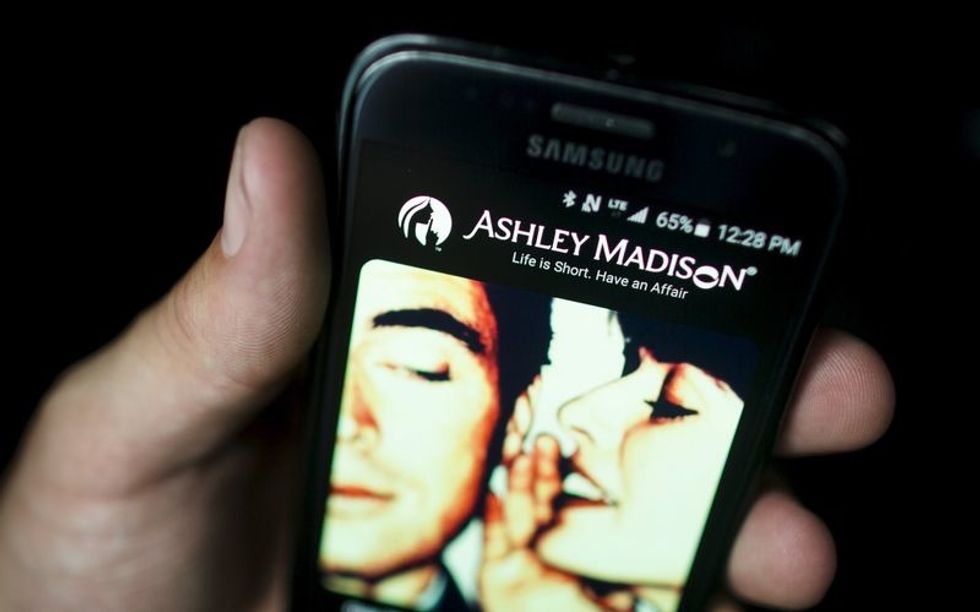 This is an elegy for John Gibson.
He was a married father of two, a pastor and a professor at New Orleans Baptist Theological Seminary. He is said to have loved fixing cars and to have had an oddball laugh. In photos, he and his wife Christi and their two kids come across as a goofy, fun-loving bunch. Pictures of them radiate joy.
Christi Gibson found her husband dead of suicide in their home on Aug. 24. Last week, she told CNNMoney that John left a note in which he said he was struggling with depression — and shame. In July, you will recall, news came that Ashley Madison, the website that brokers adulterous relationships, had been hacked and that the hackers were threatening to publish a list of 32 million customers — names, financial information, sexual fantasies. Gibson killed himself just days after they made good on that threat.
You see, his name was on that list. In his note, says his wife, he expressed profound remorse. "What we know about him," she told CNN, "is that he poured his life into other people, and he offered grace and mercy and forgiveness to everyone else, but somehow he couldn't extend that to himself."
This is an elegy for a man who was guilty of an all-too-common sin, one committed by presidents, potentates, plumbers, and policemen, an everyday hypocrisy enacted millions of times before John Gibson came into this life and millions of times in the short few days since he left it.
This is an elegy, then, for an average guy who found himself caught in the gears between the cheater's website and the thieves who targeted it, opposing forces that barely knew he was there, who crushed what mattered to him and never even heard it breaking.
There is something distinctly modern about this tragedy. Once upon a time, not so long ago, none of this would have been possible. We had not yet developed the means to break into one another's lives like a flimsy back door off a dangerous alley, had not yet figured out how to bring cameras, microphones and the Internet into those areas of our existence we once marked as off limits.
So this is an elegy for the right to privacy.
Ashley Madison has extended condolences to Gibson's family — surely that was much appreciated — but had you visited the website Thursday, you would have found little sign of anything amiss. The ubiquitous brunette counseling discretion with an index finger to her pouty lips is still there. Under the "Affair Guarantee Program," you are promised a refund if you can't find a suitable partner to cheat with.
"Life is short," goes the tagline. "Have an affair." The first part of that certainly proved true for Gibson. He was 56.
And, lest you think the release of sensitive information on 32 million customers might be bad for business, be advised. The company claims it is growing since the breach.
So this is an elegy for basic common sense.
Ashley Madison is founded upon the implicit idea that you can have betrayal without consequence. The family of the late John Gibson would beg to differ. Families of other suicide victims believed to be linked to this hack probably would, too.
Yet the company continues to broadly enable betrayal and in the process, to destroy families in a hundred different ways quieter and less tragic than suicide, but ultimately just as effective. The cheaters website has described its customers as "free-thinking people who choose to engage in fully lawful online activities." Which suggests Ashley Madison is guilty of its own all-too-common sin, one frequently seen among drug dealers and pimps. Namely: rationalizing and justifying a toxic business because there is money to be made.
Sadly, this is not an elegy for that.
(Leonard Pitts is a columnist for The Miami Herald, 1 Herald Plaza, Miami, FL, 33132. Readers may contact him via email at lpitts@miamiherald.com.)
Photo: A photo illustration shows the Ashley Madison app displayed on a smartphone in Toronto, August 20, 2015. REUTERS/Mark Blinch