Anti-Defamation League Criticizess Trump's Anti-Semitic Remarks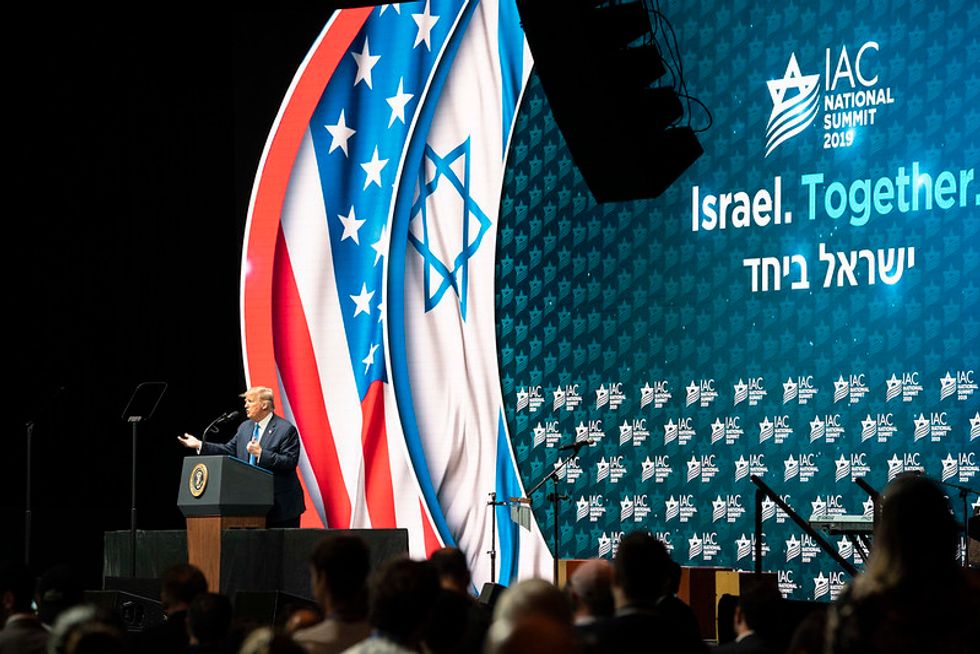 Donald Trump once again summoned anti-Semitic tropes when speaking to a Jewish organization over the weekend, telling the Israeli American Council that Jews "had no choice" but to vote for Trump in 2020 because his rival, Massachusetts Sen. Elizabeth Warren (D) had proposed a wealth tax on those worth more than $50 million.
"But you have to vote for me; you have no choice," Trump told the group on Saturday, before using racist language to describe Warren.
"You're not going to vote for Pocahontas," he said. "You're not going to vote for the wealth tax. Yeah, let's take 100 percent of your wealth away."
Warren's plan would add a 2 cent tax on every dollar over $50 million, leaving the first $50 million taxed at the current rate.
Several Jewish organizations have since condemned Trump's comments as anti-Semitic.
"Sadly, it's not surprising," Logan Bayroff, communications director with J Street, a liberal Jewish advocacy group, said in a phone call Monday.
Trump "regularly traffics in anti-Semitic stereotypes, including Jewish obsession with money," he added.
Bayroff noted that Trump often uses "bigotry against other minority communities," and his comments on Saturday night contribute to the "revulsion at Trump by the vast majority of the American Jewish community."
Bayroff also criticized Jewish audience members who "look the other way" when Trump engages in anti-Semitic rhetoric.
Halie Soifer, executive director of the Jewish Democratic Council, weighed in on Trump's remarks Saturday.
"We strongly denounce these vile and bigoted remarks in which the president — once again — used anti-Semitic stereotypes to characterize Jews as driven by money and insufficiently loyal to Israel," Soifer said in a press release. "An overwhelming majority of Jews are both pro-Israel and anti-Trump because of his incendiary rhetoric targeting our community and others, and because his symbolic gestures on Israel have not made America or Israel more secure."
Jonathan Greenblatt, CEO of the Anti-Defamation League (ADL) tweeted that Trump's rhetoric of calling out anti-Semitism is "essentially undone by his own trafficking of #antiSemitic tropes: questioning American Jews' loyalty to Israel and asserting that Jewish voters only care about their wealth."
Greenblatt added that after Trump's remarks, he was "reminded of the necessity to call out #antiSemitism as a vile poison but these comments fall short of the mark and actually could empower those who traffic in bigotry."
The Florida Democratic Party also condemned Trump's remarks, which he made at the Diplomat Beach Resort in Hollywood, Florida.
"Donald Trump has repeatedly used anti-semitic tropes as part of his reelection strategy," Terrie Rizzo, chair of the Florida Democratic Party, said in an email.
Rather than stand up for Israel or the American people, Rizzo said, Trump "is trying to pit Americans against one another in an attempt to squeeze out a few more votes."
"It isn't going to work," Rizzo said, noting Trump has a 55 percent disapproval rating in his new home state .
Trump has a long history of using anti-Semitic tropes, especially when speaking to Jewish groups.
In August, Trump attacked American Jews who had voted for Democrats, claiming they had "either a total lack of knowledge or great disloyalty." He was roundly criticized at the time by several of the same organizations speaking out this week, for summoning the anti-Semitic "dual loyalty" trope that has been directed against Jews for generations.
In April, Trump angered Jewish groups by calling Israeli Prime Minister Benjamin Netanyahu "your" prime minister when speaking to the American Republican Jewish Coalition.
Trump has also praised white supremacist groups in the past, notably calling the white nationalists and neo-Nazis who marched in Charlottesville, Virginia, in 2017, chanting "Jews will not replace us," as "very fine people."
Earlier, in 2016, Trump tweeted an image of Hillary Clinton superimposed over cash piles with a Star of David emblazoned on the photo — an image that originated on a white supremacist website.
The Republican Jewish Coalition took issue with other Jewish groups calling out Trump's anti-Semitism this past weekend.
Matt Brooks, the group's executive director, specifically told "all those who are saying [Trump] trafficked in ant-semitic tropes" at the Israeli American Council event to "get over yourselves."
Republicans have been much more likely to speak out when Democrats have been accused of anti-Semitism. In March, Rep. Ilhan Omar (D-MN) was condemned for comments she made that were critical of Israel and seen as anti-Semitic. Omar apologized for the comments and later supported a House resolution opposing all forms of bigotry.
At the time, Trump called Omar's statements "terrible" and said her apology was "inadequate."
Recent polling has shown a drop in support for Republicans among the Jewish community.
According to the Jewish Democratic Council, Jewish support for Republicans was just 17 percent in 2018. The group said the drop, from 33 percent in 2014, is "because Trump's policies and rhetoric are completely antithetical to Jewish values."
Published with permission of The American Independent Foundation.