Anti-Islam Activist Pamela Geller Was Possible Beheading Target, Official Says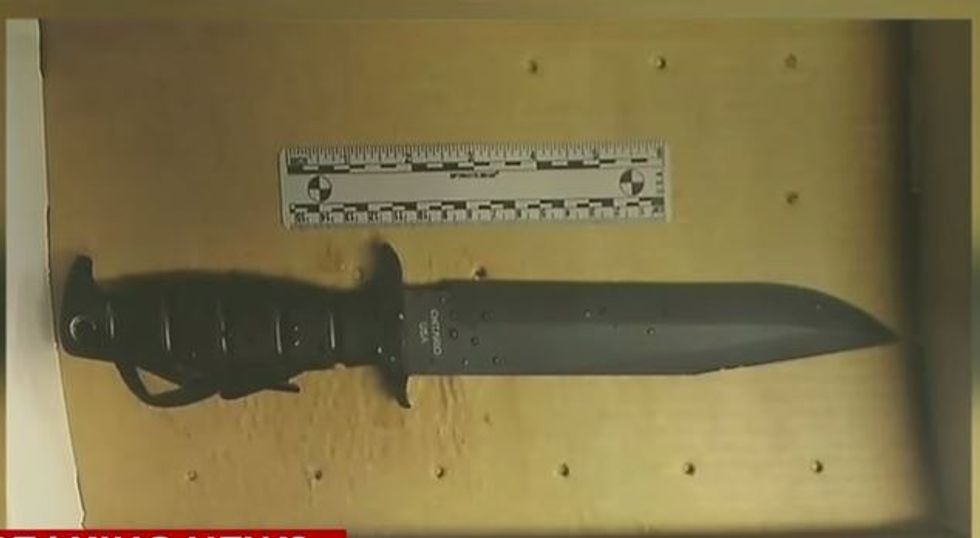 By Matt Pearce, Los Angeles Times (TNS)
Controversial anti-Islam activist Pamela Geller was mentioned as a possible target for beheading by a man who was shot and killed by a counterterrorism task force this week, Boston Police Commissioner William B. Evans said Thursday.
"I think it was more along the lines of wishful thinking" rather than an imminent jihadist plot by Usaama Rahim, 26, who was shot in Boston on Tuesday after threatening police with a knife, Evans said in an appearance on The Today Show.
However, Evans added of Rahim, who had been under 24-hour surveillance: "This was very real, it was very dangerous, and when it unfolded Tuesday morning, could have saved not only police officers' lives, but who knows where it could have gone also."
Authorities have not discussed in detail how Rahim came under scrutiny.
Conspiracy charges filed Wednesday against one of his associates, David Wright, 24, revealed that the pair had apparently been discussing beheadings and a possible attack on police officers, often in generic terms.
Officials have said the pair discussed a possible beheading in conversation with an unidentified third person, but a third person has not been arrested, a spokeswoman for the U.S. Attorney's office in Boston said Thursday.
Wright was arrested on Tuesday and made an initial court appearance Wednesday and a judge reportedly ordered him to remain in custody.
Evans said Thursday in the televised interview that he is "confident that at least this threat has been neutralized."
"I believe we have everyone connected with this plot, " Evans said. "There is nothing bigger, at least that we know of, operating in the city of Boston."
On Wednesday evening, spokeswomen for the FBI and the U.S. Attorney's office in Boston declined to comment on alleged threats against Geller, who hosted a provocative Prophet Muhammad cartoon contest in Garland, Texas, last month that was attacked by two jihadist gunmen apparently outraged by the event. Police shot and killed both men in a parking lot.
In an interview with the Los Angeles Times, Geller declined to say whether investigators had contacted her beforehand about any threats. Asked about whether she would change anything she was already doing, Geller responded, "Doing it more."
"This is what's getting lost in post-Garland, Texas — that ISIS is here, Islamic terrorism is here, they targeted me for violating Shariah blasphemy laws," Geller said in a phone interview. "This is really a showdown for American freedom. Will we stand against the savagery or will we bow to them and silence ourselves? That's the question."
Official statements and court documents provide only glimpses of Rahim's alleged plot to behead an unidentified person in a state outside Massachusetts.
He had bought knives on Amazon last week and, on Sunday went to Rhode Island with Wright to talk to a third suspect about a possible beheading, according to court documents.
Authorities apparently became more concerned about Rahim after intercepting a 5 a.m. Tuesday phone call in which officials said he told Wright he had decided he wanted to attack police officers.
"I'm just going to, ah, go after them, those boys in blue," Rahim said, according to a transcript of the call in the court documents. "'Cause, ah, it's the easiest target and, ah, the most common is the easiest for me."
Wright was charged with conspiring to destroy evidence after officials said he told Rahim to destroy his phone, "because, at the scene, at the scene, CSI" — an apparent reference to crime scene investigators — "will be looking for that particular thing and so dump it, get rid of that."
Two hours later, officials with Boston police and the FBI in a Joint Terrorism Task Force approached Rahim near a CVS parking lot — not to arrest him, officials have said, but to question him about his intentions.
Rahim pulled out a knife, and when police told him to drop one of the knives he'd bought, he replied, "You drop yours," according to court documents.
Community leaders who viewed surveillance video that shows the encounter from a distance said that Rahim advanced on the officers before they fatally shot him.
They discredited claims by Rahim's brother, an imam, Ibrahim Rahim, that Rahim had been on the phone when he was shot and that he had been shot in the back.
Evans said Thursday that the investigation into Rahim's plans continue.
The shooting will be investigated by the Suffolk County District Attorney's office to determine whether police and the FBI's use of force was appropriate.
(c)2015 Los Angeles Times. Distributed by Tribune Content Agency, LLC.
Screenshot: CNN/YouTube