DeSantis Falsely Claims Bivalent COVID Vaccine Causes More Infections
@CynicalBrandon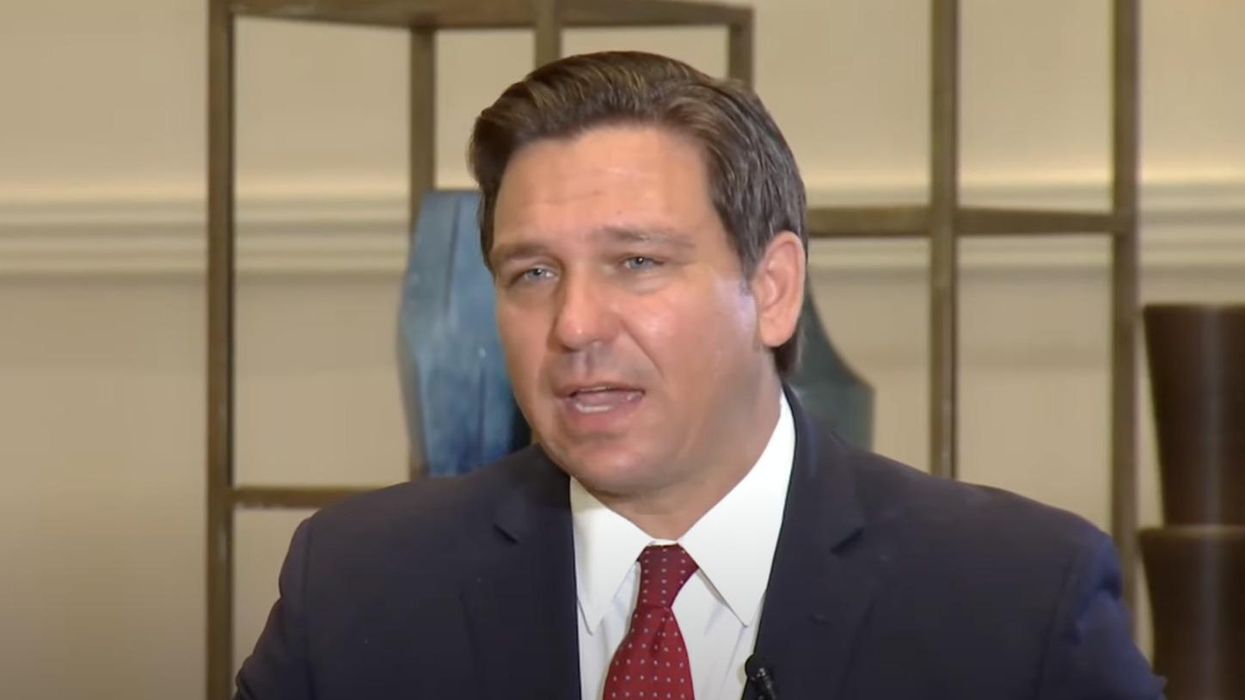 Youtube Screenshot
Republican Florida Governor Ron DeSantis told a whopper about bivalent COVID-19 booster shots during a press conference this week, falsely claiming that research has determined that the injections lead to higher rates of SARS-COV-2 infections.
DeSantis – an outspoken critic of coronavirus vaccines and public health initiatives such as mask mandates – also suggested that the government is forcing American citizens to into getting supplemental inoculations.
That, too, is not true.
"[Florida Surgeon General] Joe Ladapo can talk a little bit more about it. Like almost every study now has said, with these new boosters, you're more likely to get infected with the bivalent booster. So what possible reason could you force that? And we're one of only a few countries in the entire world that imposes that," DeSantis said. "I don't even think China imposes that anymore."
This was not the first time that DeSantis has issued misleading dictates about vaccines. And just like before, his latest statements are not based upon the most recent scientific data released by the United States Centers for Disease Control and Prevention. Yale University School of Medicine writer Carrie MacMillan summarized the CDC's findings last month:
In the first study, 798 patients ages 65 and up received one dose of a bivalent booster in addition to at least two doses of the original, monovalent vaccines. Those who received the bivalent vaccine were 84% less likely to be hospitalized for COVID-19 than those who were unvaccinated and 73% less likely to be hospitalized than those who received two or more doses of the monovalent vaccine.
In the second study, adults 18 and older who received a bivalent booster were 57% less likely to seek care at an emergency department or urgent care clinic compared to those who were unvaccinated. And those with the bivalent booster were 38% less likely to seek such care than those who received monovalent vaccination only with the last dose five to seven months earlier and 45% less likely than those who had monovalent vaccination only with the last dose 11 months earlier or more.
Meanwhile, DeSantis' remarks about China were not grounded in facts. The second-most-populous country on Earth has one of the world's lowest vaccination rates. On one hand, there were never any mandates. On the other, the government's approach was to implement lengthy lockdowns – the so-called "Zero Covid" policy – which coupled with conflicting information has led to widespread vaccine hesitancy and significantly reduced collective immunity to COVID-19.
"They just don't trust the Chinese vaccines," Seton Hall University China healthcare expert Yanzhong Huang explained to National Public Radio's John Ruwitch in December. Huang further noted that citizens "don't trust the government narrative on the effectiveness of the Chinese vaccines."
Watch below or at this link.
\u201cGov. Ron DeSantis (R-FL) falsely claims people who get the COVID-19 bivalent booster are \u201cmore likely to get infected.\u201d\u201d

— The Recount (@The Recount) 1673989222
Reprinted with permission from Alternet.