Anti-Vax Conspiracists Angrily Attack Damar Hamlin -- For Recovering
@LucianKTruscott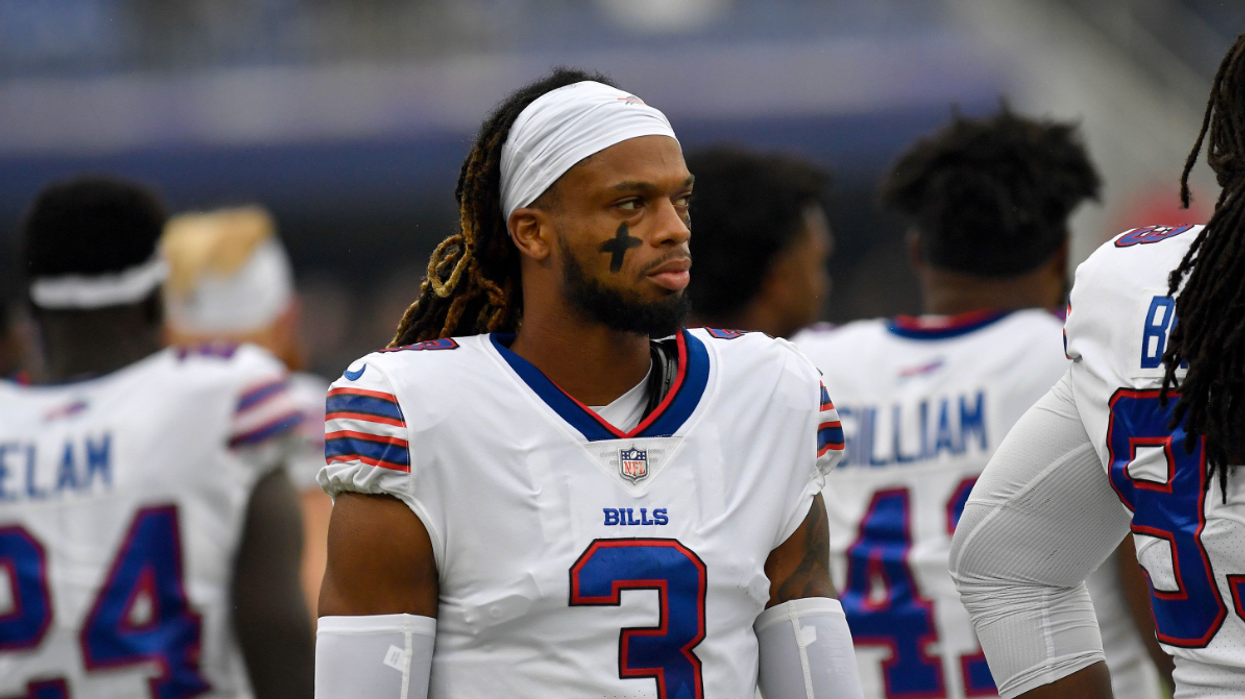 CNN Screenshot
I'm staying with the COVID story no matter what. If you'd like to pitch in an help fight these anti-vax Republican maniacs, please buy a subscription here.
It's been nearly four weeks since Damar Hamlin collapsed on the football field from a heart-stoppage after a hard impact with a player from the Cincinnati Bengals. Hamlin was revived on the field by paramedics and was taken to a nearby hospital where his recovery was rapid. Last Sunday, only 20 days after his cardiac arrest, Hamlin attended a playoff game between the Buffalo Bills and the Bengals, watching from the sidelines.
You would think football fans and non-fans alike would be celebrating Hamlin's rapid return to a modicum of normalcy and health, and you would be right. Except…there's always an "except" isn't there? – for a certain subsection of the public who would apparently have been happier if Hamlin had died. That little clutch of brainless right-wing nutcases would be the anti-vaxxers among us, largely Republican when it comes to their political party.
Recent accounts in the press, including a story yesterday on the NBC News website, refer to these ghouls as conspiracy theorists. This is because the anti-vaxxers got together on Internet sites including Twitter and Facebook right after Hamlin collapsed and without a shred of evidence began a campaign to blame his heart-stoppage on the COVID vaccine. You remember the COVID vaccine, don't you? It's the series of shots in the arm that is keeping you, if not free from the disease, at least suffering such a mild case that you haven't been hospitalized or died. These anti-vaxxers began their lie-spreading frenzy without even establishing that Hamlin had been vaccinated, and they went rapidly down their own special rabbit hole from there.
According to NBC News, the Hamlin incident was attractive to the anti-vaccine conspiratorialists because 23 million people were watching the day Hamlin collapsed on the field. They were aware that this presented them with a captive audience to which they could sell their nonsense with aplomb, which they quickly proceeded to do. Lacking even any evidence that the COVID vaccine – any of the shots, Moderna, Pfizer, the boosters – causes cardiac arrest, they just started asserting that Hamlin was a completely healthy, well-conditioned young man, with the exception of those shots in his arm which they didn't even bother to prove that he received. That's what nearly killed Hamlin, the lie went.
The anti-vaxxer conspiracy nuts had help. Last week, Florida Governor Ron DeSantis held a press conference and announced that the bivalent booster makes you more likely to come down with COVID than if you didn't get the booster.
Boy Broadcaster Tucker Carlson chimed in on the anti-vax conspiracy, claiming on his Fox show, without evidence, that "vaccine-related cardiac arrests have increased among athletes," again according to NBC News. It was too much of a tasty buffet for the other usual suspects to skip. Marjorie Taylor Greene jumped in by tweeting her endorsement of a lie-fest film on the right-wing video platform Rumble called – wait for it – "Died Suddenly," that spread the lie about athletes suffering early deaths due to having taken the COVID vaccine.
All of this would be enough – the baseline lie that the COVID vaccine has killed more people than the disease itself, all the sub-falsehoods about each individual vaccine and booster that have come along, and the topper-lie that even if you are a healthy and fit athlete, the vaccine will kill you, too. But the news that Hamlin has recovered from his heart-stoppage and even attended the Buffalo Bills game last weekend drove the anti-vax conspiratorialists to dig a whole new rabbit hole.
They are now claiming that it wasn't Hamlin on the sidelines of last week's game, it was a body-double posing as Hamlin, because he, of course, had died. You would think these fools had learned a lesson from the court decision that leveled a judgement in the millions against Alex Jones for spreading the lie that the children killed at Sandy Hook were not killed, but were "crisis actors" employed by the government to promote anti-gun legislation. But, no. Here they are again with yet another conspiracy theory to support their lie that Hamlin died on the field, and it's his body double you saw walking around a football stadium last week.
There's no way to argue with these people. It's not worth bothering to amass figures proving the enormous reduction in deaths from COVID since the vaccines became available. They know the facts, and it isn't even that they don't care about the facts. They do, or they wouldn't come up with their outlandish fantasies trying to shoot them down. It would be convenient to say it's all a game for these people, but it's not. It's deadly rhetorical combat, and engaging them on any level simply gives them an opportunity to peek over the edge of their foxholes and take more shots at the enemy, which is you and me and the 70 percent of American citizens who have remained sane enough in the face of this nearly wholly-Republican madness to get their COVID vaccines so they still walk among us.
The conspiratorialists made COVID a political issue and the vaccines with it, and they're not going to let go as long as there are loons out there listening to them who will turn out and vote on that issue. When too many of them die, they'll vote the graveyards. That's the kind of madness we're up against. The best thing to do is go get your bivalent booster if you haven't already, and let them be.