Arizona Democrats Warn Sinema: 'We've Unseated More Powerful People'
@alexvhenderson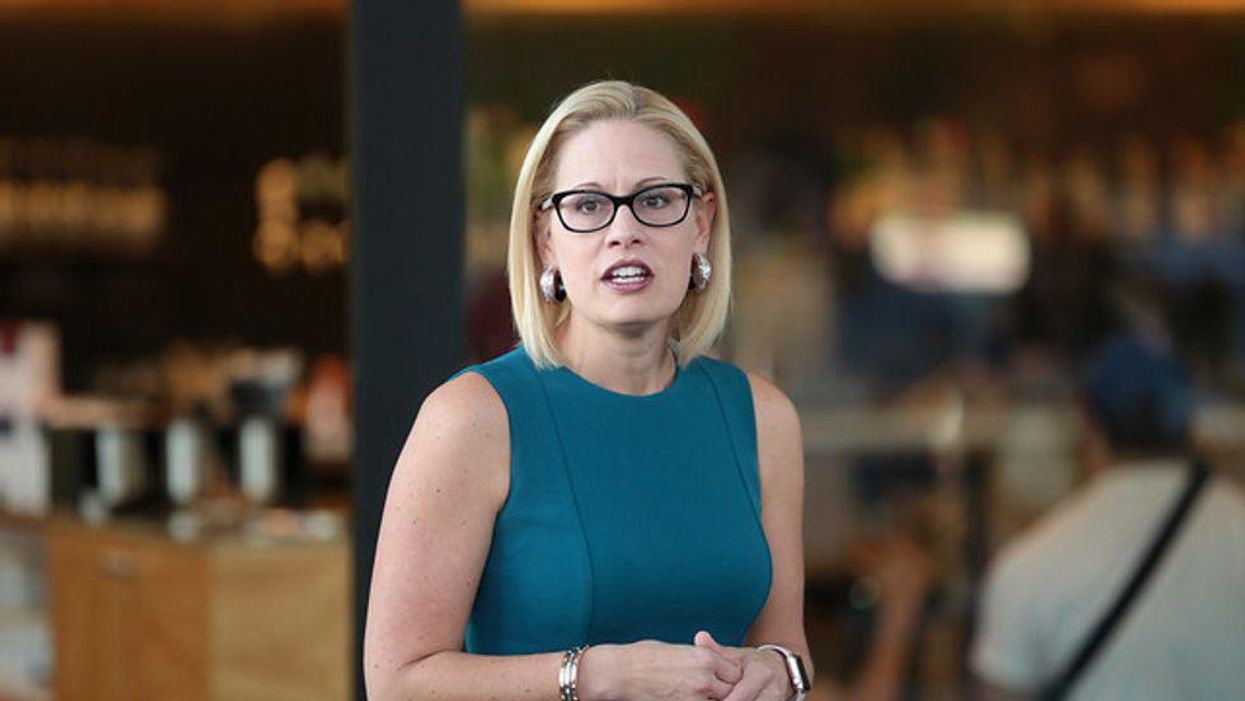 Reprinted with permission from AlterNet
In 2019 and 2020 — when Republicans still had a majority in the U.S. Senate — it was obvious that Sen. Krysten Sinema of Arizona had a lot more in common with Sen. Joe Manchin of West Virginia than she did with the liberal/progressive wing of the Democratic Party. But it wasn't until the Joe Biden era, after Democrats regained the Senate, that she came to be seen as someone who could make or break the Democratic agenda. Journalist Lauren Gambino, in an article published by The Guardian on October 10, examines Sinema's political motivations — and whether Sinema is an "obstructionist" or a "pragmatist" depends on which interviewee The Guardian is talking to.
"For years," Gambino explains, "Sinema has honed a brand of centrism that observers say better aligns with the politics of Arizona, a once-Republican stronghold shaped by the conservatism of Barry Goldwater, a senator and nominee for president in 1964. Invoking the late senator John McCain as a hero, Sinema promised to be an 'independent voice' and appealed to suburban women, independents and disaffected Republicans. In 2018, Arizona duly sent a Democrat to the Senate for the first time in 30 years."
Sinema, an adamant supporter of the Senate filibuster, has been a frequent source of frustration to liberals and progressives in her party. But independents and Never Trump conservatives tend to hold her in higher regard.
One of those conservative Trump critics is Chuck Coughlin, a Phoenix-based political consultant and former Republican. Coughlin, interviewed by The Guardian, said of Sinema, "Her ideological core is pragmatism. She understands that if she is to succeed in Arizona, she must succeed in this lane."
But Garrick McFadden, on the other hand, is among the Arizona Democrats who is openly expressing his frustration with Sinema. McFadden, who formerly served as vice chair of the Arizona Democratic Party, recently tweeted, "She has betrayed her friends and the promise she made to the Arizona people. She wants to play games, well in 2023 we start playing games with her."
Another Democratic Sinema critic is Phoenix-based activist Gilbert Romero, who told The Guardian, "She thinks she's like Teflon and nothing is going to stick to her; that's misguided. We've (unseated) much more powerful people than Kyrsten Sinema."
Among progressive Democrats, there has been talk of giving Sinema a primary challenge in 2024, when she will be up for reelection. But doing so would be risky, as Sinema is in a state with a long history of conservatism. Although Arizona has evolved into a swing state, it still isn't a deep blue state like Massachusetts, California or Vermont. President Joe Biden won Arizona in 2020 — contrary to the false claims of former President Donald Trump — but not by double digits.
One of Sinema's defenders is Danny Seiden, president and chief executive of the Arizona Chamber of Commerce. Seiden praised Sinema's "willingness to listen and not just toe the party line on all issues," telling The Guardian, "I think that's a rarity amongst both Democrats and Republicans these days."