As Economists Warn Of Looming Recession, Kellyanne Touts 'Trump Economy'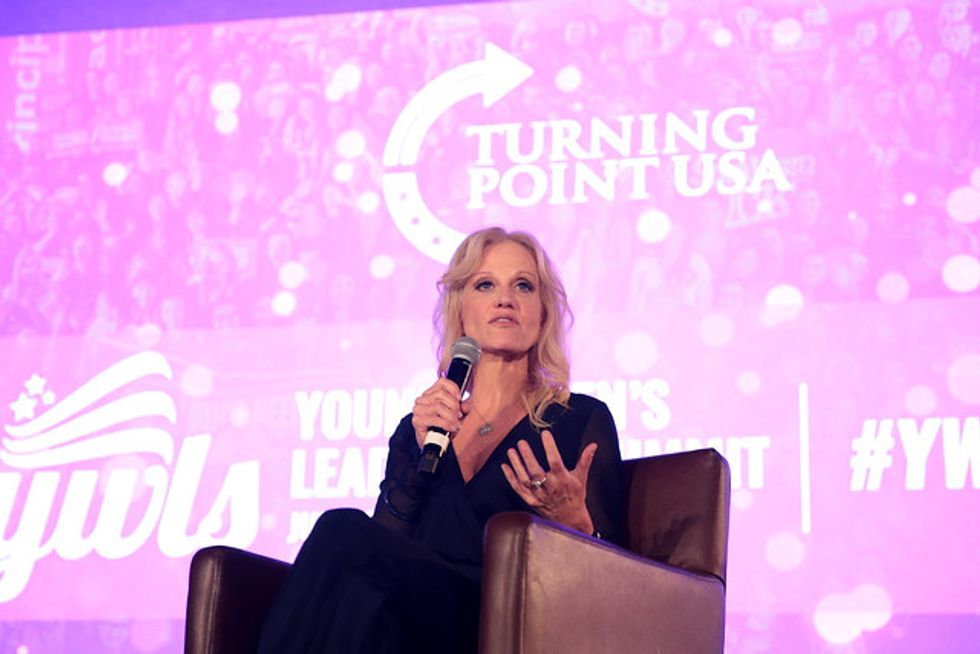 Kellyanne Conway told reporters that concerns about the economy were overblown, just as a majority of economists have said a recession may be approaching, brought on by key Trump policies.
Speaking to reporters in the driveway of the White House on Monday — regular press briefings have been canceled for months — Conway lashed out at journalists for covering the indications of a possible recession.
"It's nice to see the media finally cover the Trump economy. You seem to cover it only when you can use the 'Sesame Street' word of the day, 'recession,'" Conway said. "The fact is, the fundamentals of our economy are very strong, and you know it."
On Monday, an overwhelming majority of economic experts made it clear that they disagree with Conway's assessment of things.
Some 74 percent of the economists surveyed by the National Association for Business Economics in a report released Monday said they are concerned about the possibility of a recession by the end of 2021.
"Thirty-four percent of the economists surveyed said they believe a slowing economy will tip into recession in 2021. That's up from 25 percent in the February survey," the Associated Press reported.
"An additional 38 percent of those polled predicted that recession will occur next year, down slightly from 42 percent in February. Another 2 percent of those polled expect a recession to begin this year."
In previous surveys, the economists expressed concerns about Trump's trade war dampening economic growth and weakening the economy.
Because of the trade war initiated by Trump, American goods are not being purchased in international markets. Farmers have been among the hardest hit, with the massive market in China for products like soybeans now completely cut off.
Last week, four major banks warned that Trump's ongoing trade war could lead to a recession.
Instead of ending his trade war, Trump is tapping billions from American taxpayers to bail out the farmers. Yet the money farmers are receiving in federal payments doesn't make up for what they would earn on the global market. Farms have been forced into bankruptcy at an alarming rate, jumping 45 percent in the Midwest since Trump started his trade war.
A host of other products are experiencing price increases attributable to the Trump tariffs.
American businesses are suffering, American consumers are paying the price, and experts are warning that the country could be heading toward a recession.
But according to Conway, who is not an economist or financial expert, everything's fine, the economy is strong, and that's all media should be reporting.
Published with permission of The American Independent.