As Rain Stops In Oklahoma And Texas, Downriver States Brace For Flooding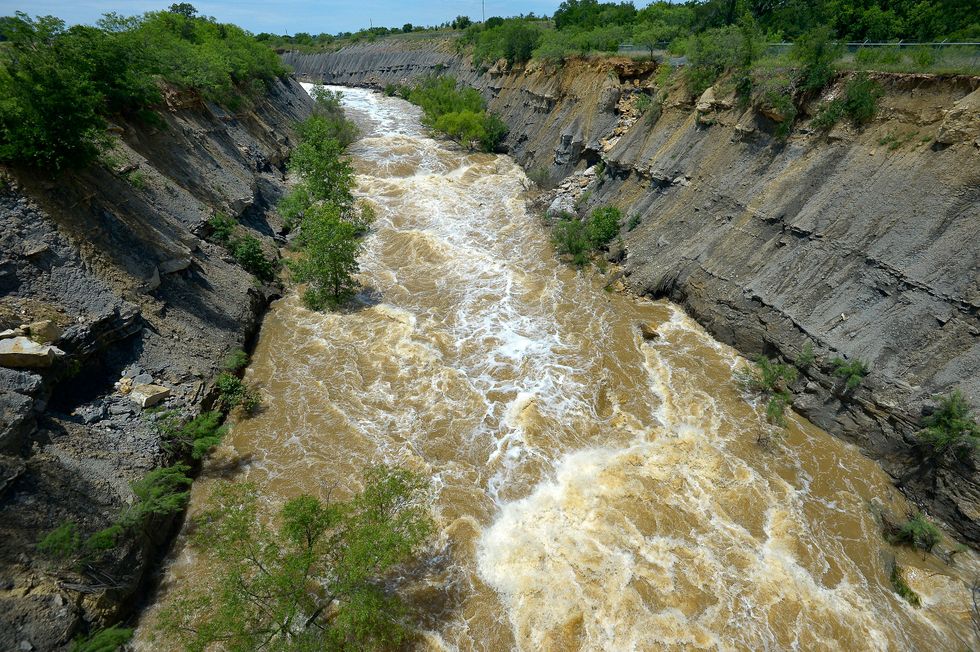 By Matt Pearce, Los Angeles Times (TNS)
It finally stopped raining this week in Oklahoma and Texas, where a nearly nonstop series of storms resulted in deadly flooding and made for the wettest month in both states' recorded history.
So what is happening to all that water?
Some of it, naturally, will evaporate. Some has replenished reservoirs in both states after a punishing five-year drought.
But like the end of a football game when everyone heads for the exits, the waters are inundating rivers across four states, bringing new flood worries for weeks ahead as the torrents barrel toward the Gulf of Mexico.
Water from Oklahoma will first head through rivers in Arkansas and Louisiana before reaching the gulf. The water in eastern and southern Texas will generally take more direct paths to the coast.
"It's a giant web," Brannen Parrish, spokesman for the Tulsa, Oklahoma, district of the U.S. Army Corps of Engineers, said of the river system running through the lower Plains. "Ultimately that water ends up in the Gulf of Mexico."
The rains in Texas and Oklahoma brought both sorrow and blessing — floods that claimed hundreds of homes and killed at least 36 people, but also ended a devastating drought.
A year ago, Texas' reservoirs were only at 67 percent capacity, according to state water data. But in the last three months, capacity has jumped to 83 percent after reservoirs trapped enough rain to cover nearly 23,000 square miles of land — almost one-tenth of Texas — with about a foot of water. Some reservoirs in western Texas, not as hard hit by the storms, were still running low this week.
But in Oklahoma, almost every one of the state's dozens of reservoirs has exceeded 100 percent normal capacity.
"The fact that we were in a drought helped mitigate some of the flooding issues we would have seen had they not had that extra space available," said James Paul, a hydrologist for the National Weather Service's Arkansas-Red Basin River Forecast Center.
However, Paul added, "once they get to the point of being as full as they can get, they have to start releasing that water."
Many rivers in the region have grown dramatically more powerful because of the surging runoff.
About this time of year, the Red River typically passes between 8,000 and 15,000 cubic feet of water per second where it forms part of the border between Texas and Oklahoma, Paul said.
After last month's deluge, the Red River has grown more than 10 times in volume and was pumping nearly 235,000 cubic feet of water per second downriver toward Arkansas and Louisiana as of Monday, he said.
"All that water in Oklahoma and northeast Texas that drains into the Red River is making its way to us," said Aaron Stevens, the observing program leader at the National Weather Service's office in Shreveport, La., noting that the region has already been deluged. "All the crops that have been planted in the lowlands have flooded, and we've lost those crops, and we have a lot of cattle that feed in those lowland areas."
The Red River is expected to rise about 2 feet by Saturday as it passes through Shreveport in northwest Louisiana. Inmates in Caddo Parish, which includes Shreveport, have helped prepare sandbags for the river's inevitable attack on the low-lying areas.
"We are not expecting any flooding inside residences, but there will be street flooding, if they aren't experiencing that already," Sheriff Steve Prator said in a statement Tuesday, warning the parish's residents to be prepared. "We know our citizens are keeping a close eye on how the flood may affect their neighborhoods, and we want to make sure they are prepared for all possibilities."
The Red River eventually dumps into the Atchafalaya River in east-central Louisiana, which then empties into the Gulf of Mexico.
The Arkansas River — which runs through Oklahoma and Arkansas until it flows into the Mississippi River — has also picked up strength, expanding from an average of about 50,000 cubic feet of water per second to roughly 300,000 to 350,000 cubic feet per second, according to Paul.
More than 40 homes have already been flooded downriver in Jefferson County in central Arkansas, where part of the courthouse and county facilities were swept away by the Arkansas River during a 1908 flood.
Some residents are taking boats to and from their homes and have put furniture, clothes and pictures on their roofs to prevent them from getting wet, Maj. Lafayette Woods of the Jefferson County Sheriff's Office said Tuesday.
Rains and river surges from Oklahoma have "not been good for us," Woods said in an earlier interview, adding that the water had lapped over some sandbags protecting low-lying homes.
In Texas, the Nueces River will remain at major flood stage northwest of Corpus Christi through at least the rest of this week. The Trinity River, which is expected to flood for weeks, neared a record high southeast of Dallas on Tuesday before beginning to decline.
Both rivers, which flow through Texas before dumping into the gulf, are projected to threaten some homes and river farmland but have a generally beneficial effect on the environment.
"For river systems, these sort of flood events are a natural part of the landscape that resets the systems in many respects," said Thomas Hardy, who studies rivers and river ecosystems at the Meadows Center for Water and the Environment at Texas State University.
The new freshwater flows after years of drought will also be welcome for wildlife at bay and estuary systems along the coast, Hardy said.
Meanwhile, recovery continues in Hays County, Texas, where at least eight bodies have been found and three people remain missing after the Blanco River overflowed. On Tuesday, county officials said the last unidentified body discovered in the county belonged to Kenneth Reissig, 81, whose remains had been found May 28.
Officials say downriver flooding would be even worse if it weren't for flood-control infrastructure built several decades ago as part of a long-running struggle between the government and the nation's unruly rivers.
"It'd be a catastrophe" if an extensive system of levees and reservoirs weren't keeping the waters in check, said Greg Raimondo, a spokesman for the Vicksburg, Mississippi, office of the Army Corps of Engineers. "There's a lot of flat ground out there, you know?"
(c)2015 Los Angeles Times. Distributed by Tribune Content Agency, LLC.
Photo: Flood waters being released from Lake Bridgeport in Bridgeport, Texas, on Monday, June 1, 2015. Tarrant Regional Water District officials now say the West Fork of the Trinity has grown to three quarters of a mile wide around Boyd. The flows haven't peaked yet and may not for several days. (Max Faulkner/Fort Worth Star-Telegram/TNS)